Climate impact of Bristol Airport expansion up to six times worse than claimed, says think tank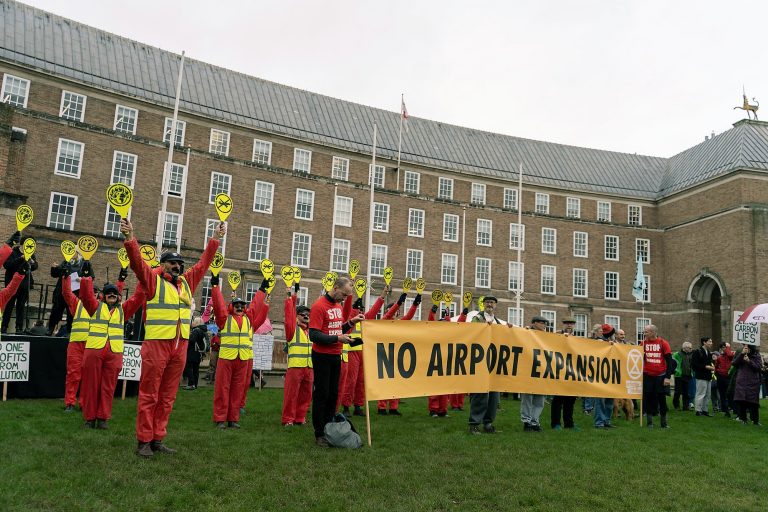 Research released today by think tank New Economics Foundation, (NEF) claims that the climate impact of Bristol Airport expansion could be up to six times worse than they previously claimed in the airport's own estimates.
The report finds that expansion of four regional airports – Leeds Bradford, Stansted, Bristol and Southampton is likely to account for an increase in annual airport-level emissions of up to 516,000 tonnes of CO2 and CO2-equivalent emissions in 2035 – the equivalent of putting around 290,000 additional cars on Britain's roads.
"This new evidence is compelling," says Bridget Petty, North Somerset Green Party councillor for Backwell and Portfolio Lead for the Climate Emergency, in comments to the Cable. "North Somerset Council declared a climate emergency – and I would urge planning inspectors to properly consider the impact on local communities, habitats and the greenhouse gas emissions airports produce."
Petty was one of the councillors in North Somerset – the local authority whose jurisdiction the airport falls within – who voted to reject the airport's plans to increase capacity by an extra 2 million passengers a year in February last year. But the saga is far from over, Bristol Airport lodged an appeal of that decision to the government Planning Inspectorate. The decision is now out of the hands of the local authority and in the inquiry stage, with a public inquiry set to begin on the 20th July. The matter of expansion now moves to a national level, with an independent Planning Inspectorate acting on behalf of the Secretary of State for Housing, Communities and Local Government.
The airport's expansion plans have caused controversy and a vocal campaign since it was announced in December 2018, with environmental and climate concerns being a key point of contention. In December last year, Bristol's Labour councillors and Mayor Marvin Rees made a u-turn on their previous support for North Somerset council to approve the airport expansion, with Bristol City Council passing a motion for the mayor to support any councillor wishing to object to the approval of the plans.
"Not credible estimates"
Bristol Airport is not alone in underestimating its climate cost, according to the report which looks at the expansion plans submitted by Gatwick, Heathrow, Luton, Leeds Bradford, Southampton and Stansted. Leeds Bradford and Southampton have had their applications approved, and Bristol and Stansted are at the inquiry stage following initial refusals from local councils.
The report finds there have been, "optimistic estimates of long-term fuel-efficiency gains," for aircraft. As well as this, emissions such as aerosols, water vapour and nitrogen oxides – which have the potential to double or even triple the climate impact of airport expansion – have been overlooked, the report says. The airport estimates also don't count the climate impact of inbound flights. Though not part of national emissions accounting protocol, an increase in inbound flights, as well as departures, will obviously have an impact.
Speaking to the Cable, a spokesperson from Bristol Airport maintained, "sustainable development has always been at the centre of plans" citing their roadmap to become a carbon neutral for direct emissions by 2025 and a net zero airport by 2050.
"Expanded capacity at Bristol Airport will offer passengers more routes and flights from the South West directly, create jobs, facilitate inward investment and inbound tourism, and support greener and more sustainable, regional economic growth." However, this 'net zero' pledge does not include the emissions from the planes and the cars driving passengers to the airport.
In 2019, the Cable reported on a previous NEF report which found that the economic and business case and job prospects for airport expansion was "grossly overstated," with airport contracted analysts cherry-picking methodologies sure to produce favourable pro-expansion arguments.
NEF report author Alex Chapman told the Cable "the airport has also not followed official guidance on pricing carbon emissions, which makes it difficult for decision-makers to stack these climate costs up against the claimed benefits of the scheme."
Counting the climate cost
According to the report, "expansion scheme promoters have failed to account for the monetised cost of emissions caused by expansion." 'Monetised costs' here refers to 'carbon pricing' – a method by which a financial cost is applied to carbon emissions in order to encourage polluters to reduce the amount of greenhouse gases they emit into the atmosphere by making it financially measurable.
The report finds that applications to expand Bristol, Leeds Bradford, Southampton and Stansted airports have ignored up to £13.4bn worth of combined potential damage to the climate. £1.9bn of that is from Bristol Airport. NEF says that these costs will ultimately be borne by society, either in the costs of capturing emissions elsewhere in the economy or in the social damage resulting from climate change.
Opponents and activists to airport expansion feel vindicated by the reports findings. Speaking to the Cable, Stephen Clarke, a member of Bristol Airport Action Network (BAAN) said: "This report scientifically demonstrates what campaigners have been saying all through this process; Bristol Airport (and its owners the Ontario Teachers Pension Plan) have consistently produced misleading and inadequate information to the public concerning their plans."
The UK government's Committee on Climate Change (CCC) is clear that unconstrained aviation growth is incompatible with the UK's climate change commitments and averting climate breakdown. The CCC recommends "There should be no net expansion of UK airport capacity unless the sector is on track to sufficiently outperform its net emissions trajectory and can accommodate the additional demand."
For Chapman, the next steps are clear- the cost of carbon needs to be more fully considered and the Government should enforce this. "When climate targets are vague, decades away, and not sector specific, it is too easy for polluters to wriggle out of their obligations. The government must tighten up the regulation of the sector, setting enforceable targets for emission reduction, and implementing tax arrangements which restrict the growth in passenger numbers."