Communicating climate change – what can we learn from Covid-19?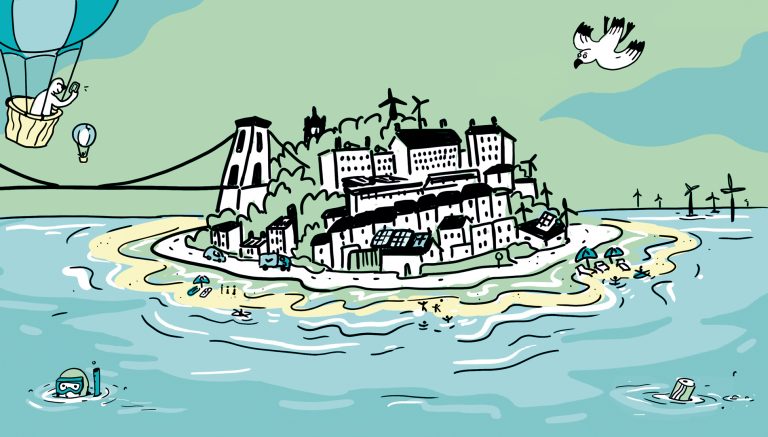 There's a cartoon that's done the rounds during the pandemic – Bristol Mayor Marvin Rees recently shared it himself – depicting three ocean waves, each bigger than the last.
Covid 19 is the smallest, the next wave is the post-pandemic recession, and the largest wave is labelled 'climate change'. The message is clear enough: in terms of lives at risk, and the scale of the challenge before us, the climate crisis is a bigger problem than Covid-19.
To be clear, Covid-19 is not some kind of 'dress rehearsal' for climate breakdown (a sentiment that many understandably find insensitive). They are different types of crises, they pose different types of risks, and they require different types of responses.
In the UK at least, the climate crisis won't ever require people to be separated from their friends and family, or miss months of schooling – policies like this can prevent the spread of disease, but they don't do much for cutting carbon.
But if we don't act fast, the climate crisis will cause deaths, economic damage, health problems and societal disruption that will (as the cartoon visualises) dwarf even the devastating impacts of Covid-19.
A lot of time has been wasted not taking the climate crisis seriously. But everything is still to play for, and politicians urgently need to up their game – after all, the UK is hosting critical international climate talks at Cop26 in November in Glasgow, and so must set an example to the rest of the world. This means policies to decarbonise every sector of society. But it also means a step-change in communication from national and local government.
Covid-19 has shown us what a coordinated, state-led communication campaign aimed at catalysing rapid social change looks like. So what might a public communications push on climate change in Bristol involve, if we took it as seriously as Covid-19?
How to inspire climate action?
Firstly, there's the ubiquity of Covid-19 communications. From billboards to commercial breaks to social media feeds, no matter how you consumed your media in 2020, the basic public health messages would have been on your radar. This level of visibility – what's happening, what people can do, and what changes are coming down the line – is a bare minimum for a climate campaign that reaches the masses, rather than a minority of already-engaged citizens.
As with Covid-19, this must be driven by the national government (which has spent more than £180m on Covid-19 advertising so far). But there's a lot that local authorities can do. After the re-election of Bristol Mayor Marvin Rees, Labour's Dan Norris being elected as metro mayor for the West of England, and Greens increasing their number of councillors, there's a major opportunity, in the second half of 2021, to shout about progress already made (for example on food waste, the imminent Clean Air Zone, or improvements in active travel), and boldly communicate the bigger changes coming down the line, as the pandemic (hopefully) starts to fade from view.
But advertisements will only get us so far – something the recent Bristol Citizens' Assembly recognised. Among their climate recommendations was the suggestion that council communications on sustainable transport needed to go beyond simply providing information, and instead introduce an inclusive, transparent and accountable process where the council could engage with citizens to make decisions that are trusted, understood and have buy-in.
In Bristol, as in other diverse cities around the country, take-up of the vaccination has been lower among some ethnic minority groups. Initiatives driven by trusted local community figures have been critical to the public health outreach around the vaccine. Similar challenges lie ahead for climate policies, which will require changes to our heating systems, insulation being fitted in our homes, adjustments to the way we travel and even the food that we eat.
These social shifts don't need to happen 'overnight' in the same way as lockdowns, but they will need to last over much longer periods of time. And they will not take root fast enough unless there is trust and buy-in across society – as the Bristol Citizens' Assembly emphasised.
But alongside the positives of state-led communication around Covid-19, we also need to reflect on the negatives.
Whilst conveying the threat was necessary to catalyse rapid changes in behaviour, the accompanying epidemic of anxiety is surely linked to the heavy-handed use of fear (the 'Look her in the eyes…' adverts) and undercurrent of social shaming that ran through the pandemic. Advice early on in the pandemic to stay away from the city's greenspaces and parks altogether did little to stop the spread, but plenty to heighten levels of stress and anxiety.
Getting the balance right between a justified sense of fear, and a necessary sense of hope for a better future, is critical for Covid-19, but arguably even more so for the climate crisis. A pandemic – all-encompassing as it has felt at times – is easier to grasp than the climate crisis, which is why communication and engagement on climate is so critical. Getting this communication wrong risks people switching off, not because they don't care, but because they are overwhelmed, or feel vilified or attacked for lifestyle choices that may often be out of their direct control.
Both Covid-19 and the climate crisis are collective-action problems that can only be solved by working together. Demonising or castigating people for their health or environmental behaviours does nothing to build trust and a sense of shared responsibility – and psychological research on public health and the climate crisis shows it can easily backfire.
Perhaps most importantly, though, we need to hold on to one thing that we all saw with our own eyes: social proof that we can change, and fast, when we really believe we need to.
Thousands of words have been written about how the climate crisis is a 'distant' risk to many, not part of our daily lives in the way that, say, a contagious disease is. But maybe it's time to challenge this narrative.
Many Bristol citizens will have close family living in countries that have already been devastated by climate impacts (from Somalia to Australia). As flood waters rise around Bristol, and summer heatwaves hit harder than they did before, we are now getting a taste of how communities in other nations are being impacted. Climate change is already with us – the challenge is to stop things spiralling further out of control.
But we have to construct a sense of urgency in the same way that we did for Covid-19, and communication from national and local government played a powerful agenda-setting and legitimising role. In Bristol, the target of reaching net zero by 2030, which Marvin Rees recently described as "massively challenging" but essential for focusing minds, is a good starting point. But bringing the time horizon for tangible changes and specific policies even closer to people, through clear, consistent communication about what is happening and when, is crucial.
Public health specialists throughout the pandemic advised people to 'act as if they had the virus' to stop its spread. Greta Thunberg argues we must act as if our house is on fire if we are to take swift enough action on the climate emergency. These starting points are really not so different, but the contrast in government messaging between the two types of crises couldn't be more stark.
Campaigners have made huge progress in mainstreaming the idea of a climate emergency. But their efforts are undermined when our political leaders don't give this emergency the priority and urgency it deserves on the airwaves. As life beyond the pandemic gets underway again, that needs to change.