We're hiring: Workplace Coordinator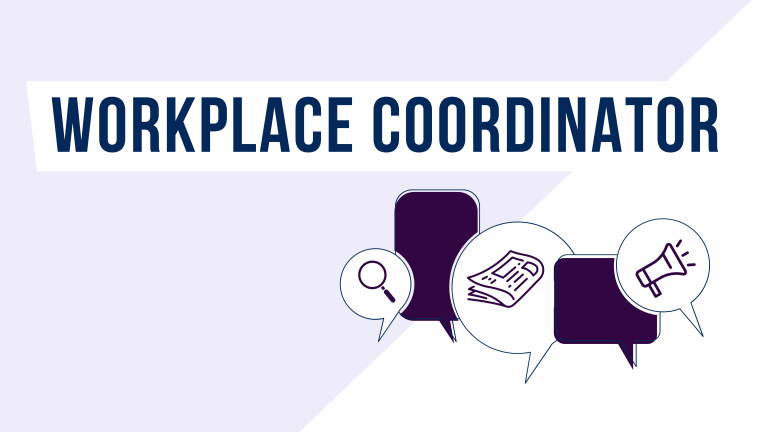 **This application is now closed**
About the role
We're looking for someone to join our team who loves to focus on organisation, systems and processes, and wants to help us build a smoothly running workplace with a culture of care.
The Workplace Coordinator will play a crucial role in developing and administering the systems and processes which make it possible for us to deliver our journalism and community engagement. You'll enjoy working behind the scenes to put everything in order and make sure the team can work productively and happily.
You will be responsible for supporting our HR, liaising with our directors, overseeing our financial admin and office and resources management. You will also be able to use your creativity and experience to think about and contribute to how our organisational systems can develop and improve.
Key information
Contract: Permanent (subject to funding)
Hours: 3 to 4 days per week (22.5 – 30 hours), depending on your preference. Exact working hours negotiable.
Salary: £21,499 to £22,523 pro rata, depending on experience
Entitlements: 36 days annual leave (pro rata, including bank holidays), plus up to 5 days extra paid time off at Christmas, and up to 15 days unpaid holiday allowance, both pro rata. We also have a pension scheme with a 3% employer contribution and 5% employee contribution.
Location: Bristol Cable office, The Station, Silver Street, Bristol, BS1 2AG (default remote working while pandemic restrictions apply).
Applications closing date: 11.59pm, 25 July 2021
How to apply: Apply using the form on this page
About the Cable
We're not your average newspaper. The Bristol Cable is a reader-owned media cooperative, owned and supported by more than 2,600 people across the city.
We produce award-winning local journalism, in print and online, made free to access for all by members. Together, we amplify marginalised voices, campaign for change, and hold power to account through groundbreaking investigations.
Recognised internationally as a pioneer in the movement for a new media, our mission is to redefine local journalism as a community asset, which is accountable to and serves the needs of our readers.
Our organisational structure and processes are a reflection of our values, and one way in which we're redefining what local media looks like and how it works. As a reader-owned cooperative with more than 2,600 members, at our Annual General Meeting members help shape our direction and hold the staff team accountable through scrutiny of accounts and wider questions.
And as a staff team of nine, we operate along cooperative principles, as we all have a shared stake in the work we do and how we work together. We use sociocracy, a structured methodology to guide how we organise our team, assign responsibilities, and make decisions, with workplace management currently spread across four small circles (teams). All team members contribute to key decisions about how we work and the overall direction of the Cable, including things like our priorities, strategy and pay structure.
Role responsibilities
People (35% of your work)
Working closely with the People Circle lead, support with managing all aspects of HR, including recruitment, leave support, updating policies, procedures and contracts as needed.
Oversee our peer-to-peer system of mutual support, ensuring it's meeting its aims of supporting staff personal development through mutual peer coaching and support.
Work with relevant colleagues to develop and implement our performance appraisal system, aiming to help staff learn, develop and reach their agreed professional development objectives, and to identify and address small problems before they become big ones.
Finances and resources (35%)
Ensure all aspects of our financial administration are well managed, working closely with our accountant and bookkeeper to ensure invoices and expenses are processed, queries answered, and payroll is up-to-date. You will also contribute to grants and budget development. You may take on bookkeeping and additional payroll responsibility if you have the requisite skills and experience.
Manage the office, ensuring everyone has the supplies and equipment they need, contracts and mail are well managed, and the office is well organised.
Support the administration of the Cable's quarterly print distribution and management of the archive.
Operational support and organisational development(10%)
Provide general operational support to the team on a day to day basis.
Collaborate across the Workplace Circles to improve organisational systems and processes
Support the management of the Cable's strategy process, collaborating closely with members of the Development circle and the board of directors.
Be a friendly, helpful first port of call for phone queries.
Board of directors (10%)
Work as part of the Forums team to develop and support our elected board of non-executive directors, assisting with recruitment, election and co-option of new directors.
Provide the main point of contact between the board and the team, developing relationships with the board, sending financial updates, maintaining the directors' details database, setting up meeting agendas, collating and sharing papers, organising meetings and taking minutes.
Convene and regularly attend board (every two months) and board sub-group meetings (every month). Please note: these meetings are held on weekday evenings, though you may not be required to attend every one.
General co-op coordinator responsibilities (10%)
Contribute to the general strategic development of the Bristol Cable as a co-op coordinator.
Develop your own and colleagues' skills in consent-based decision making and facilitation.
Participate in the peer-to-peer support scheme, providing mutual coaching and support with a colleague.
Person specification
We would like you to have at least some skills, experience or aptitude that demonstrate how you meet each of the essential criteria below, and where possible, the desirable criteria as well. Please refer closely to this person specification in your application.
We welcome examples drawn from your personal or voluntary experience, as well as paid employment.
We don't expect you to have all the experience or skills right away, and are keen to support your learning and professional development in the areas outlined below. But if you can demonstrate your ability and relevant experience, enthusiasm about working for the Cable in this role, and learning and developing as part of the team, we want to hear from you.
Essential
Excellent and demonstrable organisational skills and self-starting initiative to get things done with care, efficiency and flexibility, showing a reliable, systematic approach and attention to detail.
Confidence in improving office systems and processes, including databases, spreadsheets and file and document management.
Experience in an administrative role.
Strong numeracy skills and confidence in dealing with finances.
Friendly, warm and clear manner, and empathetic approach, with excellent verbal and written communication skills.
Confident and experienced in group work and building relationships as part of a team, as well as taking initiative and working independently.
Experience or enthusiasm for democratic and inclusive ways of working.
Committed to the Cable's journalistic and community mission to redefine local journalism.
Desirable
Experience in Human Resources, legal or organisational policy work.
Experience of bookkeeping, accounting, and payroll management.
Experience of coaching or supporting the work of others.
Experience of being part of a group organised using principles similar to those found in sociocracy or holacracy.
Experience or training in nonviolent communication and/or facilitation.
Advanced spreadsheet skills.
What we offer
A position in our staff team, either 3 days per week (22.5 hours) or 4 days per week (30 hours). This will be a permanent position (6 month probationary period) and subject to future funding.
A salary of £21,499 to £22,523 pro rata, depending on experience, with opportunities for increases.
Generous holiday entitlement of 36 days annual leave (pro rata, including bank holidays), plus up to 5 days paid time off at Christmas, and up to 15 days unpaid holiday allowance.
Pension scheme with a 3% employer contribution and 5% employee contribution.
Flexible working and menstrual period policies, to help you work when works best for you.
A personal training and professional development allowance.
You will play a key role in a values-driven and purposeful team, with freedom to shape your work, evolve your role, and contribute to our strategy.
You will be able to learn, share, and be supported by team members who you'll be collaborating with.
You will work at our office in the centre of Bristol, or remotely, depending on changing circumstances relating to Covid-19. We are currently remote by default, but we have an office space which is open. You will need to be available to work from the central Bristol office when we are able to return properly.
How to apply
Apply by using the form below. The deadline to apply is Sunday 25 July at 11:59 p.m.
We particularly encourage applications from women, people of colour, LGBTQ+ people, people with disabilities, and people from working class backgrounds.
Interviews of shortlisted applicants will be held online via Zoom 1 to 2 weeks after applications close.
If you have any enquiries about the role or application process not answered above, please email applications@thebristolcable.org or call our office phone on 07533718547.
This application form is a space for you to tell us about your experience, skills and approach to working which make you suitable for the Workplace Coordinator role.
Please refer closely to relevant parts of the person specification in your responses, providing concrete examples of where you demonstrate meeting the criteria where possible, and what you specifically achieved in those cases if relevant.
You may want to draft your responses to this application form in a different document. You can find all the questions listed below in this document: Bristol Cable Workplace Coordinator application questions. Download or make a copy of it to draft your responses before pasting them in to the form here.
If you are having trouble accessing the form below, please email us to let us know. You can also access the same form on this page.
**This application is now closed**