How vaccine hesitancy is being tackled in Bristol's diverse communities
Graphics: Lucas Batt and the Office of National Statistics (ONS)
Photos of the council's vaccination drives in Easton Community Centre and Bristol Somali Resource Centre (BSRC), courtesy of the council and the BSRC.
The five areas in the city with the highest populations of ethnic minorities are also the five areas with the lowest Covid vaccine uptake, analysis by the Cable has found.
But Bristol has been proactive in tackling the disparity, with a targeted campaign to answer people's questions and fears around the vaccine and to take vaccine clinics into communities. "The only way we have is for trusted people to have the vaccine and to talk about their experience," said Mohammed Elsharif, Community Development Manager for Bristol City Council's vaccine campaign.
Up to 30 May, the average rate of people in Bristol who are 50 or older and have had at least one Covid jab is 88%. But in St Pauls, Upper Easton, Barton Hill, Lower Easton and Temple Meads, the average uptake is just 70%, the Cable found in an analysis of NHS vaccination data of areas in Bristol.
The lowest vaccination rate among over-50s in the city is 68% in St Pauls, which compares to the highest uptake of 97% in Whitchurch Park, an area which is 98% white – the highest in the city, according to the 2011 census which is the most recent data available. While the census data is 10 years old, it is still used by Bristol City Council and the Office for National Statistics for estimating the ethnic backgrounds of communities in different areas.
Vaccination uptake by area in Bristol compared to percentage of ethnic minority population by area of Bristol
Can't see the maps? Click here to see full interactive maps
.
Part of a UK trend
Vaccination rates tend to be much lower in areas with greater deprivation. According to the ONS, 87.8% of adults aged 50+ have had at least one Covid jab in the most deprived areas, compared with 94.5% in the least deprived areas. However, ethnic group is a stronger predictor of whether someone has had a Covid vaccine, with 94% of White British people aged 50+ having had at least one dose, compared to 69% of Black people.
This follows a trend seen in the rest of the UK, and was predicted earlier this year when polls showed that there was greater reluctance to take the vaccine in minority ethnic communities. Data analysed by the Guardian showed a similar situation to that seen in Bristol.
A recent survey by the Office for National Statistics conducted in April found one in three Black or Black British adults reported vaccine hesitancy, making them the most vaccine hesitant ethnic group, and five times more hesitant compared to White adults.
Across the UK, vaccination rates among those aged 50+ were lowest for those identifying as Black Caribbean (66.8%), Black African (71.2%) and Pakistani (78.4%). Although lower than that of the White British group (93.7%), the vaccination rates among people identifying as Indian (90.9%) and Bangladeshi (86.9%) remained high, according to the ONS.
Why the large differences in uptake?
"There is a real variety of reasons around hesitancy," Elsharif told the Cable. These include concerns around how safe the vaccine is, if it complies with the dietary requirements of different faiths, historical relations around institutions and previous experiences of discrimination. There's also not enough information aimed at specific communities, such as information in different languages or addressing faith-specific concerns.
All this was made worse by anti-vaccine campaigns and misinformation. There have been well publicised accounts of conspiracy theories surrounding the vaccines, which have often targeted minorities. Some have claimed that there are dangerous or unpleasant side effects to the vaccines; others have claimed the Covid vaccines contain pork gelatine.
None of the Pfizer, AstraZeneca or Moderna vaccines being rolled out in the UK contain pork and all have been declared Halal.
Undocumented migrants or asylum seekers could have additional fears around going to a regular vaccination clinic, said Zoe Gardner, ​Policy Advisor at the Joint Council for the Welfare of Immigrants, a campaign organisation. She said that the hostile environment has made people scared of getting a Covid vaccine for fear of being shopped to the authorities.
"Everyone should feel confident and safe when it comes to getting their Covid jab. But while NHS charging and data-sharing regimes remain in place, many migrants won't get the vaccine for fear of arrest, deportation or extortionate fees.
"While Covid jabs are free for all regardless of people's immigration status, the government's hostile environment policies and their poor record of building trust with migrant communities, will impede vaccine take-up. For the sake of everyone's health, the hostile environment must be scrapped."
'We can't ignore people's worries': What Bristol is doing about unequal vaccine uptake
The inequality in vaccine uptake wasn't a surprise to Dr Huzaifa Adamali, a respiratory consultant at North Bristol Trust. He joined the Pandemic Board of Bristol and the council's Race and Equality Group after seeing from the front line how Black and Asian people were disproportionately affected by coronavirus. In inner city Bristol, where there's a high population of people from ethnic minority backgrounds, he said he'd seen "high levels of Covid, high levels of Covid deaths in these populations, and low uptake of the vaccination."
He said that health and community workers in Bristol have been proactive in tackling the disparity in vaccine uptake by building on seasonal flu drives. The disparity in Covid vaccination uptake is similar to that of the seasonal flu vaccination uptake in these same communities.
"I said to [Deputy Mayor of Bristol] Asher Craig and [Bristol Mayor] Marvin [Rees], if it's to translate this to the Covid-19 vaccination we will be scuppered because the same reasons are going to be the cause for the low uptake of the vaccination."
In response, the council's Pandemic Board designed a model of community engagement around the flu vaccine, which ran from October last year with the vaccines delivered in January. That campaign was then replicated in March, this time to increase engagement with the Covid vaccine.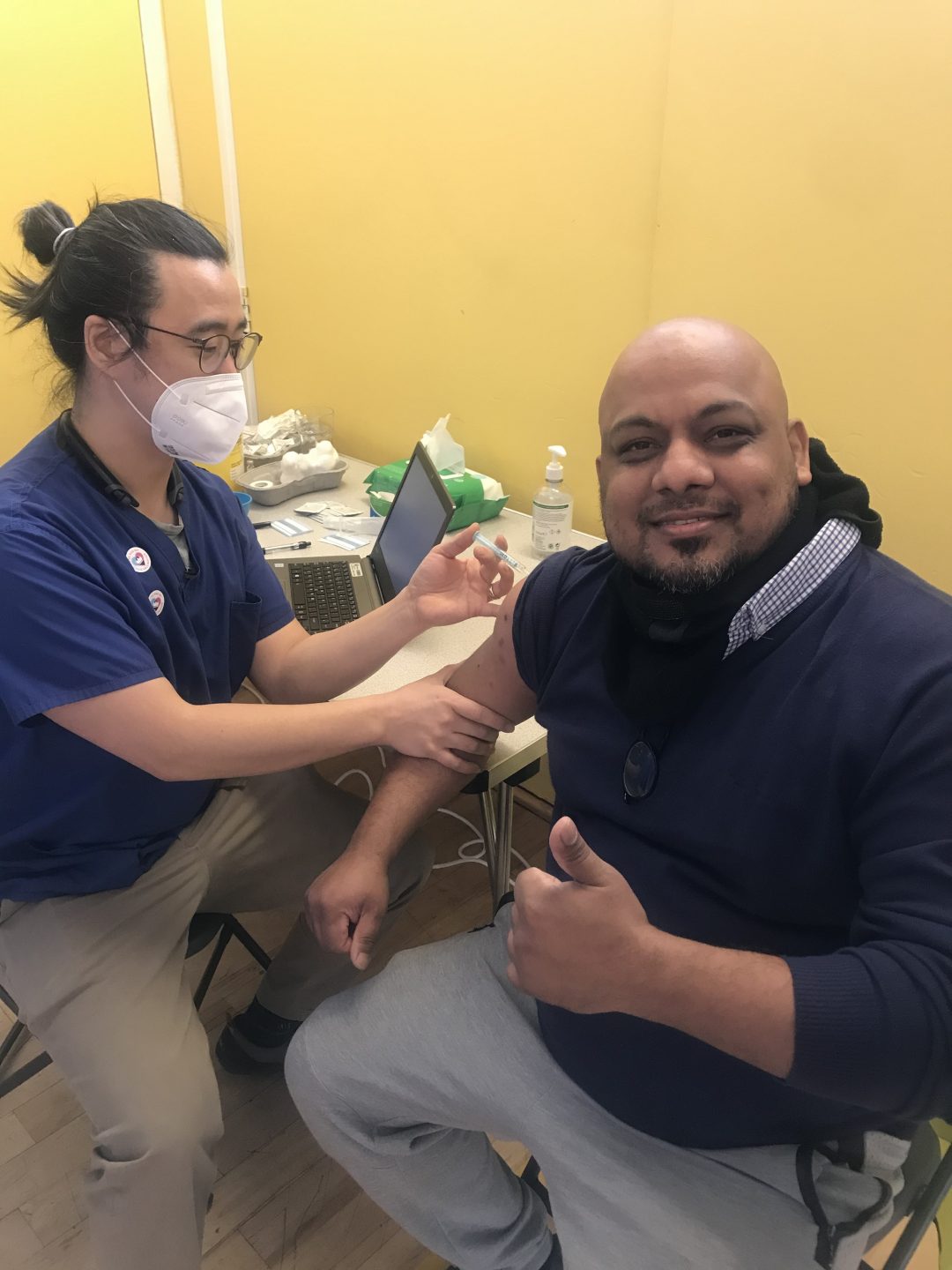 The model is simple but labour-intensive: bringing the vaccine to communities by creating vaccine clinics in community and religious centres, getting trusted community leaders and faith leaders to publicly take the vaccine, having 'community champions' to encourage people within their communities to take the vaccine – and sometimes even making appointments with them. They also put on webinars where people have the chance to air their concerns about the vaccine and get answers to their questions, because, said Elsharif, "We can't ignore people's worries."
"Really the whole engagement around the vaccine moved from being NHS or Bristol City Council, to the community champions and the communities leading on it having a community-driven campaign."
One of these community champions is Naseem Talukdar, founder of homelessness charity Feed the Homeless and campaign group Curry Connect. He helped out in a clinic aimed specifically at undocumented migrants and people who are homeless, people who aren't registered with GP and "don't know what underlying problems they could have."
"They're off the radar and generally move around a lot," he told the Cable. And many whose immigration status doesn't allow them to work may still have to work to survive, "so they're exposed and very vulnerable." The clinic, in Easton Community Centre, worked on alleviating fears around immigration enforcement and confirming their details wouldn't be shared.
The importance of having answers in your own language
Zahra Kosar is a social worker and a full-time member of the team at Bristol Somali Resource Centre (BSRC) where she and two Somali nurses have been running an information campaign since January on social media, Zoom meetings and through face to face meetings at the BSRC.
"At each event there were at least 30 people, mostly women, who we then hope would share the information with their families," she told the Cable.
"People were asking questions to the nurses. Some questions were emotional because some of these people have believed in what they have seen on social media. This gave them the opportunity to ask questions in a more accessible way in their own language."
"The questions they were raising were things like if the vaccines are Halal or not, or if it has side effects. I think those are valid questions and the community shouldn't be labelled as anti-vaccine as a result."
She added that they've been engaging with Arab speaking communities too, using translators.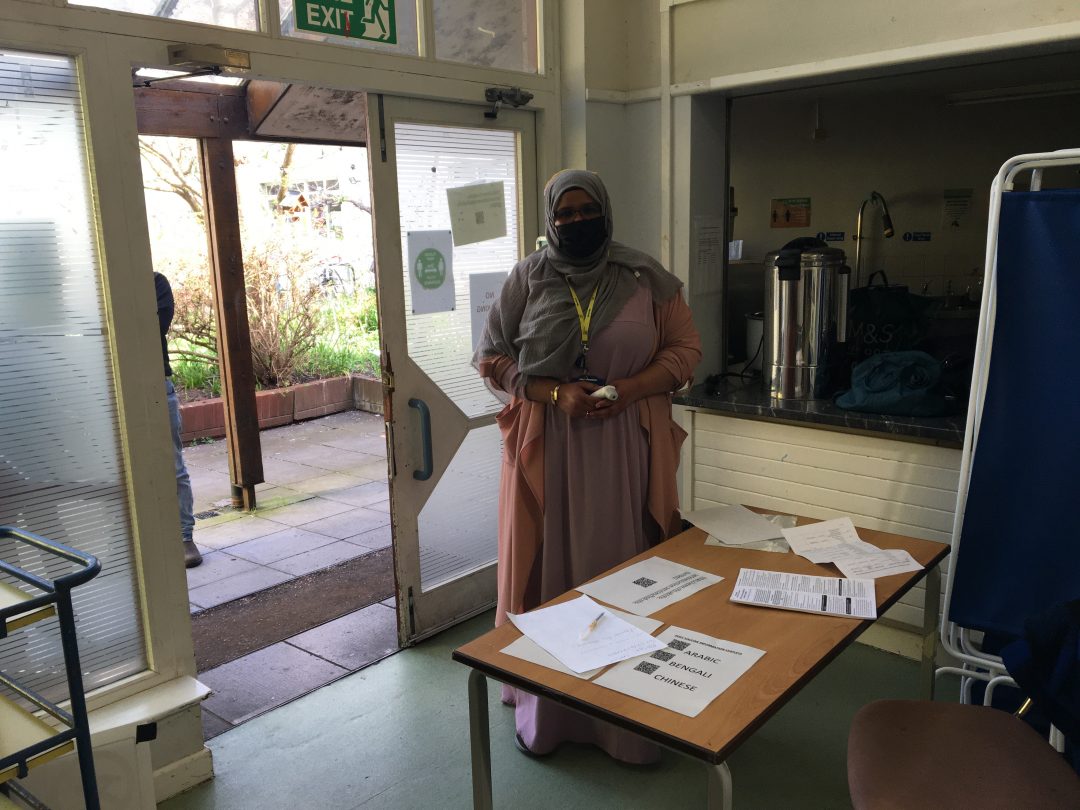 She says that people trust the programme more now these issues have been clarified by doctors and imams.
"Some of them who were reluctant to take it, we now know have taken it. I have spoken to many people in the community who have taken their vaccine or who are waiting for their time to come."
Recently, the BSRC set up its own vaccination centre at its home in the Barton Hill settlement. On one day alone they had 100 appointments, mainly from members of the Somali community, but there were also others from Syria, Bangladesh and Afghanistan.
Adamali said he's hopeful that this model will be used in the future to drive engagement in other health conditions that disproportionately affect people from ethnic minorities.
"Because we've got higher rates of heart attacks, higher rates of diabetes, cancer, sickle cell disease, genetic diseases all within these ethnic minorities. We know that they suffer more from cardiovascular deaths and they have early ageing. And we know that BME women suffer at least five times more from deaths in childbirth than White women."