This Week in Bristol: Covid rates 'rocketing' across the city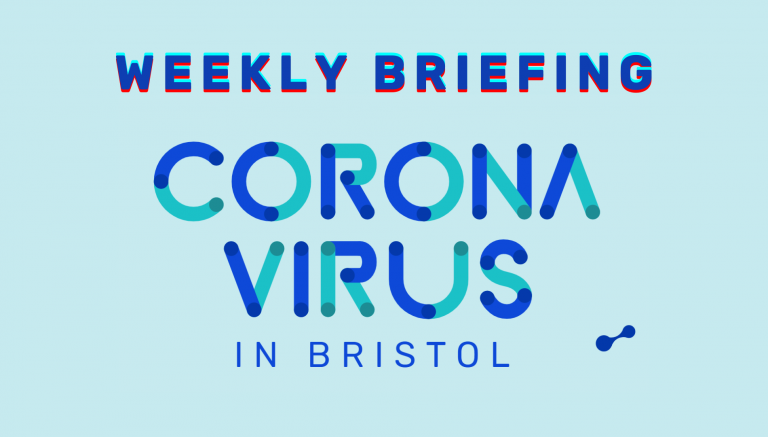 Bristol Covid weekly update
✉️ Cases of Covid in Bristol are "rocketing", Christina Gray, the council's director of public health said this week. The increase in transmission comes as the government delayed the last stage of lockdown easing by four weeks. In addition to social distancing and handwashing, regular, rapid testing with lateral flow tests is "hugely" helpful, Gray added. The tests are available to order for free from the government website.
✏️ The number of Bristol schools managing outbreaks has risen from 25 to 46 in the last week. Christina Gray said "exemplary" work by schools had contained outbreaks in those settings.
? Symptoms of the Delta variant can include headaches, sore throat, and a runny nose, data collected through King's College London's symptom tracker has suggested. Other symptoms that are commonly associated with Covid-19 have been found to be less common with the new variant, such as a cough and loss of smell.
? A walk-in Pfizer vaccination clinic is to open in Eastville Park, 11am-5pm today, Saturday 19 June. All adults over the age of 21 in the UK should now be able to book their vaccination online through the NHS website.
? There have been 496 new Covid cases in Bristol in the last week, which is more than double the previous week (231).
? The rate of Covid in Bristol is 107 per 100,000 people, higher than England's of 77.5 per 100,000.
? 1st Covid jabs given in Bristol: 268,054 (+19,374) – 63.2% of adults (+4.5)
?? 2nd Covid jabs given in Bristol: 179,213 (+9,030) – 42.2% of adults (+2)
➡️ There have been 0 deaths with Covid in Bristol in the last week (up to 17 June, within 28 days of a positive test).

The Bristol Round-up
? The expanded mental health unit for children and young people at Blackberry Hill hospital has finally reopened with two extra beds. The £2m refurbishment of the Riverside Unit, combined with ward closures at the Priory Hospital Bristol, revealed by the Cable last year, mean that young people in a mental health crisis have been without overnight beds in Bristol over the last year.
? Bristol has become the second city in the UK to secure Gold Sustainable Food City status. The status recognises the council's 'innovative approach towards tackling food inequality, reducing waste and increasing urban growing'. Deputy Mayor, Councillor Asher Craig said: "Despite the most challenging of years, we've seen extraordinary altruism and a continued fight to resolve not just the issues caused by the pandemic but broader, pre-existing social and environmental issues."
⚠️ A doctor involved in the care of a Bristol teenager whose death was subject to a mismanaged review process is set to face an investigation by the General Medical Council,the HSJ has revealed. Oliver McGowan died at Southmead Hospital in 2016 after being given antipsychotic medication against his own and his parents' wishes, and despite medical records showing he had an intolerance to anti-psychotics.
✏️ A new special school for children with complex needs has opened in Westbury-on-Trym nearly two years after nearby St Christopher's was closed and a police investigation into child cruelty launched, which is still ongoing. Grace Garden School will be a Steiner school run by the Ruskin Mill Trust after a £3m loan from Triodos Bank, and is owned by Catherine Grace Trust, who previously owned St Christopher's before selling it to the Aurora Group.
? Factory built 'gap houses' are set to be built on old garage sites in Bristol to help the city tackle its housing crisis. The council aims to provide nine affordable homes in disused garage spots on Bell Close in Horfield. What do you think? The project is seeking planning permission and open to public consultation.
? 269 schools in Bristol are located in areas where levels of air pollution exceed World health Organisation limits for poisonous chemical particles. Findings are based on a comprehensive study of figures from 2019, but with traffic levels already back to pre-Covid levels, air monitoring company EarthSense told the Bristol Post that children will once again be learning in an 'unhealthy environment.'
? Organisers of Bristol Pride have announced that this year's march and after party, planned for 10 July, have been postponed following government advice. New dates will be announced when it is safe, and a programme of socially distanced events including a cabaret, comedy night and film festival will go ahead as planned.
? Bristol Refugee Rights has launched a crowdfunder to support people seeking asylum by providing £10 a week to individuals without access to public funds or a right to work. The initiative helps people seeking asylum to access vital services such as transport, food and phone credit.