Gasheads clash over club's handling of Joey Barton assault charge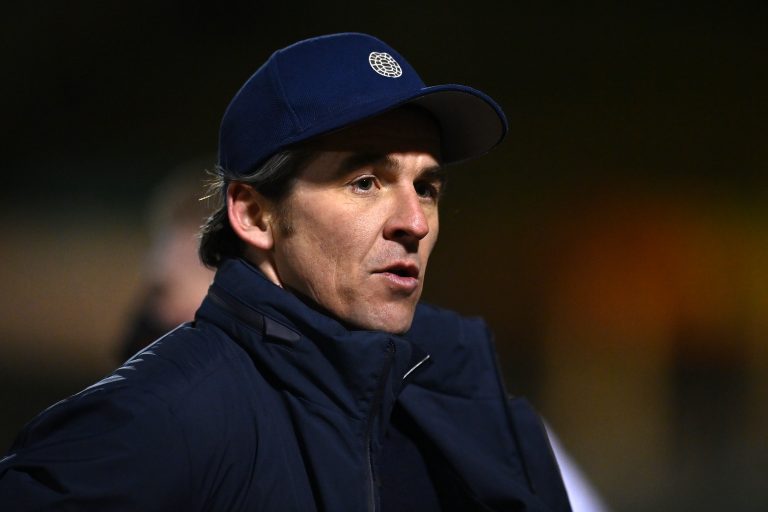 A rift among Bristol Rovers fans has emerged after their manager Joey Barton was charged with assaulting his wife. Some Gasheads are calling for his suspension until his trial concludes.
At Wimbledon Magistrates Court on Monday, Barton pleaded not guilty to assaulting his wife. He is accused of grabbing her by the throat and kicking her in the head at a gathering in Kew, London in June.
The court heard Mrs Barton called the police and asked for her husband to be removed from the property after being left with a bloody nose. Barton next appears at Wimbledon Magistrates Court on 16 December.
After calls from some fans for Barton to be suspended until his trial is over, the Cable asked Bristol Rovers if they would be doing so. The club did not answer this question directly, but club president Wael Al Qadi wrote in an open letter that Rovers stood "firmly against any form of violence" and that "any individual that is found guilty of any such offences will be dismissed immediately".
However, the letter reiterates the principle of a person being innocent until proven guilty. Barton will not be leading the team into their pre-season friendly on Tuesday.
GasCast, the Bristol Rovers fans podcast, ran a Twitter poll to test opinion about how the club's management should respond to the situation. Results are inconclusive so far, reflecting the division among Gasheads.
Rovers fan John Spilsbury told the Cable: "The club made a rod for their own back by appointing a man whose reputation preceded him. The fact that he is now going to be in court means that the club's name risks being dragged through the mud very publicly indeed."
But another fan Andy Gray said: "People are assuming that as he's been charged then he must have done it! Seems like there are those that are saying 'Don't care if he did it or not, don't like the bloke, get rid of him!'"
The club recently announced a partnership with the HerGameToo campaign to end sexist abuse in football. Founder Caz May, who is also a Rovers fan, believes Barton should be suspended from his post until the court case is settled. 
Barton was appointed as Rovers' manager earlier this year, but he was unable to save the club from relegation to League Two.
The club's statements
Ahead of tonight's pre-season friendly against Havant and Waterlooville, Rovers released a statement last night saying: "With regard to manager Joey Barton's court appearance by video link this morning, the club has been informed that the matter is proceeding to trial and is therefore sub judicial.
"Accordingly, the club is unable to make any further comment.
"Following the weekend's publicity and today's court appearance Joey is taking a few days personal time to be with his family. Clint Hill will therefore lead the team for tomorrow night's friendly against Havant and Waterlooville."
But after widespread criticism of the club's statement, Wael Al Qadi said in an open letter today: "Firstly, I think it is really important to confirm that as a club we stand firmly against any form of violence. Any individual that is found guilty of any such offences will be dismissed immediately. I understand the concerns expressed by a number of you. However, in line with the basic principles of British law, it is my view that you are innocent until proven guilty."
In the letter, he apologises to anyone offended by the club's previous statement. Al Qadi goes on to list the club's support for those tackling domestic abuse, and called for unity and for fans to get behind the team, as their support was needed "more now than ever".
His letter doesn't go any way to resolving the divisions with the 'Barton in' and 'Barton out' camps, but acknowledges he has "first-hand experience that there is division within the fanbase".