Full toll of care home deaths in Bristol revealed as regulator finally makes data transparent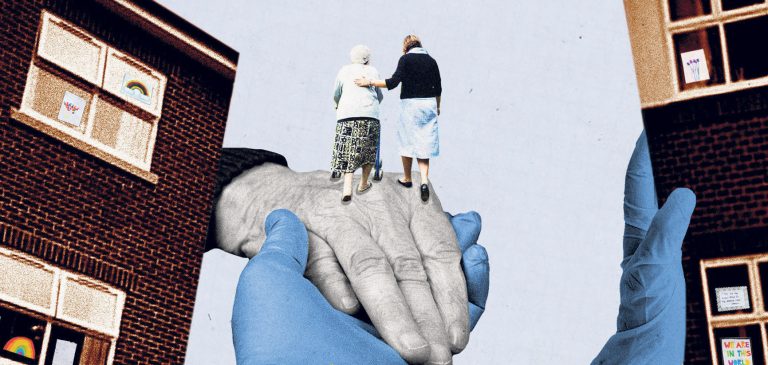 Nearly 300 care home residents died in Bristol with Covid-19 up to March this year, new data has revealed.
The figures, which show there were nearly 40,000 care home deaths in England, have been released amid the latest criticism of the government's handling of the early months of the pandemic, and renewed calls for the promised reform of social care to happen as soon as possible.
The Care Quality Commission (CQC) released the data this week, which shows that 272 people died in Bristol care homes with suspected or confirmed Covid-19 up to 31 March 2021. However, these deaths only started to be recorded on 10 April 2020, so the true figure is likely to be higher.
The highest death toll in a single care home was 20 in Hartcliffe Nursing Home. The other homes with the most deaths were Horfield Lodge (14), The Garden House, Granville Lodge, Amerind Grove Care Home, Frenchay Park Gardens Care Home and Glenview Nursing Home, all of which had 13. However, some of these homes are larger than others so will have more residents overall.
Two care homes in the surrounding areas recorded even higher death tolls: Olive Tree House in Patchway, South Gloucestershire with 23 and Sycamore Lodge in Nailsea, North Somerset, with 21.
During the first wave of the pandemic, there was widespread media coverage about outbreaks in care homes, as well as concerns about availability of PPE and testing kits, overworked staff and residents being discharged back into homes from hospitals without a negative test.
A Cable investigation found that during early outbreaks in April 2020, some care homes were struggling to access supply chains of PPE, residents were testing positive before care workers had been told to wear masks, and there was a shortage of testing for residents. The Cable also revealed that a Clifton care home Carlton Mansions lost around a third of residents during an outbreak. The data shows six deaths reported to the CQC.
'Protective ring around care homes not a reality'
Labour frontbenchers have repeatedly accused Boris Johnson and the government of incompetence in the handling of the crisis.
Last month, the Guardian learnt from some of the UK's biggest care home operators that they repeatedly warned the Department of Health and Social Care and NHS England about the risk of not testing people discharged from hospitals into care homes in March 2020.
It has also emerged that the now former health secretary Matt Hancock publicly promised to test all staff and residents in care homes last year, despite being told his deadline was impossible because of limited capacity by senior officials at meetings in April, May, and June.
Hugh Alderwick, head of policy at the Health Foundation, said: "New data from CQC again show the grim toll that the pandemic has taken on people in care homes. 
"The scale of the impact of COVID-19 on social care was not inevitable. Central government support for social care during the pandemic was often too little, too late, particularly during the first wave. The government's claim of 'a protective ring' around care homes was not grounded in reality," he added.
"The social care system that entered the pandemic was underfunded, understaffed, and undervalued – scarred by decades of political neglect. These longstanding structural issues shaped the policy response to COVID-19 and effects of the pandemic on the system.
"The prime minister must deliver his commitment to reform adult social care in England and bring forward plans to do so this year. This reform must be comprehensive – not narrowly focused on preventing older people selling their homes to pay for care – including measures to improve staff pay and conditions and increase access to publicly funded social care."
Read more
Delayed transparency
The figures show that nearly one in three of the care home deaths in Bristol have come in 2021, reflecting the deadly impact of the winter wave of infections.
There were 902 deaths from all causes in care homes across Bristol during the whole period, according figures from the Office for National Statistics. This means that 30% of deaths are thought to be Covid-related.
Across England, nearly 40,000 care home residents died with Covid during this period, which presents roughly one in three of all Covid deaths. The CQC stressed that many of the residents did not die or contract Covid-19 in a care home.
The CQC said it was now appropriate to publish these figures by individual care homes, because since the end of March deaths have "decreased substantially" and most care home residents have now been vaccinated.
This comes after the regulator received criticism last year for not releasing data for individual homes. They was concerned this would "likely prejudice the commercial interests of care providers" and "risks creating confusion as to the prevalence, spread or impact of the virus", according to information acquired by the Guardian via Freedom of Information.
Kate Terroni, the CQC's chief inspector for adult social care, said: "In considering this data it is important to remember that every number represents a life lost – and families, friends and those who cared for them who are having to face the sadness and consequences of their death.
"We are grateful for the time that families who lost their loved ones during the pandemic have spent meeting with us and the personal experiences they have shared. These discussions have helped us shape our thinking around the highly sensitive issue of publishing information on the numbers of death notifications involving COVID-19 received from individual care homes.
A full breakdown of the number of Covid-realted deaths in all care homes in Bristol, as well of the rest of the country, can be found on the CQC's data dashboard.