Gloucester Road Wetherspoons: a chain changing Bristol's fiercely independent high street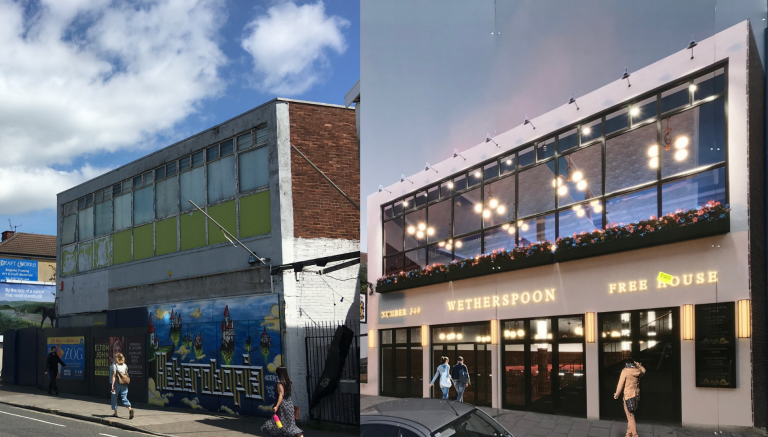 The building on Gloucester Road that will become a Wetherspoons was built as a supermarket in the 1960s. Empty for 15 years, the windows are milky and the panelling is peeling. Advertising hoarding that once showed the pub's imagined interior has been painted over with cartoonish castles, floating in the sky. Below them in blocky script is the word 'heterotopia'. It translates as 'other place' or 'wrong place'.
Wetherspoons' first planning application was submitted way back in 2014. After a further six applications, hundreds of objections, and two refusals from the planning committee, Bristol City Council granted the scheme permission in June 2021.
Building work will begin next year, and the new pub will create 50 jobs. But debate has raged about whether Wetherspoons – a chain that owns some 900 pubs – should ever have been allowed a space on Gloucester Road – lauded for its independent businesses. For some, the planners' decision represents the ultimate 'wrong place'.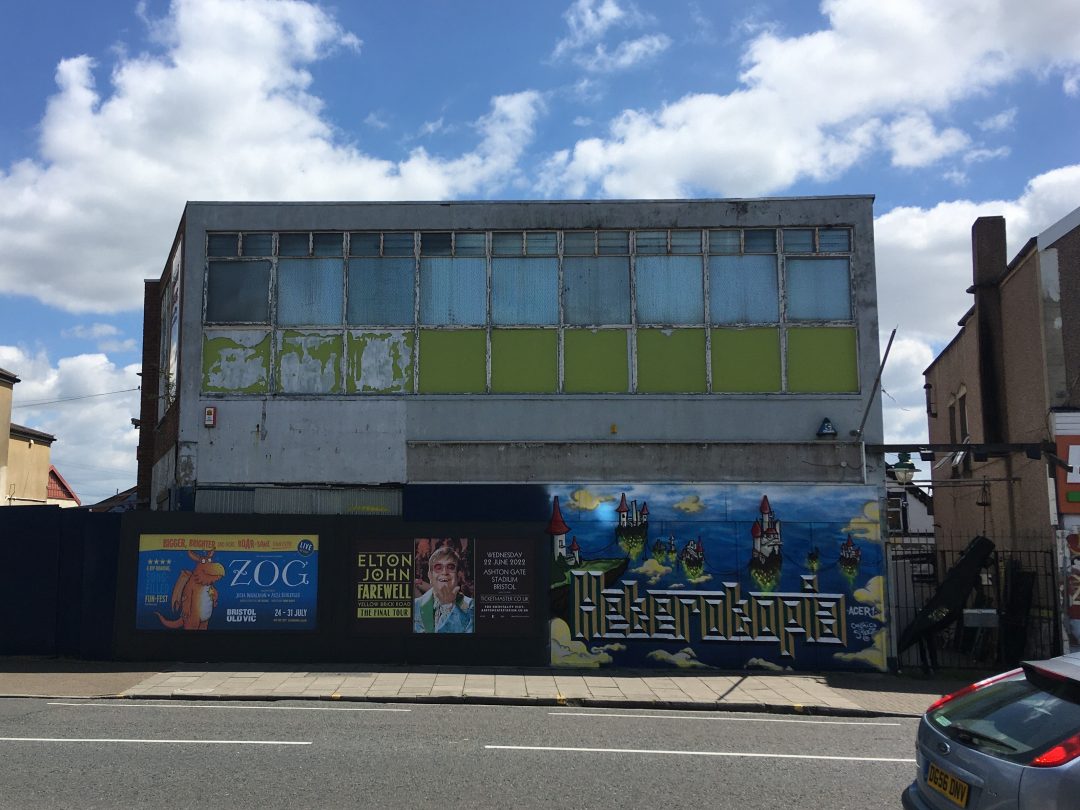 Killing the high street
Four of Wetherspoons' planning applications were withdrawn before they were considered. The first one that planning officers debated, in 2015, was refused on two grounds: noise and cooking odours affecting residents of Gloucester Road, Oak Road, Thornleigh Road, and Brynland Avenue, which runs behind the site. A large roof terrace was of particular concern to planners and locals.
"This establishment will be right at the back of our garden!" one Brynland Avenue resident commented at the time. "I do not want the noise or cooking pollution right on my doorstep. I have a stressful job and my only relaxation is sitting in my back garden for peace and quiet. This will not be the case much longer if this establishment goes ahead." Another neighbour spoke of already being disturbed by The Royal Oak and The Anchor's beer gardens; a third said Wetherspoons would "destroy our quality of life".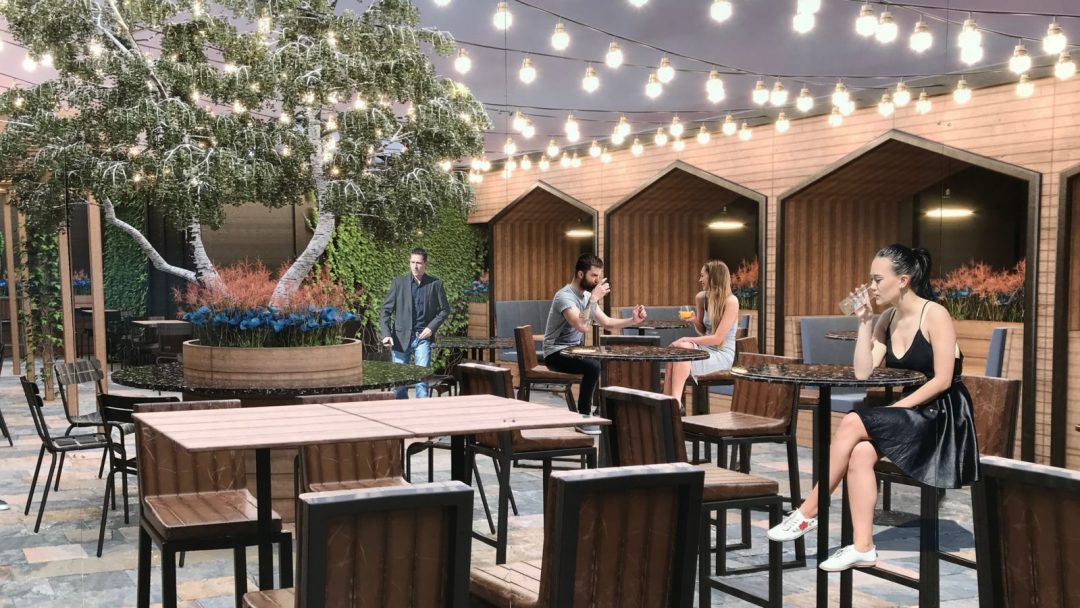 Rose Boswell, Secretary of the Bishopston Society – a local campaign group which ran from 2002-2019 – submitted letters of objection to the first two planning applications on behalf of the Society. She wrote: "Bishopston is a neighbourhood of largely family housing and the ever-increasing noise, nuisance and antisocial behaviour which goes hand in hand with late-night drinking is changing the character of the area.
"The arrival of a national chain alcohol outlet on the Gloucester Road will inevitably have a detrimental impact on the small, local pubs in the area and will again undermine the special local character of the area."
She echoed a 2012 Independent article, which declared Gloucester Road "the last great British high street". In it, Peter Browne of Bishopston Traders Association said it was the middle-class residents who kept the local shops going: "They provide a constant feed of people who would be critical of supermarket shopping and who don't want to travel miles for things."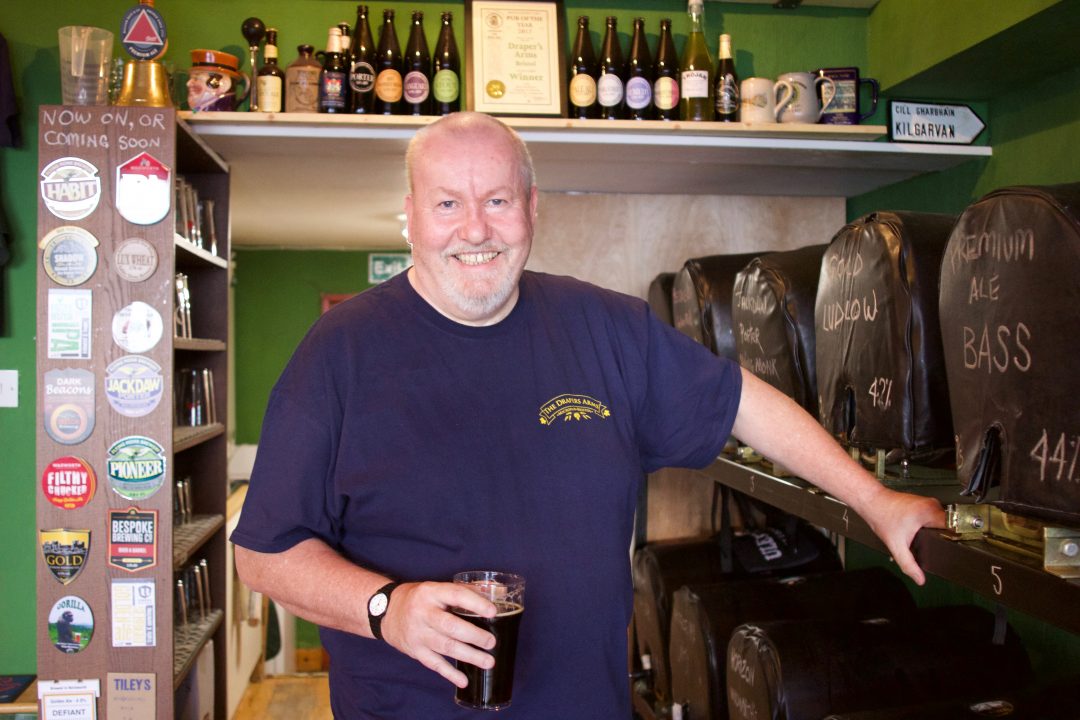 Garvan Hickey lives off Gloucester Road and has run The Drapers Arms micropub since 2015. He told the Cable the right place for a new Wetherspoons would be the city centre: "If we've learned anything over the pandemic, your local is an essential part of a different night out than one you can enjoy downtown. Local pubs are a lot more intimate than city centre pubs, clubs or bars. They offer a different and unique experience where you can get to know staff and other customers.
"To me, Wetherspoons have taken everything that's good and great about pubs and tried to distil down to meet the lowest common denominator. I would compare their offering, versus a normal pub, to a high street competing with a massive out-of-town shopping centre."
Match day concerns
Wetherspoons' fifth application, in 2017, was refused on multiple grounds. Avon and Somerset Police provided crime statistics for the area during the planning process: though these did not suggest crime levels would rise if the pub opened, Crime Prevention Design Adviser Clare Hawkins raised concerns about proximity to the Memorial Stadium, where Bristol Rovers play, and Gloucestershire Cricket Club.
"It is highly likely that significant numbers of people will gather here prior to football and cricket matches," Hawkins wrote. Narrow pavements would "inevitably lead to 'flash points'" among supporters "who seek to behave in an aggressive and antisocial manner". The result would be "unacceptable demand" on police officers, as well as disruption to residents.
Prior to closure in 2017, The Queen Vic was Rovers fans' occasionally rowdy watering hole: a buzzing atmosphere on match days, the bar and street outside crowded. Several nearby pubs, including The Sportsman and The Annexe, The Forester's Arms and The Anchor now host the fans. The Queen Vic is one of two Bishopston pubs lost in the past decade, along with The Old Fox.
William* lives on Dongola Avenue, near the future Wetherspoons site, and believes the objections to sports fans drinking in the Wetherspoons, along with students and 'people from Southmead' are "distasteful and elitist stereotyping".
"It strikes me that a major and consistent objection stems from individuals who claim that a Wetherspoons outlet would somehow pollute the perceived purity of the Gloucester Road," he said.
Oft-repeated claims that Gloucester Road is either Europe or the UK's longest road of independent shops may stem from a 2016 Barratt Homes brochure. But as early as 2008, years before 2,500 people objected to Stokes Croft's Tesco, Bishopston had a Somerfield, Sainsbury's Local, Tileflair, Betfred, Cashconverters and Domino's pizza.
While Gloucester Road still shirks the homogeneity of other high streets, it has changed. Many shops have closed; replaced not necessarily by chains but upmarket cafes and restaurants. In April, Pinkmans bakery opened a pop-up directly opposite the Wetherspoons site, selling the likes of focaccia and sourdough donuts.
"Other than from chain outlets, one may no longer buy clothing, shoes, furniture and so on: items that any genuine high street would offer," said William, a Bishopston resident for 30 years.
"I cannot see how one can reconcile the views that Gloucester Road is both a vibrant high street and a residential area. If one elects to live above shops on a high street, then one can hardly retrospectively complain about people using it."
Local spirit
Wetherspoons' final application was submitted in March 2020 and finally approved last month. There were 59 comments in support, one neutral, and 241 objections, which concerned not only the plans but also founder Tim Martin's refusal to pay staff during the pandemic and stance on Brexit. But planning officers were reassured that tweaks – including a smaller roof terrace that closes at 9pm, and shorter opening hours at weekends – would mitigate noise problems. CCTV, bouncers and a 'home fans only' rule will also be implemented.
Green councillor Emma Edwards attended the planning meeting to represent residents "who feel their views have not been listened to". She told the Cable: "Sadly, feelings about a company does not affect a planning decision, and it seems a foregone conclusion. There's still concern that this will encourage other chains to Gloucester Road, a place many are fiercely proud of. However, the area is friendly and if the pub respects the locals and the spirit of the area, there's a chance it will settle in fine."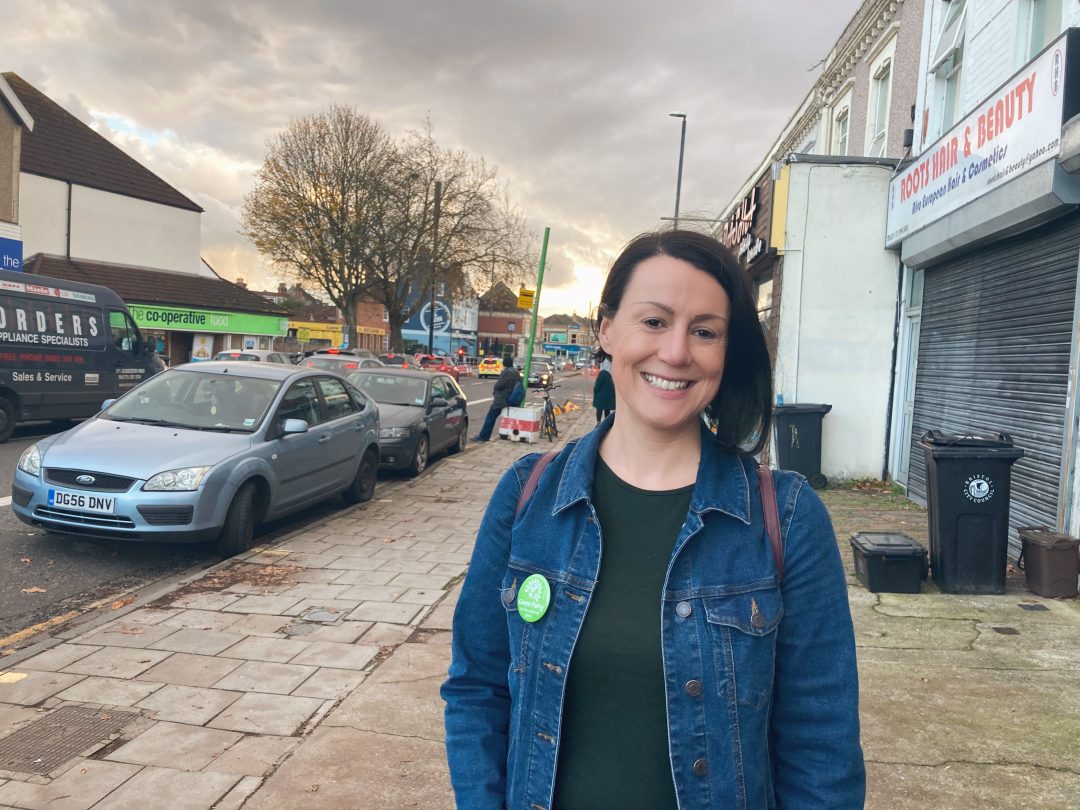 Long before the Wetherspoons opens, The Royal Oak down the road will be bought out by Stonegate, which already owns The Anchor, The Cider Press and the Prince of Wales.
Both Wetherspoons and the micropub movement were influenced by George Orwell's 1946 essay about his favourite – fictional – pub the Moon Under Water. It is "always quiet enough to talk", serves food, has friendly staff, and a garden for children. Supporters of the Gloucester Road Wetherspoons echo these sentiments: Bishopston needs affordable food and drink, and somewhere that welcomes young families.
"I could, legitimately, be accused of sour grapes or of being frightened of losing custom," says Garvan Hickey. "That's not the case. I could be accused of being a luddite – but I don't hark back to some nostalgic view of jolly old England where Orwell's vision of 'old maids bicycling to holy communion through the morning mist' exists.
"I didn't raise any objections to their plans at any time and if it's a success, then good luck to them. I welcome competition and in fact, micropubs near Wetherspoons around the country tend to do pretty well. Once they visit, many customers will appreciate the local alternatives. The more footfall on Gloucester Road, the better we'll do."
*Name has been changed