Police used 'excessive force' during Bristol Kill the Bill protests, as parliamentary inquiry finds 'significant failings'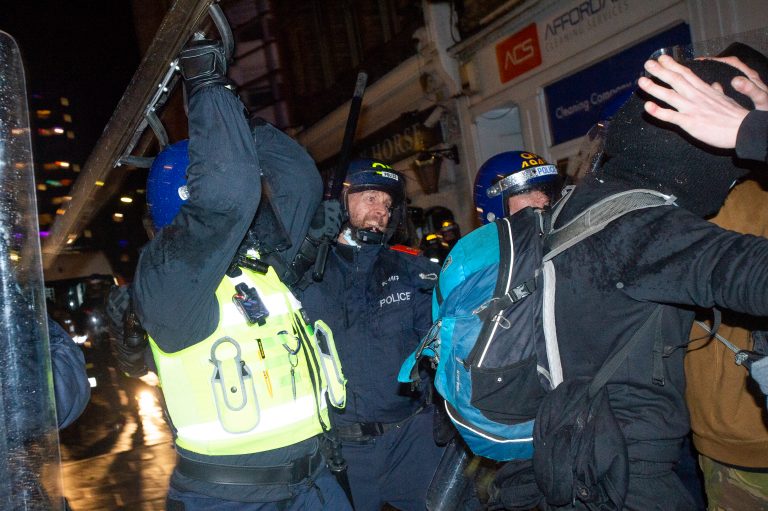 Photos: Guy Peterson
A parliamentary inquiry into police handling of Bristol and Clapham protests in March has found that police used unnecessary and excessive force, failed to distinguish between violent and peaceful protesters and wrongly presumed the protests were illegal.
The inquiry found "significant failings", including apparent 'revenge policing', with witnesses saying that aggressive policing of later protests could have been in retaliation for the protest that ended in an attack on Bridewell Police Station.
The All Parliamentary Group (APPG) on Democracy and the Constitution has also recommended changes to the Police and Crime Bill in light of the policing of Bristol and Clapham protests.
The Bill, currently at its third reading in the House of Commons, will drastically increase police powers to shut down protests, conduct stop and search and gather data on people, as well as criminalising trespass, which is currently a civil issue. It has been dubbed a 'Trojan horse' for burying deeply controversial measures among relatively uncontroversial ones and has attracted nationwide protests since being announced in March this year.
Avon and Somerset Police have been heavily criticised for their handling of protests that took place during lockdown, and MPs and peers in the group say that police conduct at these events, when they temporarily had more enforcement powers, gives an insight into the impact of the future expansion of powers included in the controversial Bill.
The inquiry heard from several witnesses, including Cable journalist Hannah Vickers who'd been at the protests and interviewed protesters about injuries they'd sustained.
'Revenge policing' in retaliation for the first protest
The report concluded that Avon and Somerset Police were put in a difficult position by the ambiguity of the lockdown regulations, and also that officers had to deal with "significant and serious violence", but that there had been "significant failings" in policing of the protests that took place during lockdown.
Police's failure to distinguish between violent and peaceful protesters led to the use of force in unjustified situations, including force against journalists, medics and legal observers; likewise they dispersed gatherings unnecessarily at times. The report also found that the use of dogs, batons and 'blading' floored protesters with riot shields was excessive force. At least 62 people were injured as a result of police actions, 22 with head injuries and seven requiring hospitalisation. The Cable heard from several protesters who said they'd been indiscriminately hit by police without provocation.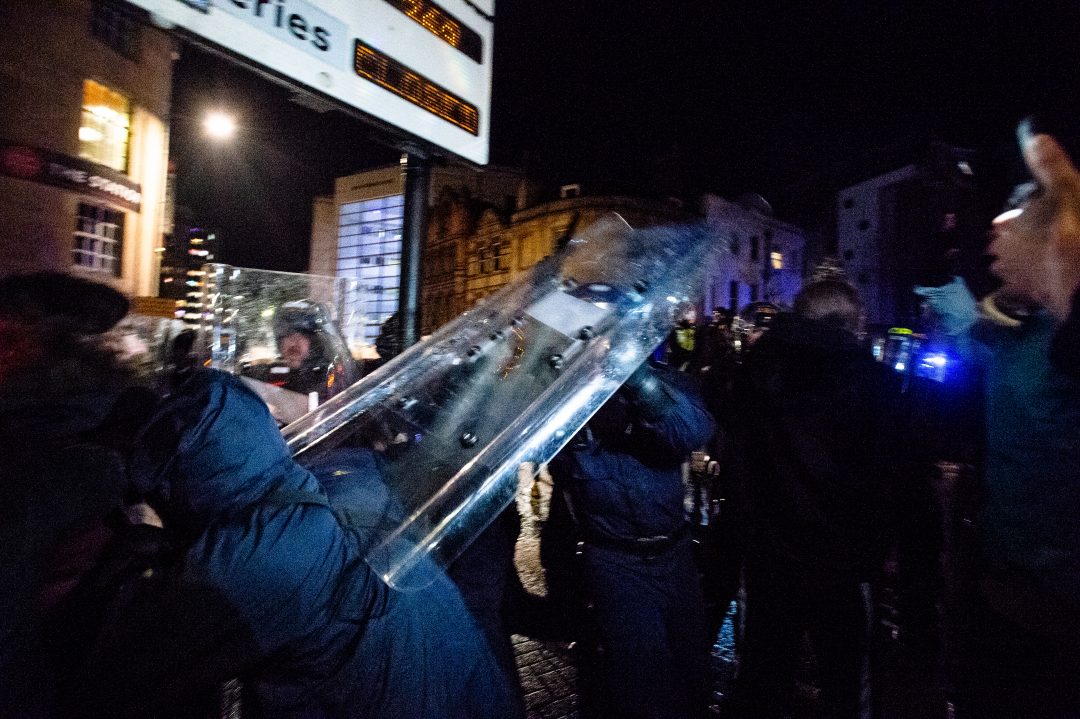 In some cases, police actions led to more public disorder. The inquiry said that the right to protest enshrined in the Human Rights Act 1998 is primary legislation, and so trumps coronavirus legislation. Presuming the protests were illegal created an atmosphere of antagonism and stopped police being able to liaise with organisers, the inquiry concluded.
Witnesses giving evidence said that the aggressive policing of subsequent protests, after the one that turned violent, suggested 'revenge policing', which the report says the group found "particularly troubling".
Police aggressively dispersed a sit-down occupation of College Green on the Tuesday after the first protest, giving protesters little warning before closing in on three sides and trampling seated protesters. The Friday after, they used batons, dogs and shields against protesters, hitting and trampling protesters.
If the aggressive policing of subsequent protests had indeed been in retaliation for the attack on Bridewell Police Station, it would "be an unlawful abuse of power," the report noted.
The "excessive measures" police have taken in their investigations into offences allegedly committed during the protests compounds this impression of 'revenge policing', said the report, highlighting the police tactics in the wrongful detention of two female students they wrongfully arrested for violent disorder. In Katie McGoran's case, who the Cable interviewed after her traumatic encounter in March, they got into her house by pretending to be postal workers, then handcuffed her before she was fully dressed while other officers ridiculed her. The report said this aggressive arrest raised "serious questions about police behaviour, sensitivity, and accountability".
"The actions of officers in those situations appear calculated to coerce and intimidate," they said in the report.
Inquiry recommendations: 'Don't give police more powers over peaceful protest'
The inquiry concluded that protest is "an essential democratic and constitutional right, but it is not properly understood", and that giving police too much coercive power in protests puts them in the position of "both lawmaker and law enforcer", which is "constitutionally and operationally inappropriate".
They also say that police having coercive powers over protest do not necessarily aid public order, and may actually be counterproductive, and that citizens don't have enough power to hold police to account.
They've made several recommendations for changes to the Police and Crime Bill:
The creation of a code for the policing of protest, setting out how relevant police powers must be used, police duties and protecting people's right to peaceful protest
The removal of all clauses that unnecessarily expand police powers in relation to peaceful protest
Independent protest commission to advise on how protests should be facilitated
More police accountability
The inquiry asked all witnesses, including former police officers, how the Police and Crime Bill should be amended and most answered that no amendment would be enough to fix the problems inherent in the Bill. Because of this, the report recommended that all clauses giving police more enforcement powers against protesters be deleted.
"There was a general consensus amongst those witnesses who experienced the exercise of existing public order powers that they would not trust the police with expanded powers. It seems likely that those drafting the Bill did not have events like Clapham and Bristol in their minds when doing so.
"We therefore see no option but to recommend the wholesale removal of the clauses in the bill which give the police or government coercive powers over peaceful protest."
The report from the 'Inquiry into the Protection of Constitutional Rights at the Clapham Common Vigil and Bristol Protests in March 2021' is available here.