'The end of the mask mandate threatens Bristol's young and vulnerable'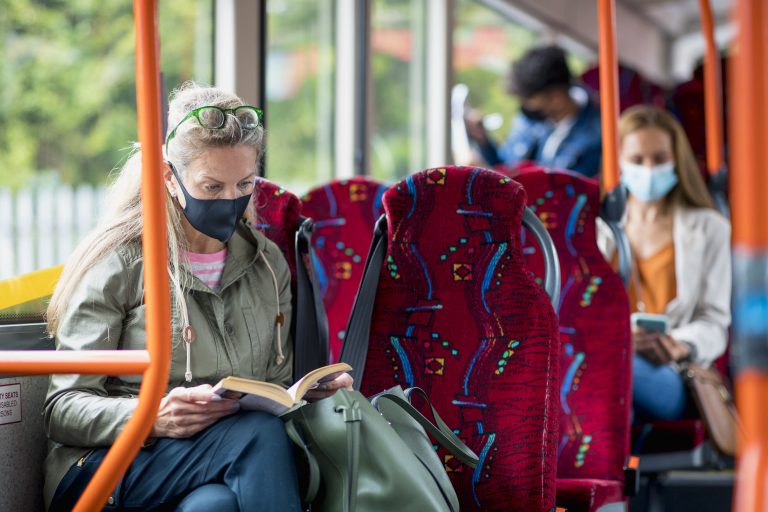 Photo: istock
Face coverings have been mandatory on public transport since June 2020, but new rules from 19 July mean masks have become a "personal choice" on Bristol's buses and trains. This comes as England relaxes almost all coronavirus restrictions. But for some groups the end of the mask mandate could mean less freedom after "freedom day".
The government's pivot to "personal responsibility" is echoed in the approaches adopted by local transport providers here in Bristol. But as face coverings become "recommended", instead of mandatory, Bristol's young people and clinically vulnerable populations could lose their freedom to access Bristol's public transport network.
Responding to these concerns, Dan Norris, the Metro Mayor for the West of England, has encouraged passengers to continue wearing masks on public transport. He is calling on the government to reverse the decision to remove the mask mandate and has signed an open letter alongside other metro mayors arguing that the removal of masks will put clinically extremely vulnerable people in "an unfair position and could affect their ability to travel". The end of compulsory mask wearing may also concern many under 30s who are still waiting to be fully vaccinated.
Risks to Bristol's vulnerable and unvaccinated
When it comes to the safety afforded by face coverings, it is not as simple as a matter of "personal choice". While wearing a mask does offer some protection to the person wearing it, the risk of transmission of Covid-19 reduces greatly where others are wearing masks too, as masks can help to block Covid-19 particles from being transmitted from the wearer. This means that where others choose not to wear masks vulnerable people are left at greater risk of catching Covid-19. And while individuals may be able to make the choice to avoid nightclubs or eating out, public transport is an essential service that many cannot simply choose to avoid.
Face coverings couldn't be more important now. With cases circulating at a rate of 844 per 100,000 in Bristol – compared to the England-wide rate of 627 per 100,000 – Bristol is currently recording its highest level of coronavirus cases since the pandemic began. The removal of masks will only fuel this transmission further, which could threaten the safety of Bristol's young people and individuals who are clinically vulnerable, for whom the vaccine may be less effective.
This risk may be especially acute in Bristol, where community levels of protection provided by the vaccination may be lower owing to Bristol's lower vaccination rate. In Bristol, fewer than half of adults are fully vaccinated, compared to 68% of adults across the UK. This is likely to be driven, in part, by Bristol's young population, with the median age in the city standing at just 32, compared to a national average age of 40.
These lower vaccination rates also leave young people at risk.
To date, fewer than one in four young people, aged between 18-30, has been fully vaccinated, and many young people will not be fully vaccinated until September. With a single vaccine dose offering much less protection from illness than a double dose, this means that ending the mask mandate threatens levels of community protection and will leave young people – who were last in the vaccine queue – at greater risk of exposure to illness from Covid-19.
Whilse young people are typically at lower risk of being hospitalised with coronavirus, they are still at risk of developing Long-Covid, which researchers believe will leave hundreds of thousands of young people with long term health problems as coronavirus cases surge across England.
The government's failure to retain mandatory face coverings on buses and trains, therefore, risks the health of clinically vulnerable individuals who may be reliant on public transport to reach work, family and friends, or even hospital appointments. It leaves teenagers who are clinically vulnerable, due to conditions like asthma, exposed on their journeys to school while their parents anxiously wait for them to be offered the vaccine. It leaves under 30s, anxious about contracting Long-Covid, facing more risky commutes while they await their second dose.
As clinically vulnerable individuals and unvaccinated young people are forced to weigh up the potential health risks of using public transport among maskless strangers, Bristol could see a decline in the use of sustainable travel. If these concerns lead to Bristolians taking more trips by car, this could worsen Bristol's existing air pollution problem, which already kills an estimated five people in the city each week. The government's removal of the mask mandate, therefore, stands to bring about both direct and indirect health consequences for Bristol's population.
In the absence of government leadership, we are going to need all Bristolians to mask up and step up to protect the community.