How Bristol communities are building grassroots action to tackle climate change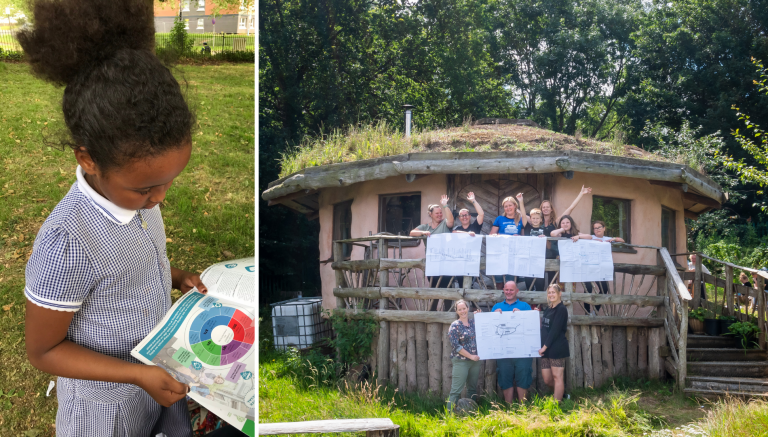 "Trying to take action on something that feels very overwhelming, with lots of jargon, is difficult. And it's even harder for lower income families to tackle the climate crisis."
Kirsty Hammond from community organisation Heart of BS13 tells me this as she gets ready for a beatboxing workshop at Hartcliffe Club for Young People. As part of the government holiday hunger, the children will get fed today as well as learn about climate change.
Heart of BS13 is one of six community organisations taking part in a project to build plans for grassroots climate action with local people. Funded by the National Lottery's Climate Action Fund and coordinated by Bristol Green Capital Partnership, the Community Climate Action project aims to involve different communities across the city in conversations about climate and what needs to be done to reduce our carbon footprint.
With a landmark report by leading scientists revealing this week climate change is more unprecedented, irreversible and widespread than previously thought, reducing our emissions has never been more important. Meanwhile, Bristol has set its very ambitious target of becoming a net zero carbon city by 2030.
The six community organisations have taken on the difficult challenge of engaging with local people about their views on the climate and local environmental issues before moving onto solutions later this year.
Now at their disposal are community carbon footprints produced by the Centre for Sustainable Energy – a hyperlocal look at how our everyday lives translate into carbon emissions, from transport to how you heat your home and what you buy.
"Climate can feel quite intangible," says the project's community manager Amy Harrison. "People know it's important but it can be hard to know how it translates into the day-to-day."
"This is what the carbon footprints are trying to address. They are the snapshot to start that conversation. It makes it more real for people at a local level.
"From a climate justice perspective, the narrative is still fairly dominated by white middle class people. It's beginning to change but there's a lack of diversity of voices heard. Policy could be better informed through wider representation. We want to use this project as an opportunity for bold community-led climate action to bring about broader social change and challenge inequality, by making sure voices are being heard from Bristol's most diverse and disadvantaged communities."
Young people in south Bristol
Heart of BS13 has chosen to focus on engaging young people with creative climate change workshops from year 5 up to further education. "We're focusing on young people because it's their future and a lot of people stay in the area in BS13," Kirsty Hamond tells me.
"With many people in Hartcliffe, there are so many different issues in the area, climate change isn't necessarily the priority for households," she says. "But the young people know much more than we thought they would. They've hopefully taken the workshops home and spoken to their parents."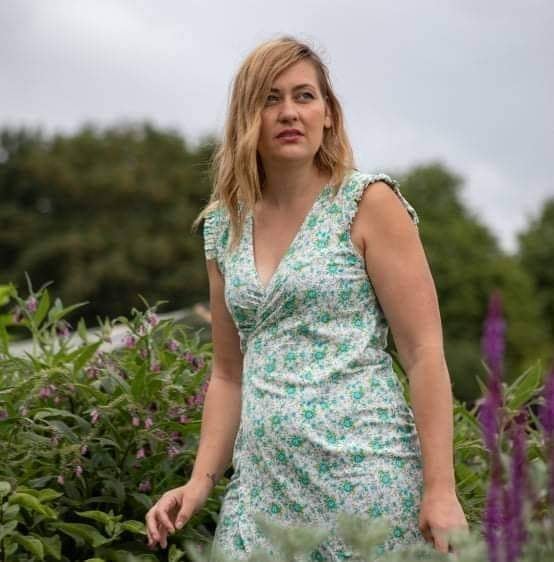 Engaging young people with climate issues is only half the story. "All the work we do in the community is linked with the climate," Hammond says. Fuel poverty is a big issue in the area, so they gave out grants last winter to help people warm their homes and reduce their carbon footprint.
They are taking over Hartcliffe City Farm, which Hammond describes as "an amazing opportunity to create green jobs and look at the sustainable impacts of farming, help the community get educated on the topic and reconnect with nature". They have also been awarded funding to redevelop the roundhouse into a climate education hub.
Transport is another priority. "As shown from the carbon footprint analysis, BS13 has a lower carbon footprint than other areas in Bristol, yet it will be them who will be worst affected. The carbon footprint showed we have a lower rate of car owners per household, but our transport links are very poor in the area. We've been supporting the Moving Forward Bristol campaign, and now BS13 is on the proposed tram map to improve transport links in the area."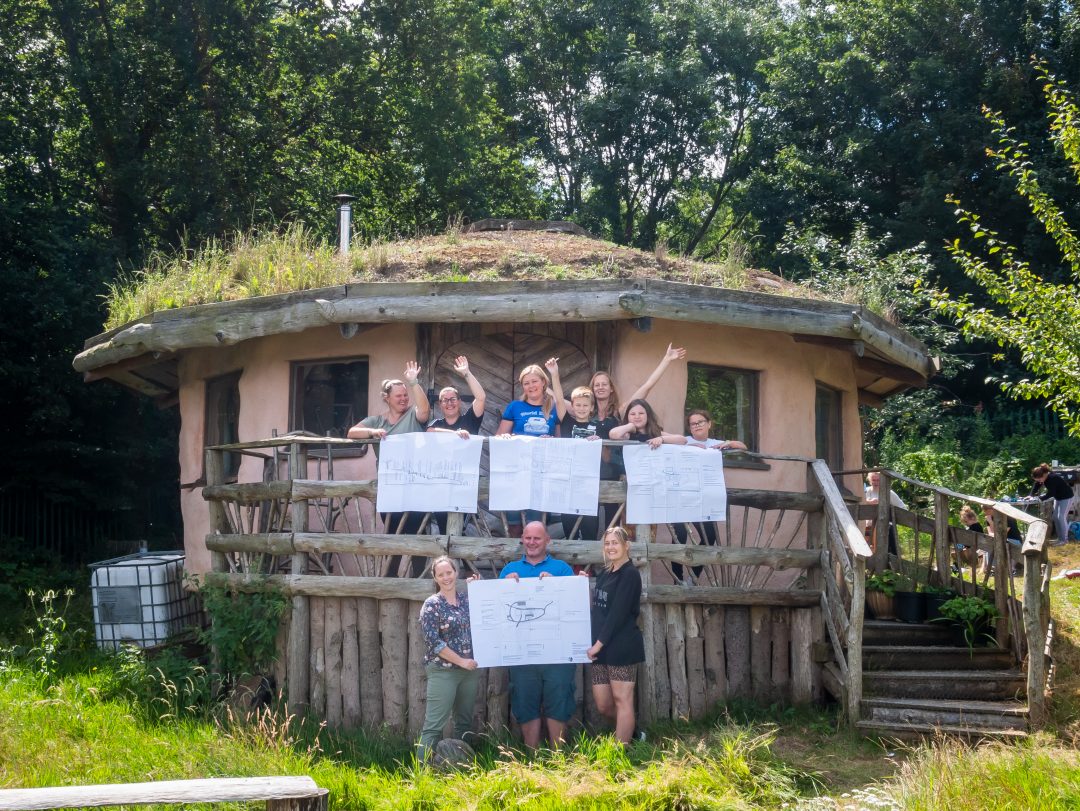 "It's about tackling inequality and making sure residents in BS13 have the same opportunity to get involved as anyone else. It's about explaining how these local issues are linked to the climate.
"It seems like the pandemic has awoken people to the crisis and want to do something about it."
Easton and Lawrence Hill: 'It's grounded in climate justice'
Over on the other side of Bristol, Eastside Community Trust are talking to residents of Easton and Lawrence Hill about climate issues. There is overlap with the priorities of people south of the river, such as transport and food insecurity, but other problems like air pollution and lack of green space are more specific to the inner city.
Emily Fifield, who is coordinating the project, tells me these day-to-day issues are a crucial way to zoom out to the bigger picture, which can be tricky otherwise. "One of the biggest challenges about climate change is that people are dealing with so much already. People are tired at this point emerging from the pandemic."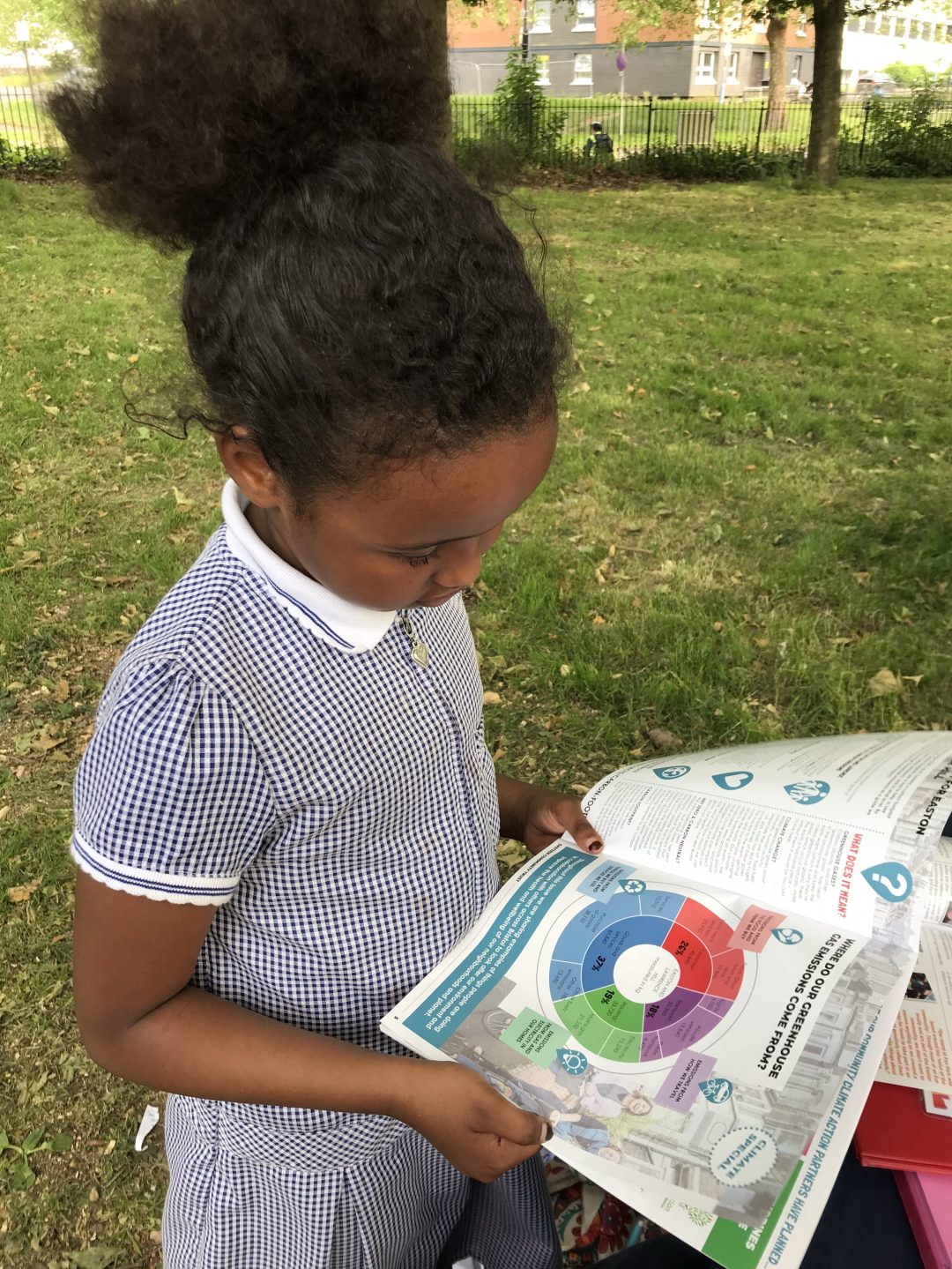 In recent months, they have published the local carbon footprint in Up Our Street magazine, created podcasts with local children from Felix Road Adventure Playground, and used regular radio shows on BCFM to platform different community voices.
"We have quite a lot of people who are already quite involved with these topics, but wanted to bring in voices who are often excluded from conversations about climate change," Fifield says.
She says the local carbon footprint report has been a crucial conversation starter. "People have made the link to transport, and plastic comes up a lot, but food, the products we buy and energy are sometimes seen as less connected, so it's important to start conversations about what we can do to have the biggest impact."
There have also been events to collect views on air pollution and transport, in collaboration with Bristol Disability Equality Forum – another community group that's part of this project. In an area with low car ownership but the worst air pollution in the city, this is a clear priority for people.
After collecting views from local people over the summer, Eastside Community Trust hopes to have the first draft of their climate action plan by October. But the work doesn't stop there, as plans will evolve over time.
Fifield says the project is about making sure decisions on climate action "reflect people's realities and make sense in people's lives".
"It's important that we're not asking the people who are least responsible for emissions to carry the biggest burden for reducing it," she adds. "It's grounded in climate justice and not wanting to put too much on the individual.
"We need to improve people's quality of life rather than creating an extra burden."