Four more 'Kill the Bill' protesters plead not guilty to riot charge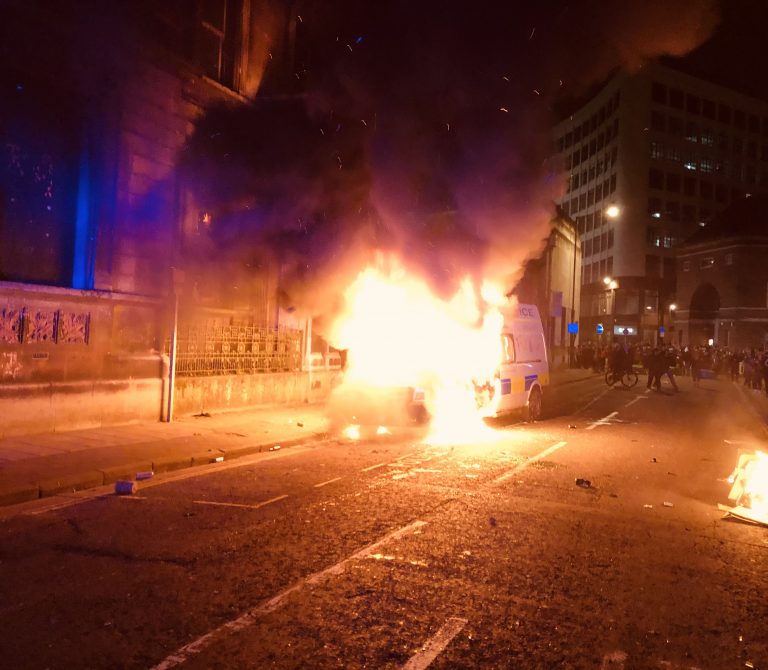 Photo: Guy Peterson
Four defendants pleaded not guilty to counts of riot at Bristol Crown Court today (Tuesday, 24 August).
Kadeem Yarde, 23, of Moreton Park Road in Bideford, Callum Davies, 23, of Bradstone Road in Winterbourne, Fleur Moody, 25, of Albany Road in Montpelier, and Gopal Clarke, 23, of Regent Street in Kingswood, appeared in Bristol Crown Court and pleaded not guilty.
The four defendants denied wrongdoing in connection with a Kill the Bill protest in Bristol and were set hearing dates for May and June next year. A fifth defendant, Arthur Lazarus, 22, of Tregenver Road in Falmouth, Cornwall, did not attend court because he had Covid symptoms.
So far, 78 people have been arrested in connection with the protests against the Police and Crime Bill in March and April this year. Of these, 29 have been charged with offences including affray, arson, violent disorder, public indecency and riot.
For the 13 who have entered not guilty pleas to riot charges, trials are scheduled to begin this October and are so far stretching into June next year.
A total of 36 wanted images are still on the police gallery and police today released images of two more people they're looking to talk to in connection with the 21 March riot.
Last month, four men were jailed for more than three years each after pleading guilty to charges of riot. Another woman was handed a five-month sentence for outraging public indecency after urinating on a police officer's shoes.
Those charged with riot are facing the prospect of a maximum 10-year jail term and a slim chance of a suspended sentence. Riot is defined under the Public Order Act as 12 or more people coming together and using or threatening to use violence for "a common purpose" which could put people present at fear for their safety.
People took to the streets in March and April this year to protest against the controversial Police and Crime Bill, which if passed later this year will curb people's right to protest, give police more stop-and-search powers and make trespass illegal. Despite nationwide protests – 14 to date in Bristol alone – the Bill is in the last stages of its journey through parliament and will have its second reading in the House of Lords on 14 September.
The first protest, on 21 March, turned into a riot outside Bridewell Police Station, with fireworks and bottles thrown and a police van set on fire. A cross-party inquiry into policing of later protests found that police used excessive force, with some witnesses calling it 'revenge policing'. Police monitoring charity Netpol reported that at least 62 people had been injured as a result of police actions.
Yarde's next trial date is 3 May 2022, Davies' is on 16 May, Clarke's is on 6 June and Moody's is on 23 May.