'Their lives and safety are in great danger': Students urge Bristol Uni to protect Afghan alumni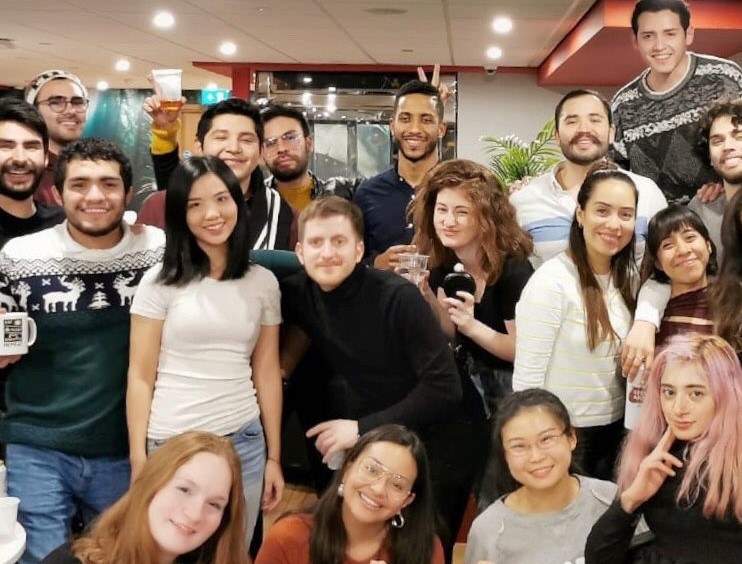 Photo: Adriana, front right, with her friends from the scholarship programme (Provided by Adriana)
Alumni from the University of Bristol have launched an appeal to Vice Chancellor Hugh Brady to take urgent action to help alumni stranded in Afghan capital Kabul after the Taliban seized control last week.
After the Taliban shut down passenger flights, students are now asking the University of Bristol executive board to make a statement to the Foreign, Commonwealth, and Development Office and the UK embassy in Afghanistan for help in evacuating their friends.
In response, the University said: "[We] are following the Universities UK approach which has been lobbying collectively for Afghan students and staff and those who may be able to get out of Afghanistan and to the UK."
In a rapid offensive, the Taliban took 34 Afghan provincial capitals in almost nine days, culminating with the capture of Kabul on Sunday 15 August. This follows a summer of Taliban advancement through the country since US and coalition militaries began pulling out of Afghanistan in the spring. The UN is now warning of an impending humanitarian crisis in the country.
Watching the news unfold last week, the group of former UoB students were worrying about their friends Asal, a women's rights activist, and Habib, who are now stranded in Kabul and desperate to leave.
Trying to get out of Kabul
"It was incredibly emotional watching what was going on on Sunday," said Adriana (pictured, with pink hair), one of the petition organisers. "Knowing that my friends were there, I felt powerless, scared and angry. But I didn't want to focus on myself, I needed to focus on what I could do."
There has been a tragic scramble in the capital since the Taliban took the city. As the last US and coalition staff were evacuated, President Ashraf Ghani fled the country. Kabul airport was packed with those attempting to flee the country in fear of the impending Taliban take over.
Adriana is a Masters student from Mexico, who is in Bristol on a scholarship for international students to study in the UK. In Bristol, she and the other scholarship recipients from around the world became a tight-knit group of friends, among these were Habib and Asal. While many of the group remained in Bristol, these two returned to Kabul after their studies.
The group of friends swung into action when they heard the events unfolding in Afghanistan. They especially feared for Asal who had been a prominent women's rights activist for many years. She gave educational talks and received local and international news coverage about her work. 
Habib applied for an emergency visa to India while waiting for the UK to process his work visa.
Asal meanwhile, knowing that her work on women's rights put her in danger of reprisals from the Talbian's brutal patriarchal order, Asal quickly set up a Gofundme to raise money for a flight out of the country and contacted multiple embassies for an emergency humanitarian visa, including the UK.
Ultimately, the only country that would accept her was Turkey. With the funds raised, she was able to book her flights for Sunday 15 August; Asal and her friends let out a sigh of relief.
But an hour before her scheduled departure, her flight was cancelled. This was followed shortly by the cancellation of all commercial flights out of Kabul. In the fear and confusion, desperate civilians risked everything to get on board the few military aircraft still leaving. Some even held on to the outsides of planes as they took off, resulting in the deaths of at least five people. Asal remains in Kabul.
With renewed urgency, Asal and the group of Bristol-based friends quickly mobilised again. They purged her social media and other websites mentioning her name and activism, to protect her as much as possible while living under Taliban rule.
Next, they set up a petition directed to the Vice-Chancellor and executive board to appeal to the UK government to protect their alumni. "We appeal to the trust you placed in our Afghan fellows to be part of the University of Bristol's community to help them find the protection they immediately need," it says. "If they are not evacuated within the next hours, their lives and safety are in great danger."
What's being done?
On Wednesday 18 August, the UK government set up a bespoke resettlement scheme for vulnerable Afghan refugees, "prioritising women and girls and vulnerable people first", according to home secretary Priti Patel. This scheme aims to resettle 5,000 Afghan refugees to the UK over the next year, and a further 15,000 over the following four years. 
This will run in conjunction with the Afghan Relocations and Assistance Policy (ARAP) launched in April to resettle interpreters, Afghans who worked with British Forces and other people who worked for the UK in Afghanistan.
The scheme has faced criticism in parliament for not going far enough; saying the UK needs to take more people. Bridget Anderson, director of the Migration Mobilities Bristol network at the UoB describes the scheme as "totally inadequate and an abdication of British responsibility for what ordinary people are now having to endure". She goes on to advocate for the goal of the petition organised by the former students, adding: "This is what being a 'civic' and 'global' university demands."
Meanwhile Bristol City Council has pledged to give sanctuary to 10 Afghani families who have fled the country. Darren Jones, MP for Bristol North West, tweeted: "We and our allies promised the people of Afghanistan that the Taliban would be a part of their past and not their future. We have sadly walked away from that promise. Bristol is a @CityofSanctuary and we stand ready to support Afghan refugees."