This Week in Bristol: Kill the Bill protestors jailed for rioting, and Covid cases falling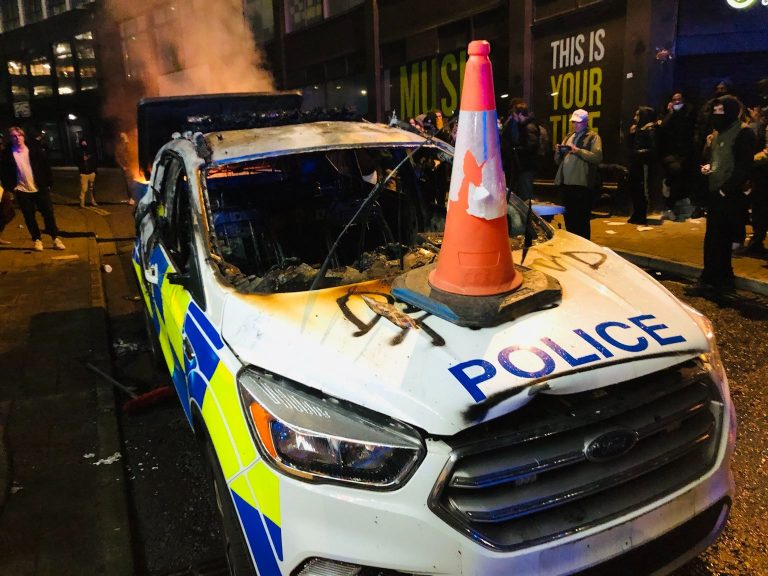 The Bristol round up
? Four men including an 18-year-old have been handed jail terms of over three years each after entering guilty pleas to the rarely-used charge of riot during the Bristol protests against the Police, Crime and Sentencing Bill earlier this year. A fifth woman was given a five month custodial sentence for outraging public decency.
? Four of the five were Bristol residents, despite some city leaders decrying outside agitators for instigating the unrest outside Bridewell police station in March.
? A total of 29 of the 75 people arrested have been charged in connection with the disturbances against the Bill, which seeks to limit the right to protest, increase sentencing ranges and discriminate against Gypsy, Roma and Traveller communities.
⚖️ For the 24 who have entered not guilty pleas, trials are scheduled to begin this October, with those charged with riot facing the prospect of a maximum 10-year jail term and a slim chance of a suspended sentence. Potential sentences are nearly double the custody time served to the Channel 4 series villain Mark Viner at Bristol Crown Court for trafficking women from Brazil to work in a brothel in the South West.
? Over £18,600 has already been crowdfunded at time of writing by supporters of people being sent to prison. Bristol ABC prisoner support group, which organised the fundraiser, have pledged to directly give £50 to each person jailed per month for the duration of their sentence if they reach the £30,000 target. A spokesperson said this would cover expenses behind bars, such as phone credit, books and other essential items.
? Workers at University Hospitals Bristol and Weston NHS Trust told watchdogs from the Care Quality Commission that line managers had issued the demeaning instruction to go by "Western names" while on duty – because their own are too hard to pronounce. Trust chief executive Robert Woolley, who oversees the BRI, Bristol Children's Hospital and Weston General, insisted that there was "no management instruction" and criticised the alleged behaviour as "micro-aggression" that left staff feeling "judged and unwelcome".
? Police officers drew their tasers against minors every week in Avon and Somerset last year. Overall use of these weapons more than doubled from 74 times in 2018-19 to 166 in 2019-2020. They were deployed overwhelmingly against men aged 18-34, but also 70 children in 2019-20. UNICEF has called for the use of tasers on children to be banned. (Source: LDRS)
? Bristol Energy cost city council taxpayers an estimated £43 million, it has been revealed. The final total will not be fully known until liquidators have finished winding up the catastrophic venture next year. There will be an audit report published next month into what happened, but there will be no public interest report, which would have carried legal powers and been sent to the government. (Source: LDRS)
✊? The statue of Black Lives Matter protestor Jen Reid will not be installed on the empty Edward Colston plinth, after a planning inspector ruled it would do more harm than good. The statue appeared on the plinth last year but was removed by the council. The council did not register an application to install the statue for two years, but the appeal against the council's inaction was dismissed. (Source: LDRS)
Bristol weekly Covid-19 update
? The majority of 85 people currently in Bristol hospitals with Covid-19, the majority have not been vaccinated, director of public health Christina Gray has said. This is down from a peak of 94 last week. Around half of these patients are receiving oxygen in intensive care.
? Two community testing vans with lateral flow tests hit the streets of Bristol this week to make the testing more accessible and readily available.
? There have been 1,897 new Covid cases in Bristol in the last week, which is 17% lower than the previous week (2,271).
? The rate of Covid in Bristol is 407 per 100,000 people, higher than England's of 282 per 100,000.
?1st Covid jabs given in Bristol: 320,205 (+1,681) – 75.4% of adults (+1.2%)

?? 2nd Covid jabs given in Bristol: 234,150 (+10,299) – 55.1% of adults (+4.7%)
➡️ There has been 1 death with Covid in Bristol in the last week (up to 5 August, within 28 days of a positive test).