'My pension is being invested in the destruction of the Amazon rainforest. This can't continue.'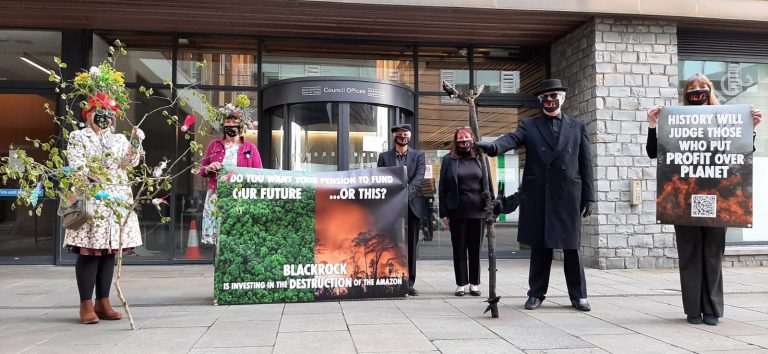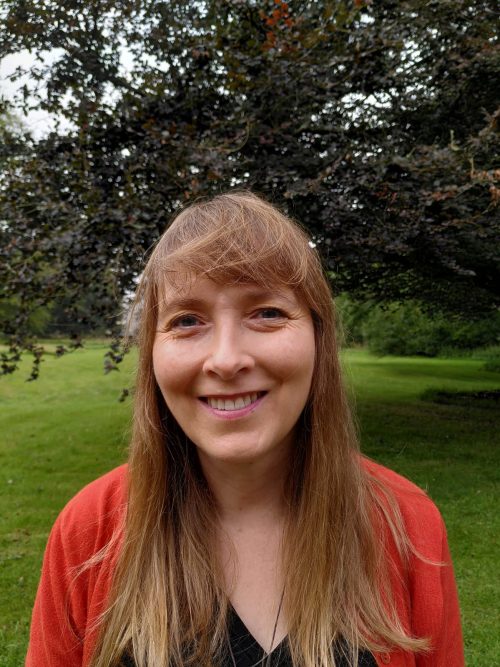 Photo: Richard Baker
I have worked for 28 years with young people trying to help children achieve their best possible futures. I was horrified, as many others will be, when I realised that 21% of my pension with Avon Pension Fund (APF) is invested in BlackRock.
The Cable has rightly covered the important campaign to get APF and the wider Brunel Pension Partnership to divest from fossil fuels. APF has committed to being a net-zero investor by 2050 but is still investing millions in fossil fuel companies.
But what also needs highlighting – and urgently – is their significant role in funding deforestation.
Investment giant BlackRock, who are responsible for more than US$9 trillion in investments, is the world's biggest investor in rainforest destruction in the Amazon and elsewhere, according to environmental groups. And the APF Annual Report for 2019/2020 stated that nearly £950 million worth of pensions were invested in BlackRock's Liability Solutions Fund – which equals 21% of APF's total investments.
Whether or not these funds contain investments in companies operating in the Amazon, having such a large holding in BlackRock funds means that APF is enabling BlackRock to continue investing in environmental destruction.
This is why I decided I need to take action. In October 2019, I coordinated a peaceful protest outside BlackRock's HQ in London with Extinction Rebellion activists from Bristol from all walks of life including doctors, a retired head teacher, artists, a builder, librarian, careers adviser and businessmen.
During this action, I – a previously law-abiding and rather risk-averse citizen – made the tactical decision to glue myself to the building. Months later, much to my relief, I was notified that all charges had been dropped due to lack of evidence. I think they probably decided it wasn't worth taking on this particular granny!
As an activist, you never know the impact of your actions. It's a bit like throwing a handful of pebbles into a pond and never knowing if it will cause ripples or sink straight to the bottom. This particular protest got worldwide coverage, and shortly afterwards BlackRock announced the biggest divestment ever ($1.8 trillion) from fossil fuels. But sadly despite this welcome action they continue to invest in companies that are contributing to the destruction of our precious planet and its inhabitants.
As a Quaker, mum and granny, and as someone who rather late in the day has properly listened to the scientists and grasped the true scale of what we are facing, I feel that I have to do what little I can within the small window of hope that we have before our precious planet reaches a 'tipping point' and it really is too late.
BlackRock is the world's largest asset management company managing $9 trillion dollars, worth more than the value of the world's third largest economy. It invests in companies that use deforestation to produce beef, soy, palm oil, rubber and timber. And due to the massive scale of its financial holdings, BlackRock has the power to influence whether our planet remains habitable or not.
Earlier this year I coordinated another linked protest, this time outside outside Avon Pension Fund's HQ in Keynsham asking Avon Pension Fund to divest from BlackRock – hoping that others in the pension world will also realise that it is now no longer either ethically viable or financially sensible to continue to put our pension funds with companies that our destroying our futures.
In August, I was involved in another XR protest outside BlackRock's London HQ during which we rolled out the red carpet and presented an ironic charred earth award to BlackRock and again asked for pension funds to stop supporting the destruction of the Amazon rainforest.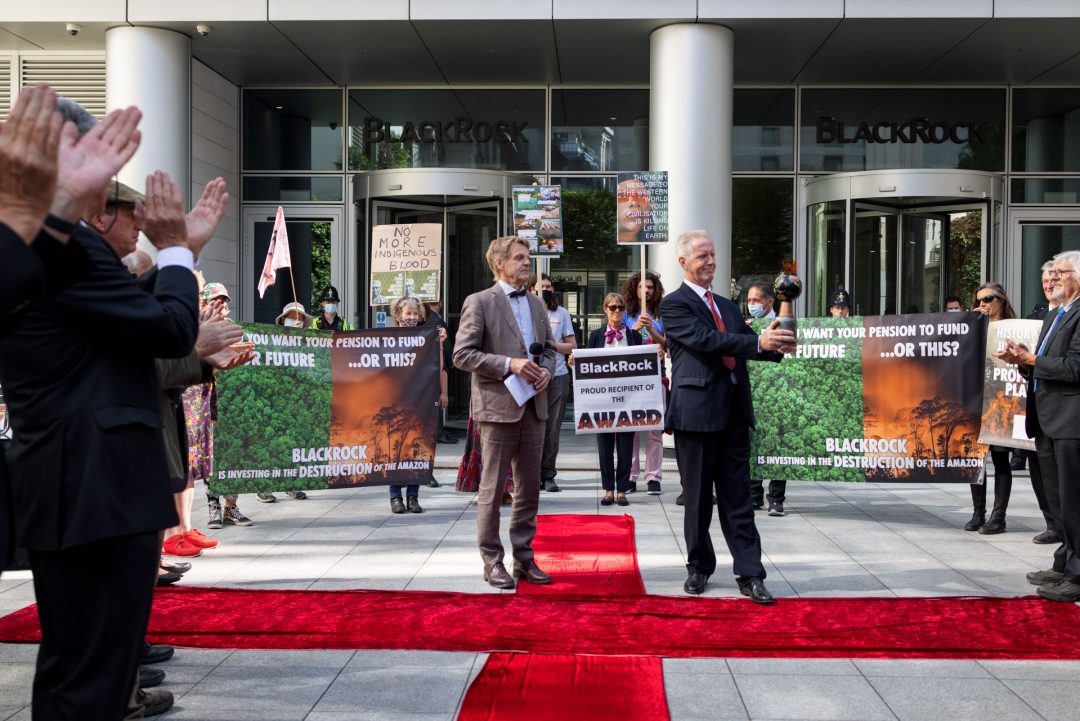 Why deforestation is such a problem
Rampant deforestation is already creating a climate catastrophe in the Amazon. Researchers and environmental groups have warned that deforestation is driving the Amazon towards dieback, an irreversible process in which the rainforest could dry out and become a savannah. This would release more CO2 into the atmosphere and therefore accelerate rising temperatures and a disastrous loss of biodiversity.
The Amazon rainforest is frequently called "the lungs of the world", because it produces oxygen and absorbs a huge amount of CO2. But National Geographic reported recently that the first study of all Amazon greenhouse gases suggests that the damaged forest is now emitting more greenhouse gases than it can store. In other words, it is making climate change worse. We have already lost around 20% of the Amazon – another 5% could spell its destruction.
BlackRock has invested significant sums into mining companies Vale and Anglo American, which leads to deforestation of protected Indigenous land and contamination of rivers, according to a recent report by Amazon Watch and the Association of Brazil's Indigenous People (APIB).
Another company BlackRock has invested in is JBS, which is the world's largest meat packer, producing and processing beef, pork, poultry and lamb. The company plays a role in cattle ranching, which accounts for about 80% of Amazon deforestation, and in 2017, it was fined $7.7m for knowingly buying 50,000 cattle raised on illegally deforested land.
Time is rapidly running out for the Amazon rainforest. BlackRock, Avon Pension Fund, Brunel Pension Fund and others entrusted with our pensions say that they are working towards the phasing out of funding fossil fuel companies and the companies causing deforestation. But it's too late for dillydallying, greenwash and little steps – big strides are needed – or soon we'll all wake up to the loss of not just the Amazon rainforest but so much more.
If you are concerned about what your pension funds are financing – contact the pension fund holders and make your concerns known.