How Bristol is responding to surging demand for mental health support linked to Covid-19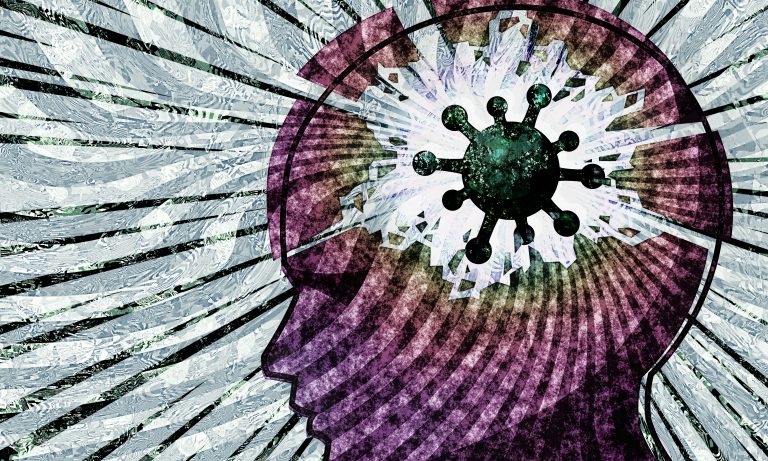 "People were really despairing, calls went up in January, February and March. We tried to maintain what support we could." Liz Sorapure, the wellbeing manager at Bristol Mind reflects on the impact of this winter's lockdown on people's mental health.
The number of people accessing mental health support fell during the first lockdown. Then referrals reached the highest point in two years in March this year, but this rise in Bristol was lower than the national average.
NHS mental health services in Bristol and surrounding areas are now dealing with rising demand for urgent and emergency support, as the impact of the pandemic continues to take effect. There has also been a surge in people seeking support from local charity helplines including those who couldn't access NHS talking therapy.
Bristol, North Somerset and South Gloucestershire Clinical Commissioning Group (BNSSG CCG) have said they expect demand to rise further in the next three years due to the long-term impacts of the pandemic.
By March 2021, monthly mental health referrals in England had risen to 19% higher than the total seen in February 2020, according to new research by the BBC Shared Data Unit. Urgent care referrals – made when a patient is suffering a more serious mental health crisis – are also at their highest levels in two years.
This comes as it was revealed this week that the NHS believes an estimated 8 million people in England with mental health problems cannot get specialist help because they are not considered sick enough.
In response to the rise in referrals in March this year, mental health charities have urged the government to act. MIND's head of health policy Geoff Heyes said: "When you see those figures reaching record levels it's a real alarm bell for problems elsewhere in the system, where people aren't getting support quickly enough… "Our fear is that more people will be struggling because of the economic impacts that we have yet to see".
Some areas saw referrals double, but in Bristol, North Somerset and South Gloucestershire there was a smaller increase than the national average – referrals were 6% higher in March 2021 than February 2020, which is the highest point since October 2019.
The rise in demand in Bristol and surrounding areas appears to be less pronounced than other parts of the country. So how did Bristol's services respond to the crisis?
How has Bristol responded?
Last Autumn, a local Mental Health and Wellbeing Cell was set up in response to Covid-19, bringing together more than 60 organisations from across the NHS, local councils, voluntary sector and others. There was a focus on real-time data on mental health needs, health inequality and support for groups most affected by the virus.
Local initiatives funded by £1.6 million of government funding included mental health training for volunteer and faith groups, targeted support for BAME young people, expanding the HOPE project which prevents suicide among men, mental health specialists supporting 111 and ambulance staff, and extra support for refugees, asylum seekers, people with dementia, personality disorders and learning disabilities.
Sarah Branton, deputy chief operating officer at Avon and Wiltshire Mental Health Partnership (AWP) said: "The predicted surge in demand for mental health services was identified in September 2020, and we have been working closely with BNSSG CCG, to closely monitor the situation on a daily basis, so that we can adapt and shape our services accordingly".
She said AWP introduced a 24/7 helpline for advice and signposting to the right service, and staff have been working closely with emergency services crews dealing with incidents involving people with mental health conditions.
"Whilst the rise in referrals to our services in BNSSG was lower than the national average, we are continuing to see increases in the number of urgent and emergency referrals we receive and the number of people on our caseloads is continuing to rise," she said.
At the start of the pandemic, VitaMinds, the provider of IAPT services – which includes talking therapies, such as cognitive behavioural therapy (CBT), counselling and other help for anxiety and depression – recruited more than 30 new staff. The CCG said the majority of the waiting list that it inherited from the previous service provider had been cleared by October, other than around 100 service users who had appointments within the month.
However, demand for these services increased between then and March this year, and the CCG is currently failing to meet the national standard of 75% of people being referred to IAPT services starting treatment within six weeks.
But Bristol's mental health response went far beyond the NHS, as the voluntary sector played a supporting role.
Sorapure told the Cable that the surges in demand for their helplines and counselling services during the different lockdowns.
"It was incredibly challenging for us as an organisation," she said. "Understandably there was a lot of anxiety around Covid, not just the becoming ill but people worrying about their jobs, people ringing who had never experienced mental health difficulties before and were feeling really out of their depth and not knowing where to turn."
Between September 2020 and June 2021, they offered a shielding counselling service with funding from national charity Mind. "Those shielding because of their physical health vulnerabilities also experienced increased poor mental health. The connection between long term complex health troubles and poor mental health has always been acknowledged, but many callers were experiencing new and significant loneliness and isolation due to lockdown."
In April, they expanded their Mindline service from five nights a week to seven, using temporary funding from the CCG. "Calls pretty much doubled in a year. We saw a massive surge, and had to train up volunteers online."
Liz said she saw people struggling to access NHS counselling. "The public said IAPT services had a high threshold to get seen. We noticed people accessing our service who were more unwell than we would normally see."
She also said the lockdown in January 2021 was the hardest as calls soared. Data from Mindline shared with the Cable showed an increase of 44% in the first three months of 2021 compared to the previous year, as hundreds more people called the helpline.
She spoke positively about how Bristol came together to respond to the crisis, but said more support is needed for third-sector services. "There is support for the charity sector in Bristol in terms of delivering mental health services, but my concern is funding longevity, as the impact of Covid on residents' mental health is still an unknown level."
What next?
A spokesperson for the CCG told the Cable that what we're seeing now isn't the full picture, as national modelling suggests that it's going to take three years for the impact of the pandemic on people's mental health to turn into a demand for services
"We are expecting levels from March to continue to grow as service engagement behaviours return to normal and the longer term impacts of the pandemic affect people's lives and wellbeing."
Sorapure said the level of distress has gone down during the summer, with the easing of restrictions and better weather, but their calls haven't really dropped off, as many are still experiencing anxiety around Covid-19.
"There's certainly an increased number of people who are experiencing mental health issues who never have before. I think there is more awareness of it, more acknowledgement, which is a positive thing, because stigma needs to be addressed."
But she worries about what is to come. "My concern is the winter, what is going to happen, infection rates are quite high and for people who are anxious or vulnerable physically, that level of support needs to be there.
"Mental health services need to look at vulnerable groups in society, the homeless, refugees, those who have more challenges accessing support."
Anyone struggling with their mental health should call 0808 808 0330. To find out more about how Bristol Mind can help go to their website. You can also find out more about AWP's 24/7 helpline here.