'That's not the way to legislate': Lords slam the Police and Crime Bill for being too big, wide-ranging and draconian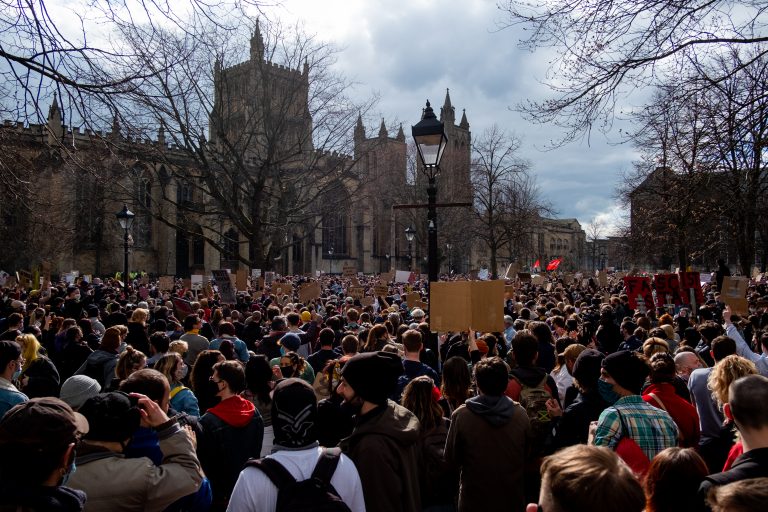 Photo: Guy Peterson
Throughout the many nationwide protests against the Police, Crime, Sentencing and Courts Bill, and the trials of people involved in clashes with the police after the first Bristol protest, the proposed legislation has been progressing quietly through parliament.
On 5 July the Police and Crime (PCC) Bill was approved unchanged in the House of Commons 365 to 265 votes after dozens of amendments had been proposed but none ended up being approved, and was passed to the House of Lords, where this week it was debated for the first time.
The PCC Bill is a wide-ranging and contentious piece of legislation that looks set to bring huge changes to police and sentencing powers. Human rights organisations have recommended the removal of the parts of the Bill relating to public order and protests (part 3), and unauthorised traveller encampments (part 4).
The Bill was debated the day after the government said that discrimination against Black people and Gypsies, Roma and Travellers in the new laws the Bill would bring was "objectively justified".
Particularly controversial are plans to increase police powers to shut down protests and to criminalise trespass, enabling police to arrest people caught on land that isn't theirs.
Under new measures, organisers of protests could get up to 11 months in prison, up from three months, protests could be cut short a lot more easily, and damaging a memorial could get you 10 years in prison or a £10,000 fine, up from three months or £2,500.
If you're caught trespassing, meanwhile, you could be fined and have your vehicle seized – which if you live on the road is also your home, and you could get prison time.
'Why was it necessary to cram so much in?'
Yesterday's House of Lords debate lasted six-and-a-half hours, with members discussing several aspects of the Bill.
As well as police powers and unauthorised encampments – which we'll be focusing on here – they covered the extraction of information from mobile phones, domestic homicide sentencing, jail terms for mothers, and assaults on emergency and retail workers.
The list above gives some impression of the Bill's size, along with the extent to which it would delegate powers. The legislation has 177 clauses and 20 schedules, creates 62 new delegated law-making powers, and amends 39 statutes. Several Lords said it is simply too vast to be scrutinised effectively.
"Why was it necessary to cram so much into one Bill?" asked Lib Dem Lord Paddick.
Meanwhile crossbench Lord Judge said that with 62 regulation-making powers, the Bill was "bung full" of regulations, adding: "That's not the way to legislate".
'Not about restricting Travellers' lifestyle'
Some Tory members of the Lords defended the Bill's measures on police powers and on criminalising trespass.
Baroness Williams of Trafford (Conservative), one of the Bill's sponsors, said it would increase police effectiveness without eroding the right to protest. Criminalising trespass and increasing police powers to arrest and seize vehicles were "not about restricting a nomadic lifestyle of Travellers", but about protecting settled communities from the loss of amenities, she claimed.
She later reiterated that the parts of the Bill relating to unauthorised encampments were "not an anti-Traveller measure and should not be referred to as such", adding that it must be time-consuming and costly to have encampments removed and have to clean up after them.
Fellow Tory, Baroness Stowell of Beeston, said it was important not to legitimise forms of protest that are "perniciously undermining our society". She added that until the big disruptions in central London from the Extinction Rebellion (XR) protests in 2019, people would have never assumed it was possible to blockade main roads and junctions and not be stopped from doing so in the name of any cause, "however important, urgent or noble".
In her closing remarks, Baroness Williams said most protests would be unaffected by the Bill, but that in recent years some had caused "egregious" noise and major disruption. She too talked about the XR protests in London, arguing that the right to protest had to be balanced with the rights of other people.
'Something is wrong with this Bill'
But most Lords strongly condemned the impact the Bill would have on people's right to protest, and on travelling communities.
Labour Lord Falconer of Thoroton said that giving the executive the power to ban demonstrations for excessive noise –which "you would expect" – is not proportionate.
And he added that the part of the Bill relating to unauthorised encampments "goes much further than necessary".
"It is an attack on the Roma or Gypsy way of life and it's not necessary," he added, noting that the Bill was not supported by the National Police Chiefs Council.
Lord Blunkett, the former Home Secretary, commented on the "silliness of giving people a 10-year sentence for what they do to statues, when we should be concentrating on what we do as a society to each other".
Meanwhile Baroness Whittaker criticised the Bill changing trespass from a civil issue to a criminal offence, calling it a discriminatory provision. She said "the provision fundamentally disadvantages the small number of Gypsies and Travellers who still keep to their traditional nomadic culture, but have no authorised stopping place because of the negligence and worse of local authorities to ensure Gypsy and Traveller sites and stopping places are available".
Lib Dem Lord Paddick said: "Imposing conditions on public processions and assemblies not only curtails the right to free speech and assembly but would place police in a position which is likely to undermine the whole basis of British policing, that of policing by consent."
He added: "Like the provisions on unauthorised encampments, there is little or no evidence that existing provisions are inadequate and substantial evidence that they will add further to discrimination against minorities."
The Green Party's Baroness Jones of Moulsecoombe called the Bill a "stinker" and said it would "quite obviously" not help the police. "If you produce a policing Bill and can't get former police chiefs, a UN special rapporteur, the joint committee on human rights and the European Centre for Not-for-Profit Law on your side, something is wrong with the Bill," she said.
'Pleased to see opposition to the draconian clampdown on our civil liberties'
Baroness Jones' remarks touched on the breadth of opposition to the Bill preceding the debate, which includes several human rights bodies.
In July a cross-party inquiry into the police handling of Bristol's protests during lockdown, and Sarah Everard's vigil in London, found "significant failings" in police conduct and recommended all aspects of the Police and Crime Bill giving police more power in protests be removed.
The inquiry argued that the right to protest enshrined in the Human Rights Act 1998 is primary legislation, so trumps coronavirus legislation, meaning that protest was not an illegal act even during the lockdowns and shouldn't have been treated as such.
Also in July, the Council of Europe Commissioner for Human Rights wrote to both the Houses of Commons and Lords to ask them to take out part 4 of the Bill. The Joint Committee on Human Rights released a report the same month saying that part 4 of the Bill gave rise to several human rights concerns.
"Criminalising roadside camps without sufficient site provision contradicts the Government's obligation under Article 8 of the European Convention on Human Rights (ECHR) to facilitate the Gypsy and Traveller way of life," the report said.
In response to this week's Lords debate, Abbie Kirkby, public affairs and policy manager at the national charity Friends, Families and Travellers said: "It is clear from the growing opposition that concerns about the Bill have not been listened to.
"From day one, thousands voiced their views against the criminalisation of trespass during the consultation stage but these were ignored. Despite a number of MPs also raising concerns during early stages in the House of Commons, Part 4 emerged unchanged from its initial publication with all its cruel measures still present."
She said that they were pleased to see so many expressing their clear intentions to oppose
"This draconian clampdown on Gypsy and Traveller communities and our civil liberties."
Now, all amendments will be gathered together and published and the Bill next goes to the committee stage, which is a detailed line by line examination of the separate parts – the clauses and schedules – of the Bill. For a Bill to become law, it has to pass through both Houses of Parliament, with each House consenting to the final text.
If the Lords make amendments to the Bill at this stage, which looks likely to happen, it will go back to the Commons to be discussed again. There are no time limits to scrutinising in the House of Lords and peers are able to try to add changes to it before sending it back to the Commons.
Now we wait to see what changes the Lords propose, and how the House of Commons reacts to them.