'Bristol Energy has gone, will it pull the mayoral system down with it?'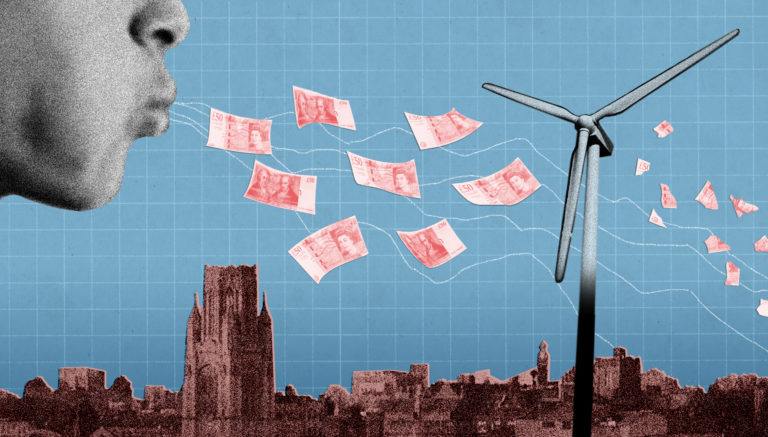 By 2024, Mayor Marvin Rees's Wikipedia entry could well say 'the last elected mayor of Bristol'. Now the latest report on Bristol Energy by the council's external auditors casts more doubts as to whether Bristol's mayoral system is working for the city. 
The report by Grant Thornton looks into the governance arrangements concerning the decisions taken by this mayor and the previous one starting and eventually selling the council-owned energy company that has so far cost £43 million of public money.
The report, which came to the Audit Committee on 27 September and will be debated at Full Council in December, catalogues the major mayoral mistakes behind the huge loss of tax payers' money. These include avoidance of scrutiny by not letting councillors see vital documents, and preventing them from challenging decisions in mayor George Ferguson's time.
Then in 2017 the mayor was looking at pulling the plug on Bristol Energy, but it wasn't even known about by scrutiny. The report also states that "the Council's Audit Committee was not always sufficiently sighted on developments and information", you bet we weren't. And then later, auditors say the non-negotiable link between Bristol Energy and the even bigger decarbonisation project City Leap made the sale of the energy company even harder.
There is also implied criticism of the mayor's preferred communication method; press releases, and a recommendation that the council communicate the full cost of Bristol Energy to the public.
I'm glad I'm just a resident again, but I haven't given up on democracy in Bristol. As a member of the public, I submitted a written question to Grant Thornton for this week's Audit Committee meeting, asking if they knew any examples of very good scrutiny. They wrote back: "We are not aware of any mayoral authorities where we are satisfied that scrutiny is operating effectively." To be fair they haven't reviewed everywhere but the evidence is stacking up on mayoral authorities.
I also asked two experienced councillors, Lib Dem Gary Hopkins and Conservative Geoff Gollop. Both of them felt that scrutiny has never been good in Bristol, councillor Hopkins said "it is worse now" and councillor Gollop stressed, "access to and timing of reports is key".
The mayoral system is now in the dock
Back in 2012 at the referendum on having a Bristol mayor, I quite liked the idea, someone who is accountable, visible and able to stand up to Tory governments. But I don't like the way this mayor has trashed democracy; decision making needs to be more cooperative and consensual, with more involvement from Scrutiny and other councillors. What's the point of electing them if they are not to be heard?
I have written about other failings nationally in previous articles, including in Liverpool where the mayor was arrested on suspicion of bribery and witness intimidation. The council there has now announced they are appointing independent advisers to strengthen scrutiny.
The lack of openness and scrutiny in many mayoral authorities was also raised in official Government guidance in 2019. It confirmed the importance of scrutiny as a constructive, "critical friend" that should "amplify the voices and concerns of the public". It says mayors should pay particular attention to rights of access to information. Bristol City Council does pay attention to access; in my time it did its damnedest to stop access.
And how about scrutiny as a critical friend? Well Marvin was picked up recently about his comments to councillor Carla Denyer, the current chair of Scrutiny, who has just been elected as co-leader of the Green Party. And as for the previous Scrutiny chair, Geoff Gollop, he will willingly tell those who ask about scrutiny being undermined by this mayor.
Mayors can get things done but often at the expense of democratic checks and balances. The pendulum of power has swung too far. It needs to be redressed.
One way is to get rid of the mayoral system. This can be done in Bristol by a vote of Full Council setting in train a local referendum on asking the people how we want to be governed. The latest date for a referendum is February 2024 and if it is lost Marvin Rees will be our last mayor. 
Triggering this was tried at Full Council in March 2021, too early I think. At the end of debate Lib Dems and Conservatives voted for a referendum, Labour against and Greens split three ways, seeking more information. The motion will be amended and come back.
What about a mayor with better checks and balances?
The Greens, now equal first with 24 councillors, appear to want a more consensual approach to decision making. Their initial ideas are revealed in a motion put forward by their leader, councillor Paula O'Rourke. It has not yet been debated, but has been published (see number 17). It seeks to review the council's governance (which will look at parts of the constitution including scrutiny) and use expert advice to do a full, in-depth study of the advantages and disadvantages of the present system. 
If that motion went ahead, the report would come to Full Council before councillors vote on holding a referendum. So making a decision with the facts!
Whether councillors opt for fact finding or a repeat of the scrap the mayor motion is in the balance. But a Full Council motion might fail (again) or the public might vote to retain a mayor. In that case, it could require a change in the law to reign in mayoral powers (the Local Government Act 2000).
In my view Bristol's problems are down to Bristol's long history of poor scrutiny. Bristol still has huge problems, housing, special educational needs and transport to name but three. But without good scrutiny, any chosen solutions will ignore whole sections of our community, cause unintended consequences and waste more money. Can scrutiny and a mayor coexist? Mayor Rees it's your chance to show us that it can.
Clive Stevens used to be a Green Councillor and was Vice Chair of Audit Committee until January 2021 when he stepped down due to stress-related ill health. Clive has written a book about his experiences and suggested solutions for improving local democracy.