Jury convicts man of riot and arson after first Kill the Bill trial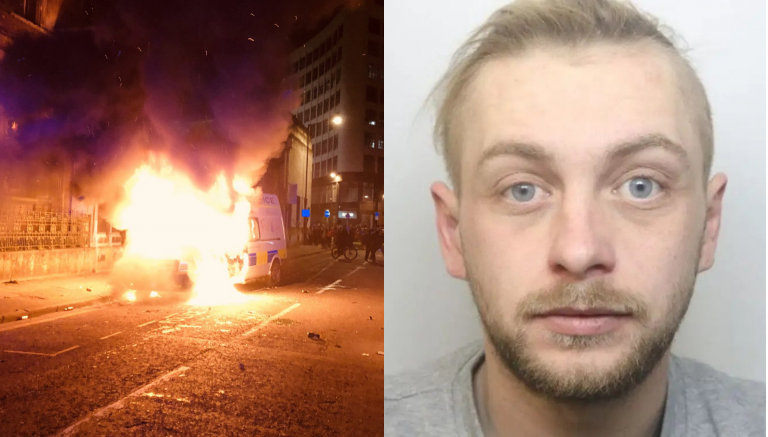 Photos: David Griffiths
Additional reporting by Sean Morrison
A man has been found guilty of trying to torch two police vehicles while officers were inside them during the violence that followed the first Kill the Bill protest in Bristol.
Ryan Roberts was convicted of attempted arson with intent to endanger life for trying to set a police van on fire on 21 March. He was also found guilty of riot. The 25-year-old has been remanded in custody to be sentenced following a psychiatric report.
Roberts, of Goodhind Street, Easton, denied a total of seven charges relating to the clashes. And after four days of hearing evidence and just under six hours of deliberation, the jury returned their final verdicts on Friday afternoon.
Ryan Roberts has been found guilty of:
Riot
Attempted arson with intent to endanger life: Trying to start a fire under the wheel hub of a stationary van with an officer inside it
Attempted arson being reckless as to whether life is endangered: Trying to start a fire under a police van with seven officers inside it
Arson being reckless as to whether life is endangered: Starting a fire in a mobile police station
Arson being reckless as to whether life is endangered: Starting a fire in industrial bins next to a half-burnt out police car.
They found him not guilty of a count of attempted arson with intent to endanger life.
How the trial proceeded
On Tuesday the court heard how Roberts tried to set fire to two police vehicles, told an officer inside a police van that he was going to "go bang" and held lit material under another police van with seven officers inside as it was reversing. He also set fire to a mobile police station and industrial bins, a jury at Bristol Crown Court was told.
They also heard that he threw signs, cans, bottles and other objects at police, hit an officer and police vehicles, smashed the windows of Bridewell Police Station and threw metal fencing and street furniture towards police.
The court watched a compilation of footage provided by the police, which showed some of the events unfolding. They also heard from several officers who'd worked that night. They watched footage including of Roberts trying to start a fire under the wheel of an occupied police vehicle (below).
Defence lawyer Nick Lewin cross-examined the officers and quizzed them on the crowd control tactics they used, and whether using fists, shields and feet was acceptable. He then showed the court footage of a line of police running into someone at the edge of the crowd and surrounding them, repeatedly stamping on them as they shouted out.
On Wednesday, the court heard from three more officers, including the two drivers of the occupied vans he tried to set fire to, and another officer who explained that the damage to the police station and burnt-out and graffitied vehicles was in excess of £70,000.
Defence lawyer Nick Lewin showed the court a video (below) taken by Bristol Cable journalists Alon Aviram and Adam Cantwell-Corn showing officers "blading" protesters – hitting them with the edge of their shields.
Then Roberts took the stand. He told the court he'd only come looking to protest peacefully for the right to free speech and the right to protest. He said that police had escalated the situation by changing into riot gear and being violent towards protesters. Roberts said he had become violent towards police only after he was pepper sprayed by an officer and had seen several instances of violence towards protesters, including police hitting his female friend with a shield "more than once".
He said he'd acted in self defence after seeing police "pushing, shoving and hitting [people] with shields and with batons" and had seen people going to the hospital with head injuries Roberts told the court that he'd not been expecting that sort of behaviour from officers. "I thought it was not right the way they acted. [It was] quite upsetting really the way that they acted."
In his cross-examination, prosecution lawyer Matt Jackson got Roberts to confirm that he had personally witnessed the "blading" in video the defence had previously shown, getting him to confirm where he'd been standing when he'd seen it. Then he revealed that the video was actually from a later protest and called Roberts a liar. The defence pointed out that there had been several incidents of blading during that first protest, and also that Roberts had been at subsequent demonstrations, including the one in which the incident shown in the video occurred. It would have been easy to get those two confused, he added.
The prosecution said Roberts hadn't been acting in self-defence but in "petty vengeance", that his intention was to cause a risk to the life of the officer in the stationary van, that the fact he'd banged on the window and shouted into the van showed he knew the van was occupied, and at the very least he must have known there was a risk. He told the jury that they would have to decide whether Roberts had acted reasonably and lawfully or maliciously.
The prosecution maintained that Roberts had been deliberately trying to mislead the jury and also pointed out that he'd had a lot of alcohol and cannabis during the day and so his recollection of events wouldn't always have been clear anyway.
The defence then invited Kathryn Hobbs to give testimony. She has been a legal observer for the past decade and told the court that police aggression caused "a really sharp escalation".
"I don't think it was the police response that any of us were expecting."
The court heard that during her duties as legal observer she had administered first aid to 20-25 people, some of whom had been pepper sprayed, others had cuts and bruises. She said she had treated five young women, all under 21, who'd been pepper sprayed in the face and at least one person who'd suffered a severe panic attack.
'Not acting in self defence but a man out for violence'
On Thursday, the prosecution and defence both gave their closing statements before the judge summarised to the jury everything they'd seen and then they retired to start considering their verdict.
In his closing statement, the prosecution told the jury that the right to protest is "precious" and that Roberts abused this right. "It's important that people who abuse that right are punished," he said, adding that Roberts, despite what he said, wasn't just there for a peaceful demonstration.
"I can only imagine how terrifying the scenes that you have seen on [on the compilation video] would have been for the police officers, for the genuine peaceful protesters and for others to have seen officers dragged into a crowd and beaten, kicked, having objects thrown at them and finding themselves in what one officer described as a war zone."
The prosecution rested a lot of its argument on Roberts being an unreliable witness, suggesting that because he'd lied about witnessing the blading shown in the defence's video, he couldn't be trusted on other evidence he'd given. "If he is capable of trying to mislead you for that minor detail, think of what he might do with other parts of the case."
He reminded the jury of some of the things they'd seen Roberts do on the footage and told them: "This does not sound to me like a man who is acting in self defence, this sounds like a man who was out for violence."
"He is taking revenge on the police for whatever petty slight he thinks they have done to him."
For a charge of riot to apply, 12 people or more need to have been proved to have been acting together for a common cause. The prosecution said that whatever their various reasons for being there earlier in the day, by the end of the night their purpose was the same: to cause violence and have a fight.
Police violence against protesters was 'brutal, cruel, unjustified and probably illegal'
The defence based its case on the argument that the police had started the trouble and escalated a peaceful protest into violence, by changing into riot gear and being aggressive towards protesters. This was disputed by the prosecutor.
Lewins pointed out that the bill is set to clamp down on a lot of people's freedoms and that the public is right to be scared of it, adding that there are only two ways for citizens to make their opinions heard by those in power and to have any influence on what happens: by voting and by protest. He talked about the ancient right to protest, and how people could be legitimately scared that giving the police all these extra powers could turn the country into "a police state".
Fears of this would have been compounded by the scene of the outside of Bridewell Police Station being suddenly full of police in full riot gear, holding long batons, the defence said. "I am sure they were terrifying," said Lewins. "I'm not standing here to make a political speech to you," he told the jury. He said he was asking them to be objective in their considerations and to not have a "myopic view" of how the day had gone down, "because there are always in life two sides to every story."
The defence pointed out the footage compiled by the police was selective and showed incidences of violence towards police, but not the other way round, despite the fact that we since know there were several incidences of violence from police to protesters.
"[Protesters] saw gross and excessive use of force by the police," he added, and reminded the jury of Hobbs' testimony of the injuries sustained by the crowd from police that night.
Hobbs had spoken at the cross party inquiry about the actions of police during the lockdown demonstrations. This inquiry had found that Avon and Somerset Police officers had used "excessive force" during these protests during lockdown, and it also heard from witnesses that police actions at protests following the one that turned violent on 21 March were "revenge policing". At least 62 protesters had been injured by police at the protests 21 to 26 March, including seven that required hospital treatment and 22 with head injuries.
As well as this, the inquiry found that the police's instructions to protesters before the protest to go home because the gathering was unlawful were wrong. The right to protest is primary legislation and therefore trumps the temporary coronavirus restrictions, so they were giving protesters incorrect information.
At the beginning of the compilation footage shown by the prosecution, the court saw police approaching people in the street, telling them that it would be unlawful to protest and that they should instead leave their placards at the site of the protest instead of joining the protest, to make their point that way, and to go home, which Hobbs pointed out wasn't actually correct.
The inquiry found that allowing the police to interpret the law like this gave them too much coercive power, and puts them into the position of "both lawmaker and law enforcer", which is "constitutionally and operationally inappropriate".
Of the violence shown from police to protesters shown in the video above, Lewins said: "Take away the uniform, the helmets and what have you got? You've got the riot being perpetrated by the police against those people. A collective people against two individuals
"Those police officers, and all the police officers involved after 5.30 were, I remind you, heavily armed". He said that the violence that was meted out by the police was "brutal, cruel, unjustified and probably illegal."
Lewins told the jury that the police "have no greater right to use violence than you or I."
"This case is not as one sided as my friend suggests."
"Who brought shame on this city?" Lewins asked the jury, referring to the prosecution's opening statement that the crowd that night had "behaved in a way that brought shame upon this city and what they did gained national headlines for all the wrong reasons".
Supporters demonstrate outside court
Roberts' supporters filled the public gallery every day apart from the first, when they were denied entry. They protested outside the court on Monday and Wednesday and knocked on the windows of the public gallery when Roberts was led away after the verdict had been read.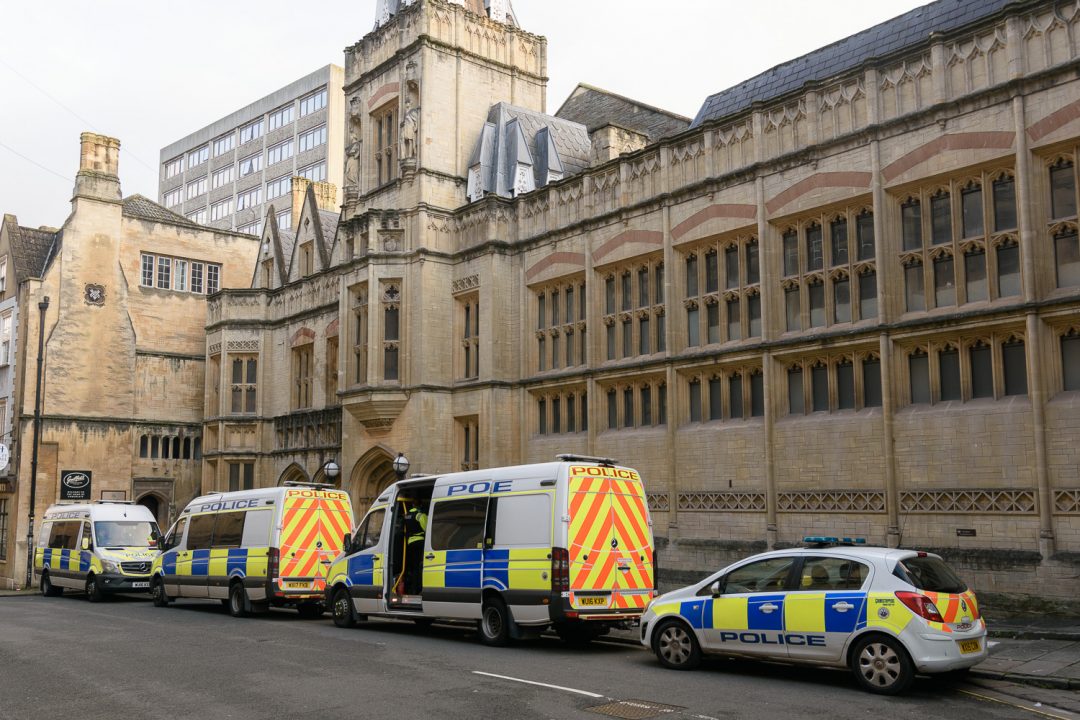 One demonstrator, who asked not to be named, described the draft legislation on Monday as a "horrible, authoritarian crackdown."
Despite nationwide protests – 14 to date in Bristol alone – the Bill was approved unchanged in the House of Commons 365 to 265 votes in July after dozens of amendments had been proposed but none were approved. It is now at the committee stage in the House of Lords, where it was last month slammed for being too wide-ranging and too draconian.
To date, 82 people have been arrested in connection with the violence after the protest on 21 March, 42 people of whom have been charged. Seven have pleaded guilty and been sentenced to upwards of three years each. Those who have pleaded not guilty are awaiting their trials, which are taking place between January and June 2022. Eight more have been charged with riot and will appear in Bristol Magistrates Court on Tuesday 2 November.