Man charged with riot and arson says police escalated protest into violence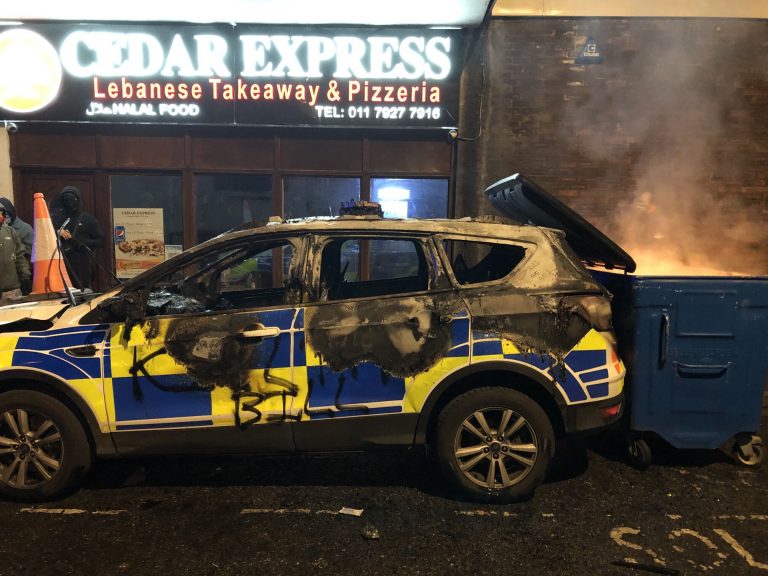 Photos: Alon Aviram
Ryan Roberts said he intended to peacefully protest against the Police and Crime Bill on 21 March and it hadn't been his intention to cause injury.
Roberts, 25, has been charged with riot, two counts of attempted arson with intent to endanger life, two counts of attempted arson being reckless as to whether life was endangered and two counts of arson being reckless. He denies all charges.
Yesterday, the court heard that Roberts attempted to light fires under two occupied police vehicles, inside another unoccupied police vehicle, as well as throwing missiles at police, kicking police shields and kicking the window of Bridewell Police Station.
But today, Roberts told the jury at Bristol Crown Court the mood shifted once police changed into protective gear, and blamed the police for escalating the peaceful protest to violent clashes.
He said that he had kicked the police officer's shield in "self defence" after he had been pepper sprayed and a friend had been hit by a shield. He told the court he had been encouraging people away from the police.
Regarding the accusations against him, Roberts said he had gone into the drivers cabin of the mobile police station to check inside the glove compartment, but said he had nothing to light a fire in his hand and that the fire had started on the other side of the cabin.
He told the court that he had started a little fire under the stationary police van to get the van to leave, thinking it was unoccupied, and denied saying "bang". He admitted putting burning material under a moving van, saying it was to get it to leave and thought it was unoccupied, but the prosecution pointed out that the van was already leaving and was clearly occupied as it was being driven.
Roebrts admitted being intoxicated with alcohol and cannabis and that when he kicked the windows of Bridewell Police Station he had got "carried away". He said he couldn't remember if he'd said "let's roll it" to encourage members of the crowd to rock a stationary van.
'Worried for my safety'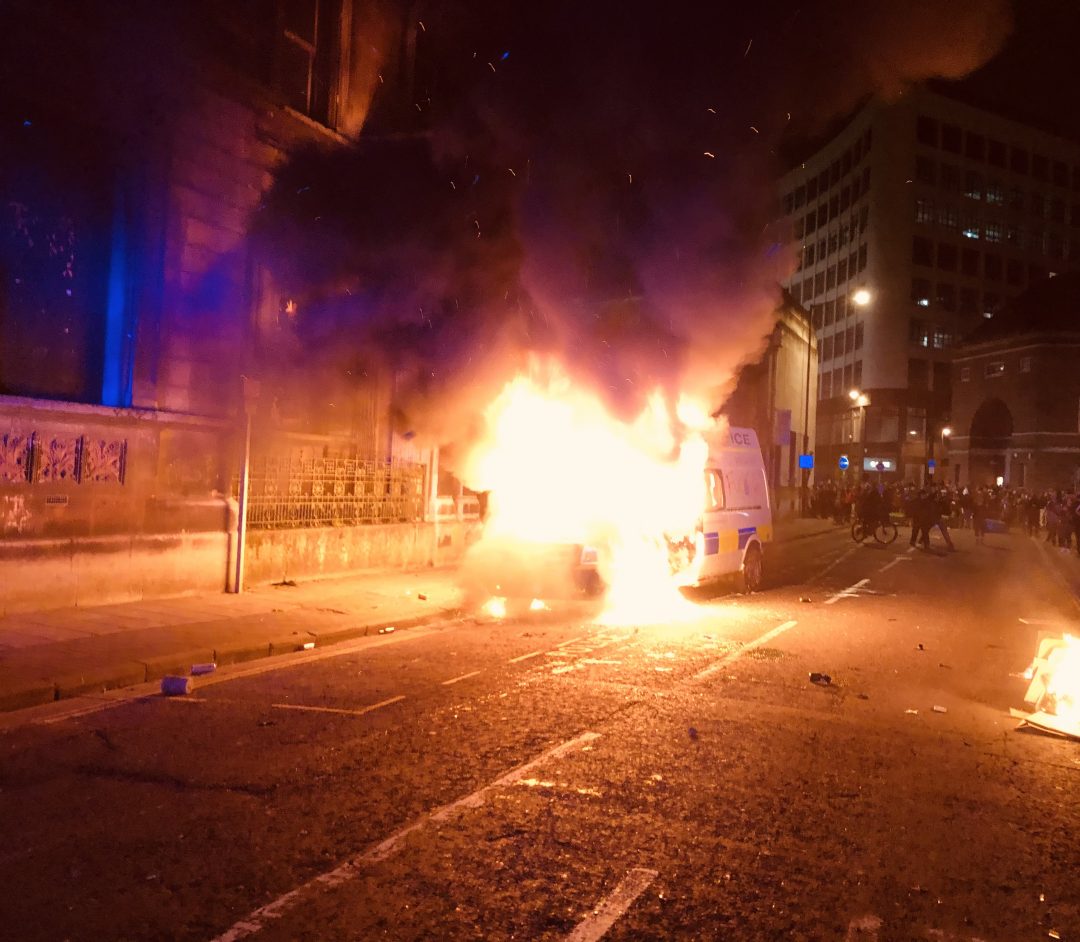 Earlier in the day the court had heard witness accounts from officers driving the vehicles that were set alight and heard that the cost of damage to the station was more than £40,000 and vehicles in excess of £30,000.
PC Richard Grant and PC Matthew Lee were broth driving vehicles that were set alight that night. Grant described arriving on the scene just after 7pm and parking up outside Bridewell Police Station. He wasn't aware of the fact that someone was trying to set fire to the rear tyre until he heard it on his radio. He was in the vehicle alone after having dropped off seven other officers.
"I'm acutely aware that if it does spark on fire I need to get out quickly," he told the court. In the end he decided not to abandon the vehicle, because it would have been difficult to get out, but instead managed to put out the fire by passing a fire extinguisher to a sergeant outside.
"I was worried for my safety," he told the jury.
'I don't think it was the police response that any of us were expecting'
A legal observer, Kathryn Hobbs gave testimony. She was present on 21 March from around 1.30pm on College Green, as protesters were staring to gather. She described the relaxed and cheerful mood during the day and said that the police weren't really interacting with the crowd. "They were certainly making no attempts to disperse us".
Hobbs said the atmosphere was "extremely relaxed" around 4pm. At around 5.30pm she followed a small group of young people to Bridewell Police Station, where she said she saw "quite a heavy police presence".
She then described the police presence increasing and the appearance of officers in full riot gear, with batons, pads and most wearing helmets. Hobbs, who was close to the front of the police line, said there was "definitely some unease from the crowd". The police started to line up outside the police station.
Hobbs then told the court that officers "started hitting people and pushing and shoving them," holding raised batons, striking at the crowd and pushing them backwards.
"It was certainly a really sharp escalation, people were showing a lot of anxiety and tension," she said. "I don't think it was the police response that any of us were expecting."
The court heard that Hobbs witnessed a woman "violently pushed to the ground". She said she also saw officers hitting people when they were on the ground. She described people near the front holding up their hands, turning their backs on police to show they weren't a threat, encouraging people to sit down and chanting "we are peaceful, what are you" and "peaceful protest".
Hobbs said that the first instance of pepper spray being used was just before 7pm and she personally assisted 25-30 people who had been pepper sprayed or had cuts and bruises on their faces and heads. "I treated at least one person with a panic attack."
"There was certainly a lot of tension, there were groups of people trying to de-escalate the situation still," she told the court. Hobbs added she had witnessed "several instances" of officers bringing a shield down on someone sat down, which she described as "extremely dangerous".
The trial continues. Eight more people have now been charged with riot and will appear before Bristol Magistrates' Court on Tuesday, 2 November. A ninth person has also been charged with aggravated arson and theft of a police helmet. This brings the total to 82 arrests made, 42 people of whom have been charged.