Man denies setting fire to police vehicles in first Kill the Bill trial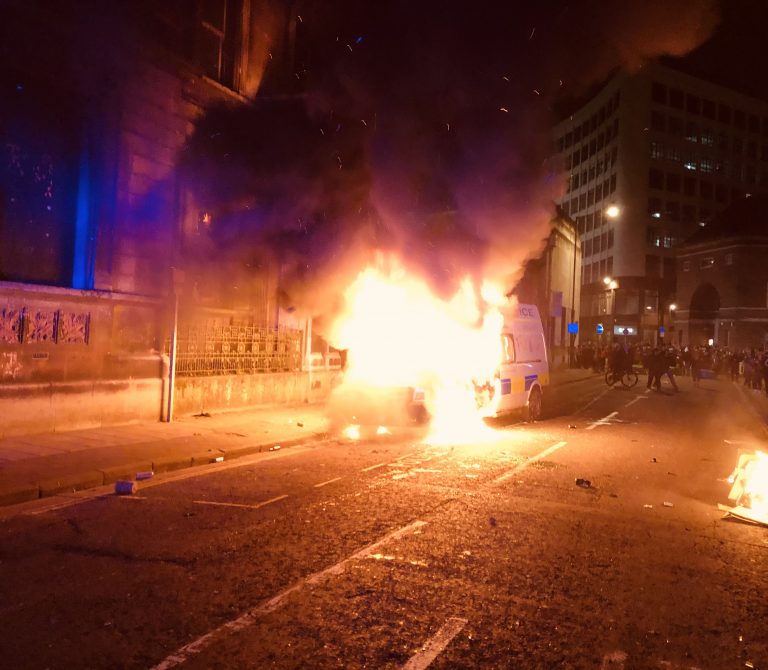 A 25-year-old man has denied setting fire to police vehicles, in the first trial before a jury in connection with Bristol's Kill the Bill protest on 21 March.
Bristol Crown Court heard on Tuesday 26 October that Ryan Roberts, of Rawnsley House, Bristol, tried to set fire to two police vehicles, telling an officer inside one of the vehicles he was going to "go bang".
The court also heard he tried to roll over a mobile police station (a police vehicle that police can interview people in), threw signs, cans, bottles and other objects at police, hit an officer and police vehicles, smashed the windows of Bridewell Police Station and threw metal fencing and street furniture towards police.
Roberts has been charged with riot, two counts of attempted arson with intent to endanger life, two counts of attempted arson being reckless as to whether life was endangered and two counts of arson being reckless. He denies all charges.
On Tuesday, the first full day of the trial, the court watched CCTV and bodycam footage showing Roberts throwing missiles and kicking police shields and the window of Bridewell Police Station. They also saw video footage which the prosecution says shows him attempting to light fires under two occupied police vehicles, inside another unoccupied police vehicle, and starting a fire in a bin next to another vehicle, a burnt out police car.
Prosecutor Matt Jenkins said that Roberts' actions were "of course stupid, irresponsible and dangerous," but also deliberate. "He knew exactly what he was doing," he told the jury.
People took to the streets in March and April this year to protest against the controversial Police and Crime Bill, which will curb people's right to protest, give police more stop-and-search powers and make trespass illegal. After thousands of protesters took to the streets for a peaceful protest, the scene turned violent with clashes between some protesters and police outside Bridewell Police Station.
The prosecution told the court that the peaceful protesters were "replaced by a mob that behaved in a way that brought shame upon this city and what they did gained national headlines for all the wrong reasons".
Bottles, rocks and fireworks were thrown, police vehicles torched, and the windows of Bristol's main police station were caved in. Avon and Somerset Police sent in riot police, horses and dogs.
The prosecution told the jury that what they will see during the trial "is not peaceful protest from Mr Roberts," but "calculated violence designed to frighten and injure".
How the events unfolded
The court watched footage showing how the day began with people gathering to protest and calm interactions, with police telling people they were advised to go home because of coronavirus restrictions.
Towards the evening, the court saw footage of some demonstrators congregating outside Bridewell Police Station, where events later escalated into violent clashes between the crowd and police.
The court saw members of the crowd grabbing shields and kicking at them, graffiting on police vehicles, hitting them with batons and a spade and throwing missiles, while others chanted "stop throwing shit". Around 10pm, a firework was thrown into the crowd and the court saw footage of injured and frightened police officers inside the station.
The first images of Roberts show him standing on a wall by Castle Park, leading others in a chant of "All cops are bastards". The footage shows scenes become increasingly chaotic as the evening wore on, with members of the crowd rocking a police van, and police in riot gear and on horses turning up. At one stage Roberts appears to be trying to push people back from the line of police to protect police.
The prosecution showed side-by-side footage of the inside and outside of a police van at around 7.45pm that they said showed Roberts starting a fire under the front wheel hub of the vehicle while it was occupied, before standing up and telling the officer inside he was going to "go bang".
At around 8pm, the footage appears to show Roberts opening the front passenger door to another vehicle and then a flame starting in the cabin of the vehicle, and him later holding burning cardboard under another vehicle as it was being driven away.
At around 9.40pm, there was a fire started in an industrial wheelie bin outside food outlet Cedar Express, which was rolled to stand next to a half burnt-out police car. The prosecution said that as well as starting this fire, Roberts added two more industrial bins to the blaze as a police line stood by.
Officers who had served that night described feeling vulnerable and unsafe. PC Foster was driving the police van that the prosecution said Roberts tried to set alight while it was moving away. He said he felt like he and the officers in the van were "sitting ducks" because they couldn't defend themselves.
Another officer, PC Mark Rogers, described how during the first few hours they'd had no control of the situation: "We were severely outnumbered for one, and two, we were being pushed back no matter if I used my baton, shield. People didn't seem to care, they just came at us."
He said that the sheer numbers of people made it difficult to make headway. "Every time we were kicked or pushed, we were pushed back. Not just a single line of protesters, the crowd was very deep and it felt like the people at the front of the protest were being rotated almost."
The defence's cross examination of witnesses focused on police tactics and use of force against the crowd. PC Foster was asked what were acceptable tactics for police to use, if using fists, feet and shields against demonstrators was acceptable. Foster said that fists and sometimes feet would be necessary if you had lost your equipment and were "fighting your way out", and that stamping was also acceptable "if you are trying to escape from a particularly hostile situation".
Later, the defence showed the court footage of a line of police running into someone at the edge of the crowd and surrounding them, and repeatedly stamping on them as they shouted out. The defence asked: "Is that part of the training? Repeatedly striking someone who is on the ground with fist, hand, shield?"
Supporters denied entry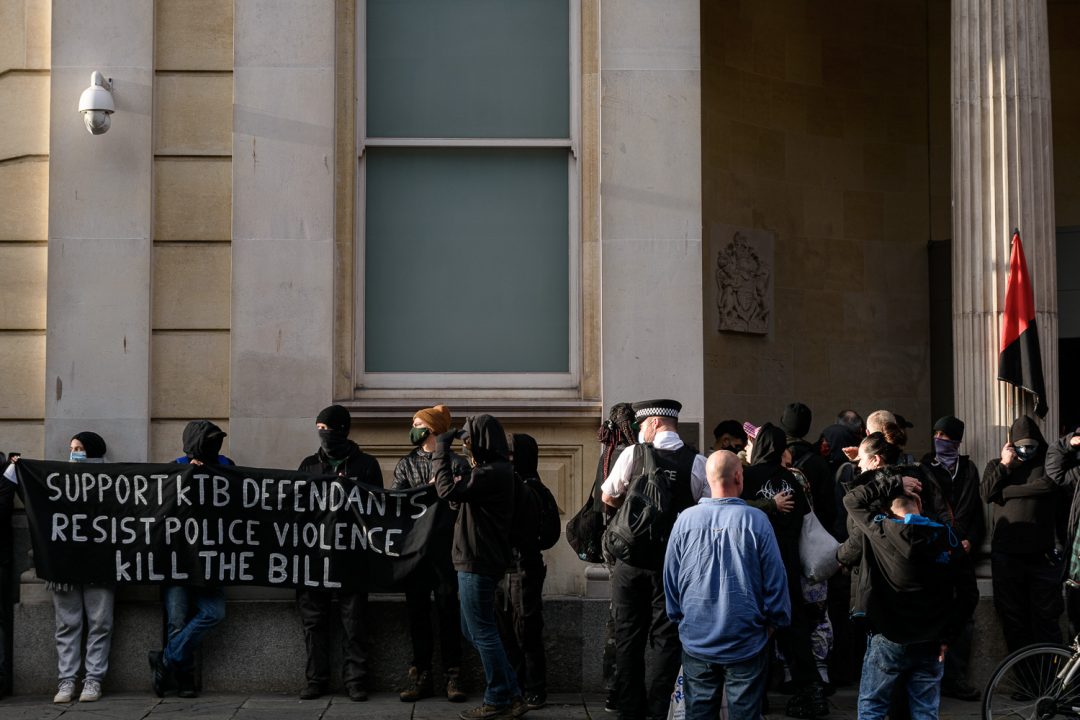 A small group of about 30 protesters had gathered outside the court before the trial began on Monday. They held up banners that criticised the Police and Crime Bill, and could be heard chanting "Cops and justice out for vengeance, there's no justice in their system", "Kill the Bill defendants, you are not alone," and "Why is police violence never on trial?".
Roberts has been remanded in custody at HMP Bristol since his pre-trial hearing in June. He arrived to the court in a closed police van, which supporters banged on side of and cheered as it drove in.
Demonstrators were denied entry to the public gallery on the first day and had to watch virtually from another courtroom, which they said was impossible to follow because of poor audio. HM Courts and Tribunals Service replied to complaints saying that they'd set up the extra space because they were "aware of the interest in today's hearing" and had done it to make space for extra observers. The next day the court opened the public gallery.
People charged with riot face a maximum 10-year jail term. This is the first of the trials, which are scheduled to run until at least July 2022. The 10 people who have already pleaded guilty to riot have all been sentenced to between three and five years in prison.
To date, 81 people have been arrested in connection with the clashes on 21 March as part of police Operation Harley, one of the largest police operations that Avon and Somerset Police have ever carried out. 22 have pleaded not guilty.
The trial continues today.
Additional reporting by Sean Morrison