Tenth person jailed for involvement in Bristol Kill the Bill protest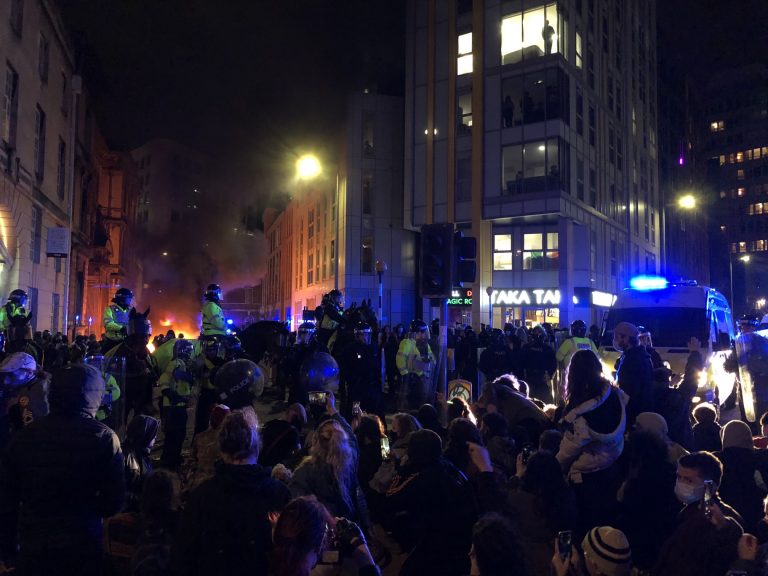 Photo: Alon Aviram
A 10th person has been jailed for their involvement in Bristol's Kill the Bill protest on 21 March.
Ryan Dwyer was todaay sentenced to four-and-a-half years in prison after pleading guilty to riot for his involvement in the unrest.
The court heard that Dwyer kicked and smashed the windows of Bridewell Police Station, pushed and kicked officers' riot shields, verbally threatened and abused officers, and threw a beer can at an officer.
The 36-year-old, of no fixed address, was arrested in Belfast last month after failing to appear at court. He appeared before Judge James Patrick on 28 September and then was remanded in custody.
Four others pleaded not guilty to riot and will have their trials next year. Rose Lazarus, 20, of Hotwells, Bristol, will be tried on 14 July 2022, Sidney Barnes, 21, of Bishopston, Bristol, will stand trial on 25 July and Miles Walters, 26, of Redland, Bristol on 11 July. Leah Brenchley, 20, of Fishponds, Bristol, doesn't have a trial date yet.
Debra Wright, 42, of no fixed address, was due to appear in court on Monday 11 October but her hearing has been adjourned to 26 October. She has been remanded in custody, charged with assaulting an emergency worker on 21 March.
The first full trial relating to the protests will take place on 25 October. Ryan Roberts has pleaded not guilty to the charge of riot and four different arson charges.
The legal definition of 'riot' under the Public Order Act 1986 is: 'Where 12 or more persons who are present together use or threaten unlawful violence for a common purpose and the conduct of them (taken together) is such as would cause a person of reasonable firmness present at the scene to fear for his personal safety'.
Those charged with riot are facing the prospect of a maximum 10-year jail term. The Cable understands the last time that the charge of riot was used against protesters was 40 years ago in the St Pauls riots, when the 16 people charged were acquitted.
To date, 81 people have been arrested in connection with the clashes on 21 March as part of police Operation Harley, one of the largest ever investigations carried out by Avon and Somerset Police.
So far 41 of these have been charged, 10 have pleaded guilty and been sentenced, including Shaun Davies who was sentenced to three-and-a-half years last month. People who have pleaded guilty to riot have been given sentences ranging from three years and three months to five years. A further 22 have now pleaded not guilty and will be tried next year.
People took to the streets in March and April this year to protest against the controversial Police and Crime Bill, which if passed later this year will curb people's right to protest, give police more stop-and-search powers and make trespass illegal. Despite nationwide protests – 14 to date in Bristol alone – the Bill is in the last stages of its journey through parliament.
On 5 July the Bill was approved unchanged in the House of Commons by 365 to 265 votes after dozens of proposed amendments were voted down. It then had its second reading in the House of Lords on 14 September, where it was slammed by peers for being too big to scrutinise effectively, for its impact on travelling communities and its proposed restrictions on the right to protest. The Bill next goes to the committee stage, from 20 October, where it will undergo a detailed line-by-line examination before being passed back to the Commons if the Lords make amendments.