Vote for the next Bristol Cable directors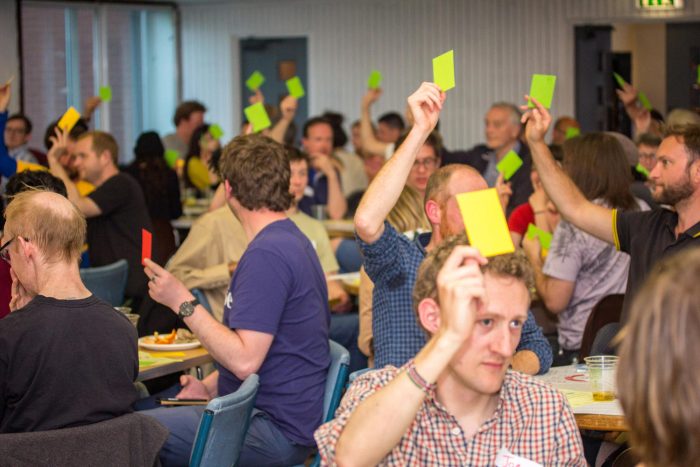 The Cable's staff team is supported by an amazing board of directors, who act as critical friends and advisors to the co-op. Now it's time to vote on who will join our board of member directors. Here's a short bio of the nine candidates standing for election next week.
This year we are holding the election online to allow as many members as possible to vote. Voting closes at 6:00pm on Tuesday 19th October and the results will be announced later that evening at our Annual General Meeting (AGM).
Not a member yet? For as little as a few quid a month you can cast your vote, join our AGM next week, and help redefine local media. Don't miss out – join us!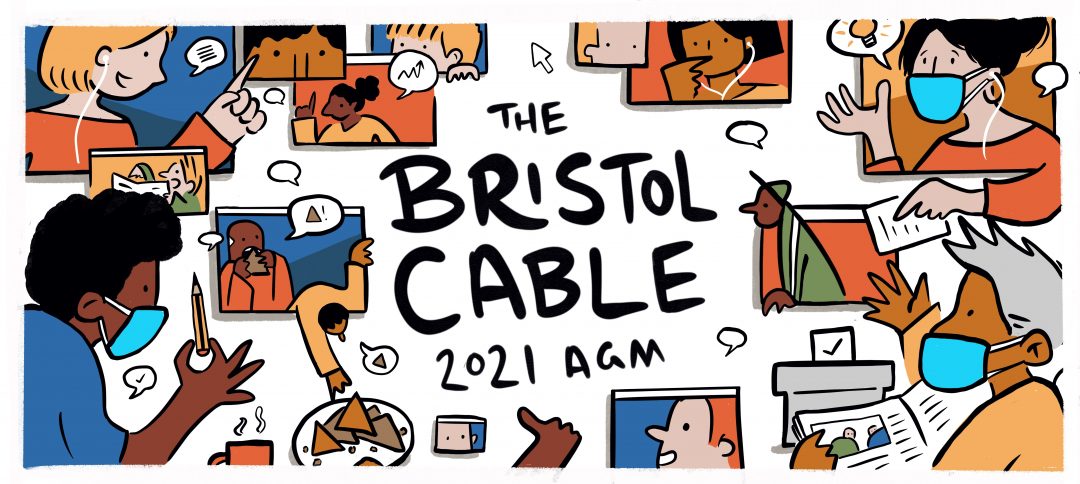 Henry Bassadone
I am an experienced person with many years under my belt. My experience whilst living in Bristol for the last 35yrs involved co-founding Mina Matters (local newspaper St Werburghs); Representative St Werburghs on Neighbourhood Committees; an experienced chairperson able to keep peace at meetings, encourage the quieter members to talk and to achieve results as well as creating a more vibrant discussion atmosphere. I believe that communication and creating sustainable relationships is probably one of the most important things in life. As a semi retired builder I am still part time working as a project manager with a small group of tradespersons in the residential construction business. I am a keen supporter of Peter Carr of Aid Box Community and other local community projects and even tho I do support Greenpeace and MSF and a few others I do believe more in local helping rather than global.
Yasha Maccanico
I have worked as a journalist, researcher and translator for over 20 years (primarily with the British civil liberties charity Statewatch that specialises in JHA policy at the EU and national level) and obtained a PhD from the University of Bristol in 2019 on the inherent link between European migration policies and authoritarianism. I have lived in Bristol for nearly ten years and have been a regular Cable reader and, more recently, a member paying a small contribution. Local grassroots reporting is key to social progress, in my view, and I have seen the Cable as outstanding in reference to issues including coverage of protests, migration, GRT and LGBT+ issues and community self-organisation to address systemic problems that affect us all. As an Italian specialised in the interaction between EU and national policies (surveillance, prisons, policing, racism, law etc.), I would push for an international outlook while maintaining a focus on local coverage, linking local issues to similar ones elsewhere, exploring solutions that have been found and strategies that have been adopted in different settings.
Nick Plant
I am a long-standing, enthusiastic Cable member, with a passion for community journalism as an urgent response to our biased public discourse and the domination of the mainstream media.
I have 40+ years' experience of co-ops, NGOs, campaigns, etc in all roles – trustee, elected director, chair, worker, co-owner, consultant, webmaster and volunteer. I know about Board practicalities, participation, equalities, communications, privacy & confidentiality, legal & constitutional matters, finances and management.
Relevant skills include writing, web and social media work, organisational development, leadership and strategy. Experience includes IT/systems, a career in academic management & university lecturing, and lots of media work, including active membership of another media co-op and governance. I draw inspiration from a family of journalists.
If elected I would protect the independence of the core pro team, and push for the right power balance between executive roles and the Board: it mustn't interfere with the Coordinators but act as ally, advisor, sounding board and critical friend.
I aim to push the sustainability and impact of Cable, and build co-operation with other co-operatives, to develop our collective power to tell the right stories of hope emerging from the multiple crises faced by Bristolians, humanity and the planet.
Mark Eddleston
I would love to bring to The Bristol Cable my lived experience in progressive organising and new ways of working. Since working in Wellington, New Zealand in 2015 at a decentralised, self-organising Community Law Centre I have worked in various highly progressive organisations that break the mould of traditional organising. I founded Reinventing Work (https://www.reinventing.work/) here in Bristol in 2019 and our reach has spanned five continents and almost 30 cities so far.
I am now a consultant, facilitator and trainer (https://www.marco.work/) working with clients including The Co-operative Group, Ofwat, Soil Association, Mencap, Samaritans, BIMM Bristol, BJSS Bristol, UWE and Pfizer Sweden. I run my own online training course called 'New Ways of Working' and teach at the Corporate Rebels Academy on their 'Understanding and designing progressive organisational structures' programme (https://corporate-rebels.academy).
I would be thrilled to support The Bristol Cable and impactful journalism by advising coordinators on how best to further embrace progressive leadership and governance. Alongside my organisation development expertise, I would also like to help work towards growing our membership as we continue to build a new model for media, amplify voices and engage our communities here in Bristol.
Samuel Williams
I want to be a director of the Bristol Cable because together, we can strengthen its co-operative values. With equity guiding us, we can serve our communities and give everyone in Bristol an equal opportunity to have their voices heard.
I'm a teacher at Cotham Gardens Primary School and lead of the Co-operative Forum. It's my responsibility to make sure the forum listens to and elevates the voices of stakeholders on strategic issues. In 2019, in response to concern and interest from children, parents, carers and staff, we launched termly whole-school climate change education days to coincide with the 'Youth Strike 4 Climate' movement. We focus on listening, empowering and supporting children's wellbeing. The forum led a consultation including all stakeholders, resulting in a long term 'eco-plan' (including embedding a climate change curriculum, establishing a learner led eco-council and becoming a more environmentally responsible school). I have been involved in sharing our approach with the Climate Change Education Teacher Research Network. A co-operative working group, engaging all stakeholders, continues to develop our approach.
I want to bring my experience and understanding of co-operative values and governance to the Bristol Cable, in order to support the important, inspiring work being done.
Barry Cash
Our City and our Country are run with all the openness and honesty of a banana republic and we don't even grow bananas. Deceit is a cancer gnawing at our society. Investigative journalism is our best defence. It is often the final court of appeal for those who have suffered injustice. I am passionate about honesty and justice and therefore support the cable and it's aims.
Science is a major interest and I read New Scientist from cover to cover every week. I graduated from the Open university in 1978 having studied chemistry and electronics. Retired now, I know a lot about obsolete telephones, obsolete computers and old financial products.Fortunately I have been active in local politics and campaigning to stop global warming so I know lots of new stuff as well. Sadly, much of what we are told about global warming isn't true. It's just greenwash.
I'm a widower of 71, still have all my marbles, most of my hair and teeth and my sense of humour. My pension is adequate and my mortgage is paid off so I have time to devote to the Cable. I'm good at coming up with new ideals and talking to people.
Mandy Rose
I have a depth of media experience – producing factual programmes – co-founder of BBC 2's Video Nation – and interactive content – I set up and ran BBC Cymru Wales New Media department. I've worked in collectives, been freelance and a senior manager at the BBC. I've played a strategic role in organisations going through processes of change.
I'm now Professor of Documentary & Digital Cultures at UWE Bristol. I have a broad interest in factual media, in the opportunities and challenges presented by digital platforms and in questions of media ethics.
Through my life in the city, my research, as an Executive Board member of the Pervasive Media Studio at Watershed and new member of the Green Party, I am embedded in a variety of Bristol community and business networks.
I'm applying to be a Member Director because I believe that the independent journalism of Bristol Cable is growing more vital than ever – in a context of misinformation, social division and the urgent challenges of climate crisis and social justice. I'd be honoured to support the Bristol Cable, to offer input into the paper's development and guidance in maximising reach and benefit to the city.
Daniel Stern
Daniel Stern. 48, male, mixed white heritage. NCTJ trained (1997 Portsmouth). Worked on magazines plus freelance, then as press officer for public sector bodies incl NMC and RCGP and EPSRC. Latterly worked in Comms for NHS Bristol – ended 2010. Since then I have been a company director of my own business in Bristol. lovethefishshop.co.uk. Have lived in Easton for 16 years. Would be keen to help to encourage other local SMEs to join as Cable members.
Peter Weeks
Lived in Bristol for 30 years
Former IS/IT manager and consultant with systems experience covering IS/IT strategy, systems development and change management. Background in management consultancy. Engineering degree, qualified management accountant FCMA, Masters degree in Managing IT. Director of education charity for 16 years. Qualified business coach and small business adviser.
Current volunteer roles; teaching English to immigrants and setting up a telephone befriending service for lonely people.
See the current board here.