Could a camera developed in Bristol that can 'see' methane leaks offer a path to curbing industrial greenhouse gas emissions?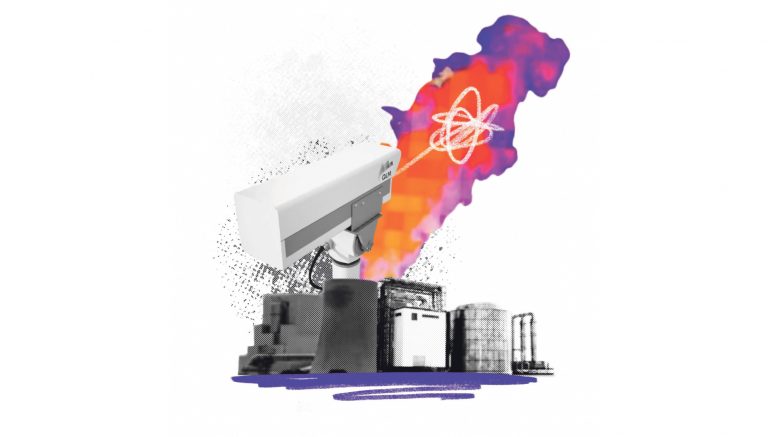 In the drive to reduce greenhouse gas emissions, most people see carbon dioxide as our greatest nemesis. But methane, while less abundant, actually has 84 times the global warming potential of CO2 over a 20-year period.
Accounting for one fifth of human-caused global warming, hundreds of megatonnes of is produced annually in industries such as agriculture, plastics manufacturing, and oil and gas production.
At every stage of gas distribution, from the plant to the vast web of pipes beneath our feet, methane escapes into the atmosphere through leaks. With 7,660 km of gas pipelines and 618 above-ground installations in the UK alone, ensuring methane stays in the ground is no easy task.
But it's an important one, considering that if as little as 3% of the natural gas we draw up leaks, then we might as well be burning coal. Leaks turn gas from the cleanest fossil fuel into the dirtiest.
Now, though, a tech firm that grew from Bristol University postgraduate research is taking on this challenge by designing a camera that can 'see' methane emissions and display a 'heat map' of the gas almost in real time. QLM's camera uses lidar range-finding – the laser-based technology that autonomous vehicles use to understand their environments – to map methane emissions spatially. It then reads the lidar information with a hyper-sensitive quantum sensor to understand the size, shape and concentration of the plume.
According to a report from the UN in May, cutting methane is the fastest and most effective way to reduce the rate of global temperature increase. While reducing CO2 in the atmosphere will not yield results for about a decade, reducing methane emissions has an immediate effect – and buys us time to address our carbon problem.
Dan Lunt, a professor of climate science at Bristol University (who is not involved with QLM), is unequivocal: "The bottom line is that if we want to meet our target of less than 1.5 degrees [of warming compared with pre-industrial temperatures], we need immediate and far-reaching cuts in CO2 and methane."
In September, the US and EU pledged to cut global methane emissions by 30% by 2030, based on 2020 emissions. The pledge will be opened up to other signatories at COP26, this November's global climate summit in Glasgow, in what some are calling one of the most significant steps towards fulfilling the promises of the Paris Agreement, which aims to keep global warming below 2 degrees above pre-industrial levels.
Lunt says tackling methane will, among other steps, require cutting meat and fossil fuel energy production on a global scale. "The methane emissions associated with the burning of fossil fuels are important. This may require subsidies that are currently in place for the fossil fuel industry to be transferred to the renewable industry."
A helping hand to fossil-fuel companies?
QLM hopes to have its cameras deployed across all BP's natural gas sites by 2023, which will help address leaks. But this also raises questions about the technology's role in furthering the longevity – the vice-grip – of the fossil fuel industry.
"We need solutions that are useful everywhere, so they need to be very low-cost and scalable to a very high volume, with many millions of alarm monitors placed all over the world," argues Murray Reed, QLM's chief executive. "The only way to do that is start with the biggest and most well-funded users first to get the scaling process started, and those are the oil and gas industry."
As much of the world tries to transition away from coal, oil and gas to renewable energy, QLM's cameras – which can detect carbon dioxide and will soon expand to other ecologically significant gases like ammonia – have potentially endless applications elsewhere. With our daunting net zero commitments already on the horizon, the effective monitoring of greenhouse gas emissions is one solution in the myriad that will help us get over the line.
According to Reed, even within the fossil fuel industry there is growing recognition that its days are numbered. "Thankfully the majors are evolving from denial and greenwashing into real effort and commitment," he says. "They realise it is absolutely existential for them, so a change is starting, at least in some parts.
"It will take huge political will to bring everyone together on greenhouse gas control – it's as divisive a topic as slavery was 200 years ago, but we did win that battle and we can win this one too."
This article was corrected from the print edition to note that QLM is hoping to have its cameras across BP's natural gas sites by 2023.