'Disruptive protests don't win friends. But they work'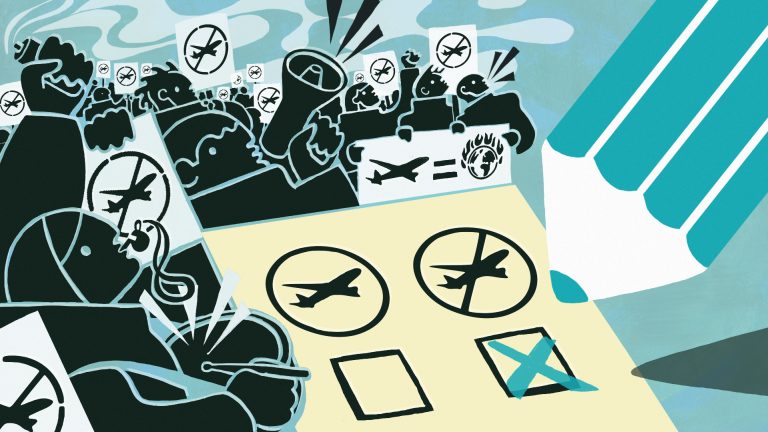 Illustration: R. Rowland
Bristol has long been a hotbed for climate activism. The Green Party is big here. Extinction Rebellion (XR) is very active in the city. Our youth climate strikes have been some of the largest, including the epic rainy day that Greta visited us. 
Much of the climate activism in Bristol and the UK as a whole is disruptive. It breaks the law and it annoys people. Annoying people may seem counterproductive, so why do protesters do it?
The simple answer to that question is that disruptive protest works. Activists involved in disruptive protest, also known as direct action, have known this for a long time. In Britain, the Iraq War protests were important for activists learning this lesson. Huge numbers of people were involved and they were well organised. Yet the war happened. For many participants, this showed the limits of marches, demonstrations and petitions.
The lack of results from non-disruptive protest isn't just activist hunches. Dr David Bailey at the University of Birmingham, along with colleagues, has compared different kinds of protest in various countries. They found that you are much more likely to achieve something with your protest if you are militant. By militant they mean things like strikes, occupations and civil disobedience.
People who get annoyed at disruptive protesters often say: 'Ok, you've made your point, now let me get on with my day'. As if the point of protest was to make yourself heard. Protesters want to effect change, not just be heard and noticed.
There are of course different ways in which to do direct action and different ideas of what you might achieve with it. When XR first appeared, they did a lot of disruption to the general public. This was based on an idea of polarisation. They knew that they would annoy a lot of people. They knew that their protest in itself would not be popular. But they also knew that a lot of people who shared their concerns about the climate and the political system would support them and hopefully even join them.
'Forcing people to think about climate change'
Importantly, many people in between would be forced to think more about climate change and why so little has been done to address it. This is indeed what's happened. Concern about climate change is much greater now. It's not the job of protesters to be popular. They are not running for election. It's their job to forward their cause and climate activists have done that successfully.
Those who claim that unpopular protests lead to less support for the cause are talking nonsense. Nobody, apart perhaps from some clown on TalkRadio, starts thinking that it's bad to insulate homes just because they get annoyed at people gluing themselves to the road. There is in fact huge support in the UK for a wide range of measures to tackle climate change, including insulating homes.
However, as XR has also experienced, this kind of general disruption also has its limits. It's great for getting attention but it's not always great for building broad movements. That's one reason why XR and other groups have moved towards more targeted actions. They have targeted Farnborough Airport, popular with private jets. They have targeted the right-wing press for their role in downplaying the climate emergency and Barclays Bank for funding the fossil fuel industry.
"The fossil fuel industry is the biggest threat there is to humanity. Nobody who is serious about addressing climate change should give them any platforms."
In all of these cases, the aim is to delegitimise the actor that is being targeted. It's to highlight to onlookers that certain practices and actors are simply not ok if we are to address climate change.
Other times, direct action can play this larger delegitimising role whilst also aiming to have a direct result. That is the case with the protests against Shell and the coal mining company Adani sponsoring the Science Museum. That the Science Museum has accepted fossil fuel sponsorship even for climate exhibitions is a scandalous Greenwashing effort. The fossil fuel industry is the biggest threat there is to humanity. Nobody who is serious about addressing climate change should give them any platforms.
These kinds of targeted actions haven't tended to get as much attention as the general disruption of early XR or Insulate Britain. But it does get much more to the root of the problem. Yes, we do all need to care about climate change and we do need to insulate homes. But we also need to recognise that the biggest political obstacle to saving humanity is the fossil fuel industry so we need to find ways to fight them.
As climate scientist Michael Mann says, we are in a New Climate War that we did not choose to enter, but we have to take up the fight. Disruptive protest has played, is playing and will continue to play an important role in that fight.
Oscar Berglund is Lecturer in International Public and Social Policy at the University of Bristol.