A year after opening, some residents fear for their safety at controversial south Bristol flats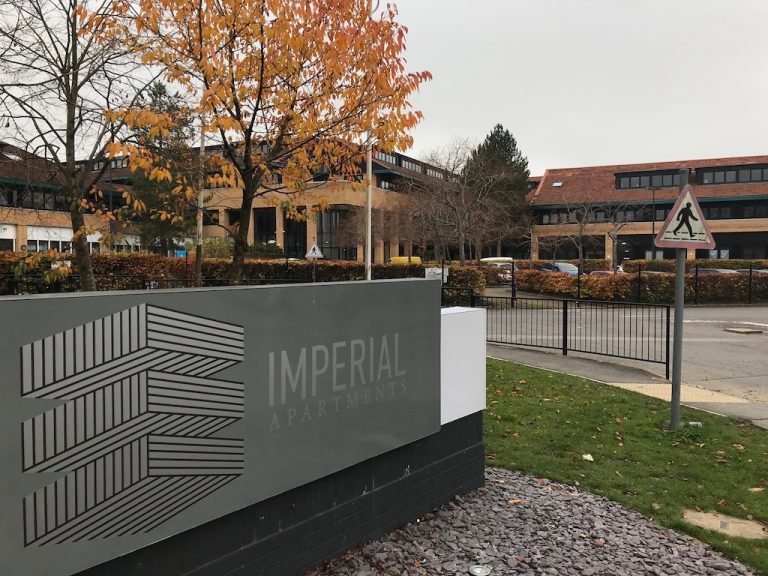 You don't have to look far to find evidence that Bristol's housing crisis is reaching new depths. Spend a few minutes online and you'll come across desperate renters searching in vain for a new place. According to real-estate firm Zoopla, Bristol has seen an 8.4% annual rise in rents – the highest of any major UK city.
But Ellie Price, who was looking to move out from her family home at the end of summer, had no problem finding a flatshare with her friend.
The 20-year-old, who works in a pharmacy in Bishopsworth, asked about flats in Imperial Apartments, a development in a converted Hengrove office block. It has been open just over a year and is split between open-market rents and homes let via a deal with Bristol City Council to provide housing for people facing homelessness.
"It was so easy to get in – I rang them, obviously, we've seen it online, and they gave us a date to go and view," she says. "We viewed two flats and chose one – my stepdad even said it was a bit mental how we were able to do it so quickly."
But the first sign of trouble came when Ellie and her friend went to move in – only to find the flat they had chosen was unavailable. They were quickly offered another "twice the size", for £900 a month and told they could waive their deposits.
Two months later, Ellie has already moved out. While she says the final straw was a dispute with her flatmate, she adds that she was already feeling "so uncomfortable" on her own at night that she would often stay at her mum's, where she's now living again.
She describes "horrendous" noise, made worse by poor soundproofing. "One night, it was like four in the morning, there must have been an argument between a couple in the corridors," she says. "It sounded like he was trying to hurt her, I genuinely thought they were in our flat and I was so scared."
Ellie says she was also bothered by drug use on the site, and groups of men hanging around outside after dark, making her afraid to come and go. When she left, she says, staff "said they didn't blame me for going".
'Human warehousing' allegations
People like Ellie, who have a genuine fallback if they leave Imperial Apartments, are in the minority. Many residents have been street homeless, stuck in temporary accommodation, or imminently facing homelessness. For some, the offer of a tenancy there means the council's housing duty to them is considered to have been fulfilled, meaning they are out on their own if they turn it down.
The council's proposal in 2020 to house people in the former Somerfield supermarket headquarters was controversial. Most flats, which were converted via permitted development – a planning dodge that's since been tightened up – do not meet minimum space standards.
With the developer, Caridon, having been previously accused of 'human warehousing' after Panorama investigated a similar office-to-residential conversion in Harlow, Essex, former cabinet member for housing Paul Smith admitted there were "concerns". But he said he hoped these could be managed, adding that if Bristol did not take the flats, other councils might use them to house homeless families. Officers said no child over five should be housed there.
With the council facing an ever-growing housing waiting list that's now above 16,000 households, and the prospect of homeless people offered hotel rooms during the pandemic having to go back to the streets, the deal for 216 flats – and a subsequent expansion of 100 more – was approved. A lettings plan developed between Caridon and the council set a number of aspirations, including "to create and sustain a safe and secure environment which our citizens aspire to live in".
A Cable investigation raises serious questions about those ambitions, with sources – including council staff – approaching us with concerns relating to noise, lack of space, drugs and anti-social behaviour. In September, we asked the council about the turnover of flats at Imperial Apartments, how many complaints residents were making and how much the scheme was costing. The council failed to respond to our freedom of information request and has now been ordered to do so by the Information Commissioner's Office, the independent body set up to uphold information rights.
In the meantime, current and former residents, local councillors and healthcare workers have spoken to us about their fears – and in a few cases hopes – about conditions at the scheme.
'It all seems to have happened under the radar'
Helen Mutch, a south Bristol GP, says she and her colleagues have seen patients living at the flats whose stories have set alarm bells ringing.
"One was an adult with mental health problems, who became homeless and got housed there," she says. "He was absolutely shattered by where he found himself living and what was going on around him, the anti-social behaviour he was coming across." Bristol Live reported last week that police had been called out to Imperial Apartments more than 200 times since it opened a year ago, including in relation to one rape and two instances of weapons possession.
"I was talking to a young mother with a small baby, who had been housed in a one-room studio apartment with her partner," Mutch continues – a situation others have also mentioned but that Caridon says should never happen under its agreement with the council. "She said she wouldn't go home on her own without her partner, didn't want to go in the gate, couldn't sleep because there was constant music, shouting, running around."
Mutch adds that other doctors in Hartcliffe have described taking on lots of new patients with higher than average needs, including mental health and substance misuse issues. The council's lettings plan says it "will not be placing anyone with high and multiple and overlapping support needs into Imperial Apartments". The block is four miles from the city centre, where many services such as drug and alcohol agencies are based.
The GP says she's worried local services – already under massive pressure because of the pandemic – may struggle to give people enough support, and questions whether the council did enough consulting with healthcare organisations before the site opened.
"It all seems to have happened under the radar," she says. The Cable understands another health professional has asked Bristol South MP Karin Smyth to look into conditions at Imperial Apartments and whether the council has kept partner agencies properly informed.
'This is meant to be a place of transition'
Visit Imperial Apartments and it's easy to find people whose experiences reflect Ellie Price's, and feed into Mutch's concerns.
"I've been here seven months – seven months too long," says Stephen, who like other residents we speak to, provides only his first name. He says he's had issues with noise, drugs and fighting. Despite having moved from a homeless hostel into his studio flat, Stephen says he can't wait to leave and tries to avoid having his kids on the site.
Others are more measured. Anthony, who became homeless last year after splitting from his partner, says problems at Imperial Apartments are similar to those in other big blocks of flats – although he questions how good Caridon's staff are at dealing with them.
"Generally, the place is clean – the council has done what it can," continues Anthony. But, he adds, "this is meant to be a place of transition" where he fears people will instead become stuck for the long term, because there is no obvious route to move on to better housing.
Imperial Apartments "is too expensive – a money-making scheme", Anthony continues. Rents for people housed via the council are set at the top limit of local housing allowance (housing benefit) rates, with Guardian research finding that Caridon "appears to be the largest recipient of universal credit housing payments in the country". Nationally, the firm had collected more than £3.6m from its tenants since April 2019, with Imperial Apartments' first phase expected to pull in £1.9m annually.
But Sophie, who has been in the flats about a year, argues that Caridon are better to tenants than many of Bristol's private landlords who have been jacking rents higher and higher, forcing out people on low incomes.
"[Before moving here] I lived in my car for four months after being illegally evicted by a private landlord," she says, adding that she also has experience of living on many of Bristol's council estates.
She says positive things are being set up at Imperial Apartments – such as mums' and toddlers' groups and a residents' association – and that some problems are caused by young people who haven't had their own tenancies before. Sophie says she has friends and relatives living in the flats, and that she expects to make a go of it here for the long term.
The responsibility for people being housed in places like this should fall on the shoulders of successive governments who have failed to build enough social housing and instead left things to the market, Sophie says. "If we're not living here, then where are we going to live?"
'It's not for everyone here'
When we return to Imperial Apartments to interview Caridon's regional manager Chloe Hawes, both sides of the coin are on display. The police are onsite and a strong smell of cannabis drifts around parts of the complex, while in the foyer a group of women including Sophie are selling home-made cupcakes to raise money for activities for children living there.
Despite the evidence of drug use, Hawes says Caridon screens people nominated and would decline any application from someone admitting to currently using any substance. "We have security on site from 11am until 6am and over the weekend, when it's a bit busier, have two on," she says.
"Anti-social behaviour is a big part of my job, and our building manager's job," Hawes goes on. She says people found to be causing nuisance are put into a three-stage procedure, starting with a warning, and followed by them being asked to sign an agreement with Caridon and the police.
Eviction proceedings are the final step, with Hawes stating that only one tenant has been evicted for anti-social behaviour. Caridon would not push for eviction if someone who'd fallen back into addiction was engaging with Bristol Drug Project, she says.
"[The police are] going to come in a couple of weeks and give out information about domestic violence, things like that," Hawes says. "We're trying to get them to proactively do surgeries so tenants see them as an ally rather than a reason to be worried – and similarly, we have a weekly meeting with the council."
Hawes says mental health also forms part of pre-tenancy checks and that prospective residents are asked whether they feel the environment is right for them. "It could be they develop mental health issues or [previous ones] flare back up while they're here," she says, adding that Caridon would meet with tenants and support workers in this event and that "a handful" of people had chosen to leave. She admits some people have issues with noise but says this can be a problem in any flat.
On the subject of mothers with children being placed in one-room flats, Hawes says: "Categorically, we don't allow anyone with children to move into studios." While she has only worked for Caridon since September, Hawes says she does not believe this would have happened before her time and that families would always be offered a two-bed.
Hawes says Caridon is working to improve community facilities at the flats, including an outdoor play area, and is planning communal events over Christmas.
She acknowledges that private flats at the scheme are still to be filled to capacity, and that tenants have left recently – including some students who arrived in the autumn, although she says distance from the universities was a factor.
"It's not for everyone here," Hawes says as we leave.
A Bristol City Council spokesperson said: "Helping to prevent people from rough sleeping and securing suitable, affordable move-on accommodation are key priorities for the council. It is important to recognise the council has very few options to tackle the homelessness crisis which is exacerbated by continual failings at the top of government to devolve the funding and powers needed to accelerate local housebuilding. Whilst the use of Imperial Apartments is not an ideal option it has provided housing for more than 200 people with a history of, or who are at risk of homelessness.
"Although Caridon are the landlords and responsible for delivering safe and secure accommodation at the site, we take any issues raised very seriously. Weekly meetings with staff on site and monthly meetings with senior managers are held to discuss and address any emerging issues. Members of our Community Development team are at the site on most days also.
"Caridon have a procedure in place for dealing with anti-social behaviour and other cases of concern and to discuss these issues with us as part of this process. Staff are on site at all times, including security at night and over the weekend, to respond to any issues around anti-social behaviour. We review these arrangements regularly and remain open to discussions with the landlord and residents about their effectiveness.
"Strict referral criteria are in place for the building to ensure we only refer people with low or no support needs who are assessed as able to live independently with minimal ongoing resettlement or floating support."
Are you affected by this story? You can contact the Cable in strict confidence to share any information. Get in touch by emailing: matty@thebristolcable.org.