Council call off bailiffs after discovering an eviction blocked by community response was for a debt owed to them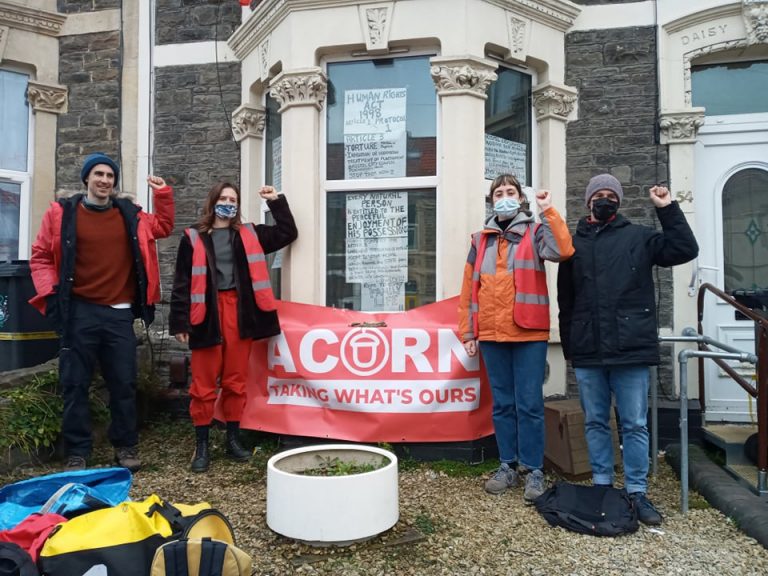 Ruth woke up at 7 o'clock last Friday morning to a bailiff trying to drill out the lock on her front door.
This was the fourth eviction attempt in as many weeks. A few days earlier, on Monday 13 December, Bristol City Council found out that they were unwittingly responsible for an eviction attempt that would have left a mother and her children homeless two weeks before Christmas.
Easton homeowner Ruth is being chased over a debt over a fraud conviction – which she says she was unfairly prosecuted for – from 2012 that was passed to an out-of-town debt collection agency by the county court in 2019. She says there was an overpayment for housing benefit while she was entitled to council tax benefit but she was prosecuted for both. The council say they weren't aware that she and her children were about to be evicted over the debt.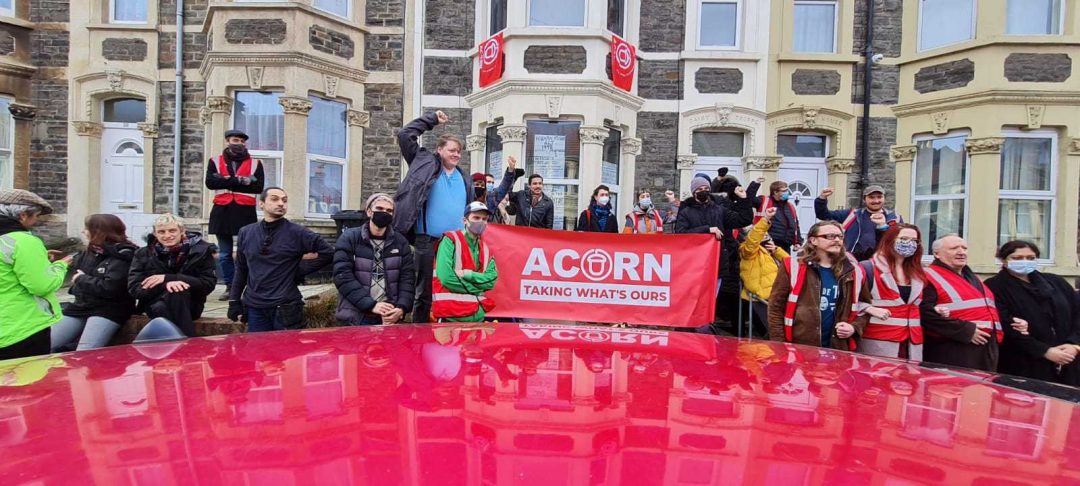 The council introduced an "ethical debt collection" policy in 2018 for council tax debts that reduces bailiff use, a move propelled by a Cable campaign to #bootoutbailiffs. But this debt was passed direct from the court to the bailiffs, so Ruth has been facing repeated attempts to evict her just before Christmas, and without the usual welfare support she should get from the council.
A spokesperson for the council told the Cable they weren't aware that an eviction was due to take place, and if they had been they would have linked Ruth up with the appropriate welfare support, including homelessless prevention and child protection services, and debt advice.
The Cable understands that the council called the bailiffs last week to ask them to hold off and that the bailiffs said it was "unlikely" they would evict before Christmas. The council is now looking at alternative options to eviction.
Community action blocks 'a ridiculously unnecessary eviction'
Out-of-town private debt collection agency Richard Long & Co were due to evict Ruth and her children from her home on Monday 13 December.
The eviction would have left Ruth and her two children, 10 and 12, homeless. Community union Acorn had organised its members and gone door knocking in the area to drum up supporters to resist the eviction. After sounding the alarm on social media and a Whatsapp callout group the previous evening, around 50 Acorn members, neighbours and supporters stood outside the front and back entrances of the house to block the bailiffs' way.
"There's a mother and two young children in this house and we want to make sure that they're not going to be made homeless for Christmas," said Ruby Burgess, spokesperson for Acorn. "We're non violent, we're just trying to block their way, essentially, so they can't get in."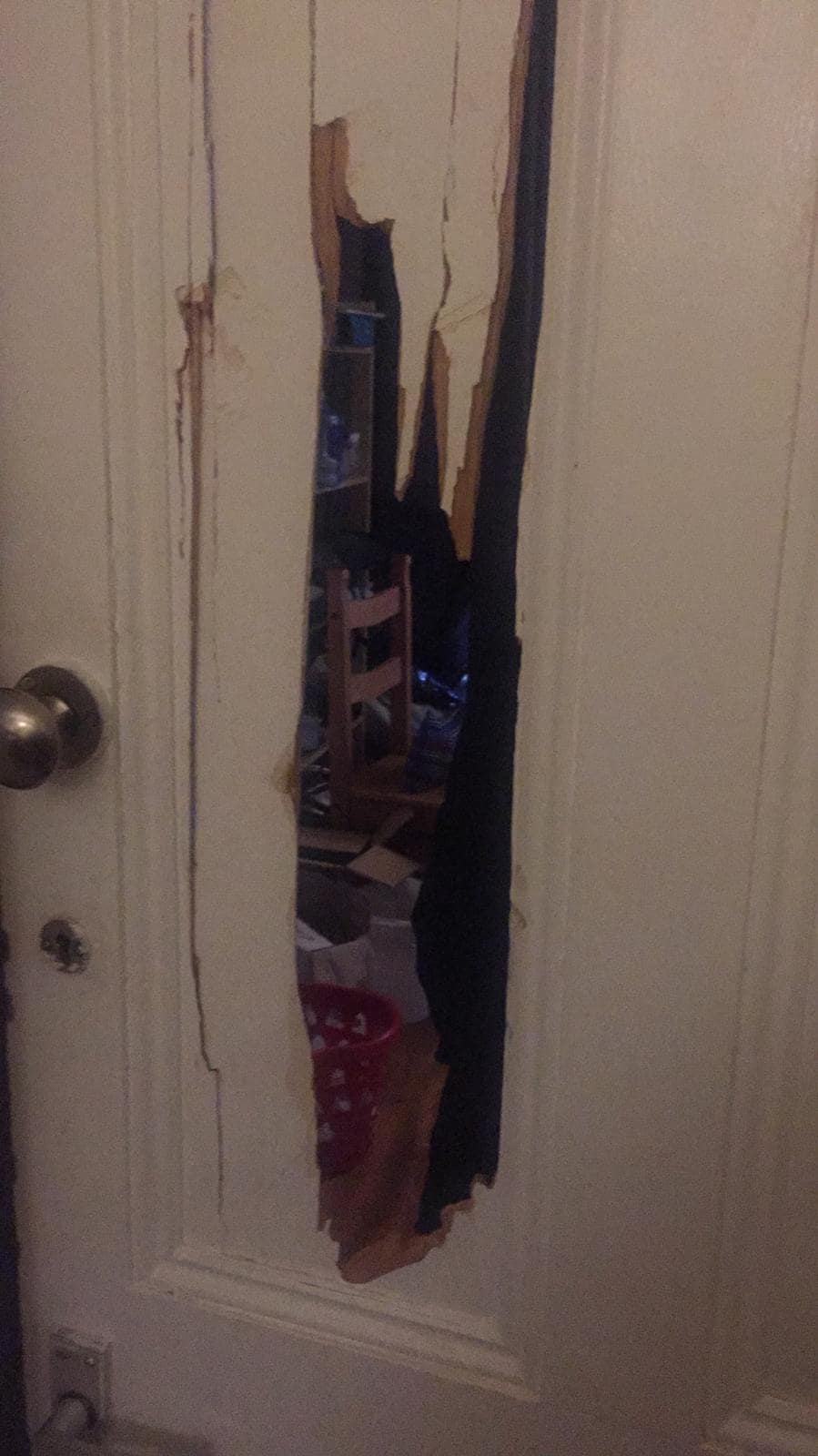 Rachel and Martin, who live nearby, came after Acorn members came knocking. Martin said they'd come along to try and prevent "a ridiculously unnecessary eviction".
"The housing situation in Bristol is so awful and it's so difficult for people to find accommodation that you sort of worry what will happen to a family that are kicked out just before Christmas," added Rachel.
Drivers going past honked their horns in support. Ruth's front downstairs window was covered in hand-written posters she'd written showing the different laws she says she's protected by. "I've been up all night making those", she told the Cable.
This was the second recent eviction attempt of the household. In the first attempt the bailiffs forced entry in an eviction attempt that was illegal, say Acorn. Ruth says she came home on 25 November to find one of the doors with an axe hole in it and her possessions scattered. "All the things were on the floor," she told the Cable. She said that they terrified her children. A spokesperson for Richard Long & Co said that the bailiff company wasn't aware of any damage caused during the eviction attempt and had thought the house was empty when they entered.
The bailiffs never turned up on Monday, though supporters think that they may have arrived, seen that the way wasn't clear, and left. They've since turned up at Ruth's door at 7am on the following Wednesday and Thursday morning and Acorn members spent the whole of Thursday outside Ruth's house in case they came back. Ruth told the Cable she has had to pay £160 for new locks to secure her property.
Councillor Craig Cheney, deputy mayor with responsibility for finance said: "This administration condemns the actions of the recovery agents and have put a hold on any further action whilst we seek to better understand the situation. Collecting debts cannot be done without consideration for the impact on families, particularly this close to Christmas, and the wider problems caused by aggressive tactics without a joined-up approach.
"In many cases where debt is chased in isolation the consequences are to create additional pressures on housing, social services, welfare support, health agencies and the charity sector. Often the sum total of support required to deal with the consequences outvalues the debt owed in the first place.
"I will shortly bring our new ethical debt collection policy to Cabinet with a view to curb short-sighted collection practices. We aim to ensure that where people owe money, they have the opportunities to meet their obligations without pushing the pressure onto other services. Should this receive Cabinet support, we will roll out new practices across the council during the next year."
Council say they were unaware of eviction
Jim, a member of squatting and homelessness activist group Bristol Housing Action Network (BHAM) was at the eviction resistance on Monday.
"I'm pretty appalled that the council are behind it, that they're trying to evict someone from their own house just to settle a debt.
"I would have thought that it would be easier to just get some kind of debt repayment going and it just seems totally ridiculous. Especially a woman who's disabled with children."
An Acorn member called the council out on twitter Thursday morning for the eviction.
The council, however, say they were not aware that an eviction was taking place.
Bristol City Council's new "ethical debt collection" policy, launched in 2018 and being expanded to do more debt collection in-house next year, commits to reducing the use of bailiffs to collect council debts. Instead, the council aims to take back some of the £15 million it loses every year from unpaid council tax through fairer and more efficient debt collection schemes focusing on early intervention, affordable repayment plans and advice.
But because this debt went through the courts instead of through the council's in-house debt collection scheme it was passed to the bailiffs by court order and the council says they've been out of the loop ever since. The council would not have been informed until the house had been seized and sold, and the debt paid.
Ruth has contested the fraud conviction, she says she's being chased over money that she was entitled to and that she should never have been prosecuted over. Richard Long & Co have had the confiscation order since 2019, which they say allows them to seize and sell her house to pay off the debt.
Ruth says an eviction would be illegal because due process has not been followed. She also has multiple disabilities. She says that the eviction attempts have left her feeling "violated in so many ways".
"I should be going out for walks and exercising my limbs and enjoying my life. I shouldn't be having to think that I can't leave my home because someone might drill out my lock and do what they like.
"They want to coerce me into handing over my home and I'm not going to do that."
Council 'must take responsibility'
Aidan Cassidy, national organiser for Acorn, told the Cable that passing the debt to the court doesn't mean they can forget about the outcome: potential eviction and subsequent homelessness of a family.
"It's irresponsible of the council to just give its debts away and wash their hands of it. […] It doesn't mean that there's not a responsibility for making somebody homeless.
"If the council are going to go around saying they're not evicting people, they can't just wash their hands of the difficult cases. It's up to them to take responsibility for it and to stop it happening".
Ruth praised Acorn for their "support, protection and the platform to raise the concern and issues that are facing many who are vulnerable to eviction. […] Today's resistance was very important in the interest of justice. This includes the emotional and psychological support".