How my experiences of renting in Bristol pushed me to campaign for a fairer system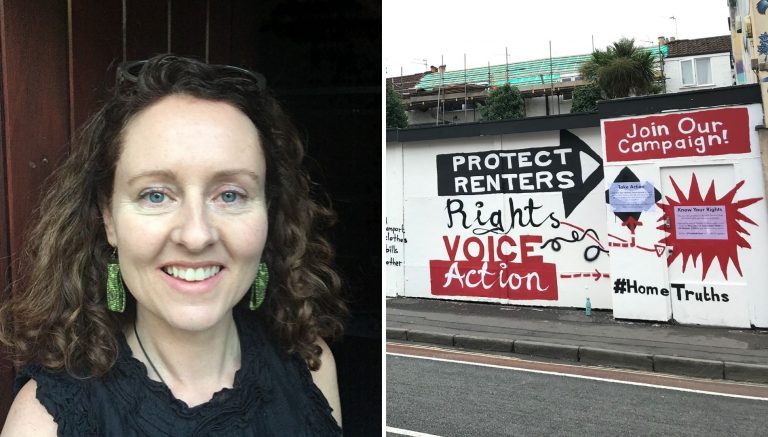 A few years ago, I needed to find a place to live. I'd been given notice on the room I rented with a Bristol family. After a few weeks it was getting uncomfortable, as nothing had come up. Renting for over 20 years, I'd always paid my rent on time and had a great reference from my previous landlord, but I couldn't find a new home. I was 47 and on benefits.
I had to look for private landlords, because letting agents would ask about income in the first two minutes and dismiss you. Out of 100 online adverts, there were only seven rooms that I could afford, and six of these wanted younger people. That left one advert, but on the third page of the small print it read 'No DSS' (no benefits). No other places came up.
A couple of weeks later, I moved in with friends of friends, who were putting their house on the market. Despite being physically ill and dealing with severe stress, I had to move all my belongings into somewhere I would have to leave once the house was sold. It was the closest I've come to being homeless, and with the rental market the way it is, that fear can stay with you even when you find somewhere.
Having to move around a lot is not uncommon for Bristol renters. And a lot of people struggle to find anywhere to rent, due to prices being so high, the selection process being so competitive and landlords and letting agents discriminating against people because they receive benefits, are on a zero-hour contract, self-employed or are a person of colour. It can be impossible.
Until recently, I always had to rent rooms in shared houses, as the gap between benefits and the cost of a flat is just too high. But the cost of room rentals are so high now and affordable places so few and far between that it's getting harder and harder to find anywhere.
In 2020, I was living in an HMO (a house in multiple occupation) in Bristol, but it was hard going sharing one space with people I didn't know very well, especially during the pandemic. I was glad to have a room, but last summer, my financial situation changed after my mother died. This meant I could rent my own place, so hoping to buy somewhere, I moved to Wales where houses were cheaper. At the age of 50, I was really ready! The second lockdown was very different to the first for me, and my mental health has been a lot better.
It was time to act
While I was still living in Bristol, last year, Daisy Picking, a community organiser from Shelter got in touch. They were gathering renters together to form an action group. It felt great to find that I wasn't on my own and other renters had a passion to change things.
Together, we looked at the experiences and ideas people had shared during the listening campaign and then, in August, we collaborated with local artist Benoît Bennett and The People's Republic of Stokes Croft to create a public mural summarising the findings. I went there for one of the afternoons to help paint the wall, and it was eye-opening to see the number of people walking past, who spoke of how they'd been through the issues too – discrimination, bad conditions, fear of eviction.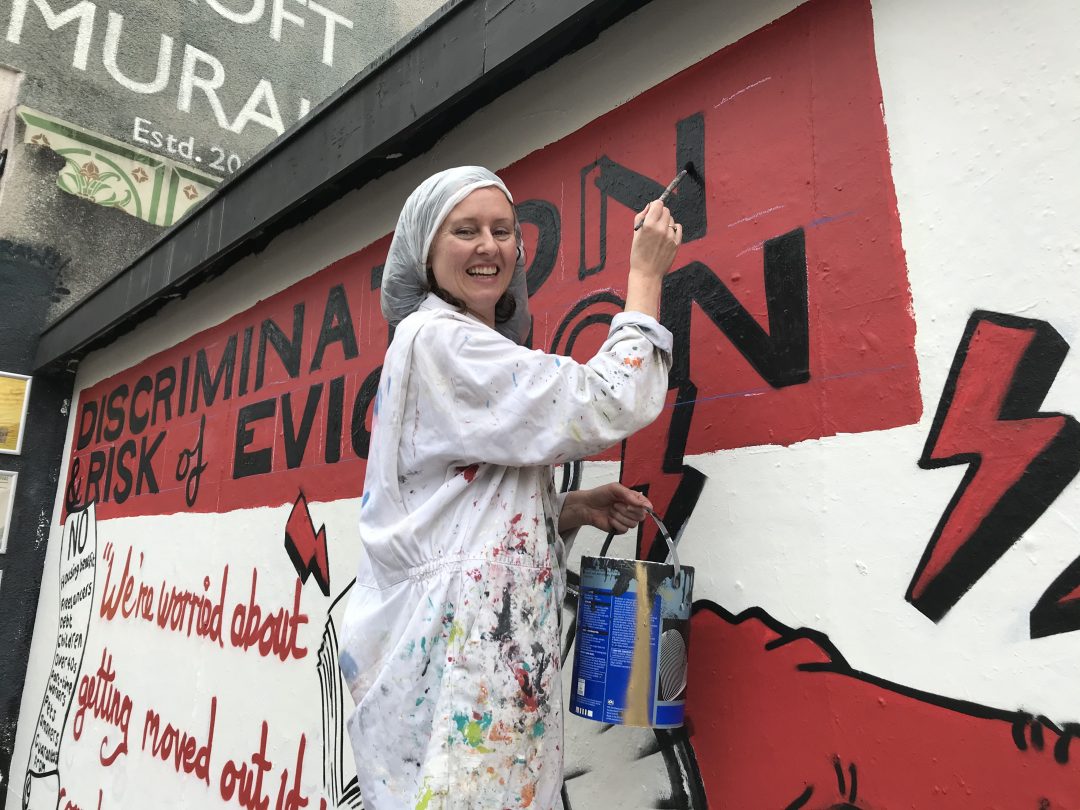 As a team of roughly 10 renters, we have called ourselves the Bristol Fair Renting Campaign, and we worked over the winter to produce a manifesto, clearly showing what the issues are and what needs to change. I learnt about rent control in other European cities, that high rents for huge profits can be ended and a tenant-friendly system be set up. We heard about two court cases where renters, supported by Shelter, had proved that benefits discrimination is unlawful. This was amazing progress, although benefits discrimination is still very common and more needs to be done to protect renters.
In our manifesto, we have set out clear demands for local politicians. And they are listening! Ahead of the mayoral election, we co-hosted a Homes and Communities Assembly, calling on the candidates to share what they would do about the renting crisis. Marvin Rees agreed to lobby for powers to tackle high rents locally and to prioritise the urgent need to stamp out discrimination in private renting.
Our team has since met with the Cabinet Member for Housing Tom Renhard to talk through how he plans to take action on these commitments. He and Mayor Rees recently publicly endorsed our campaign and re-stated their plans to tackle the renting crisis. Their awareness of what renters are facing and a real desire to change things gives me real hope that into the future things wont stay the same.
Renting needs to stay at the forefront of people's minds. More than 134,000 people in Bristol rent privately – that's about one third of the city, and many are struggling. Discrimination, poor conditions and high rents are affecting people's health and quality of life and breaking up communities.
My own housing situation might have improved now, but the renting crisis in Bristol hasn't, so we need to keep the pressure on until private landlords can't get away with breaking the law anymore and the exploitation of renters is no longer overlooked.
The Fair Renting Campaign is growing, and over 1,800 people have signed our manifesto for change. But we want more renters to hear about us and know we are fighting for them. If you're a renter and you're reading this – please join us and help us fight for a fair renting system together.