Locals are dreading New Year's Eve after a Bonfire Night party left their local nature reserve 'trashed'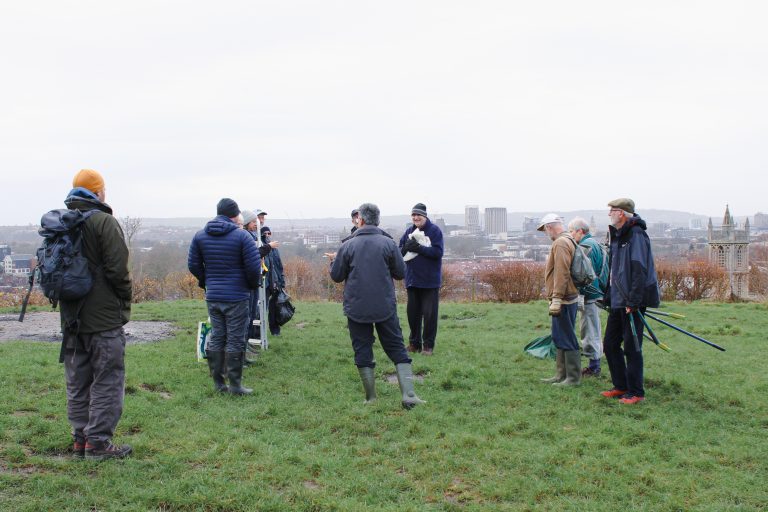 Narroways Local Nature Reserve in St Werburgh's is tucked into a fold of land between two railway lines. Views of Bristol stretch across the rooftops and church spires, and on summer evenings it's a gathering place to watch the sunset. But on Bonfire Night, an estimated 1,800 revellers left drugs litter, broken glass, fireworks detritus and large burned patches across the nature reserve, during a party that locals say was the worst ever.
Known to some as 'the mound', Narroways is the closest of Bristol's 13 designated nature reserves to the city centre. Locals fought to save the site from development in 1997; landowners Bristol City Council then gave it over to Narroways Millennium Green Trust to care for indefinitely. Eleven dedicated trustees currently make decisions, fundraise and arrange volunteer work days. It was designated a Local Nature Reserve in 2016, granting greater protection including enforceable bylaws.
In the days following Bonfire Night, volunteers – and some partygoers – picked up litter filling more than a dozen bags, including camping chairs, glass bottles and nitrous oxide canisters. With New Year's Eve approaching the community are bracing themselves, and plan to lock the gates to try to protect the space. But some are losing patience altogether with the challenges of caring for an inner-city reserve.
'Chaotic' parties
PC Simon Montague was sent to Narroways on Bonfire Night after locals called the police. He's worked in Avon and Somerset's Neighbourhood Policing Team since 2002, and is the beat manager for St Werburgh's and Montpelier. He is the only constable dedicated to the area, assisted by three PCSOs.
He estimates that there were 800 people on Church Field on Bonfire Night, where wildflowers including chicory and cranesbill grow, and you can find unusual moths like the six-belted clearwing. Another 800 people were at the top of Narroways along with the largest bonfires and sound systems; the site trampled into mud near the favoured spot for lizards to bask. Several hundred more people were down in the cutting towards St Werburgh's City Farm, where there are nesting boxes for owls in the trees.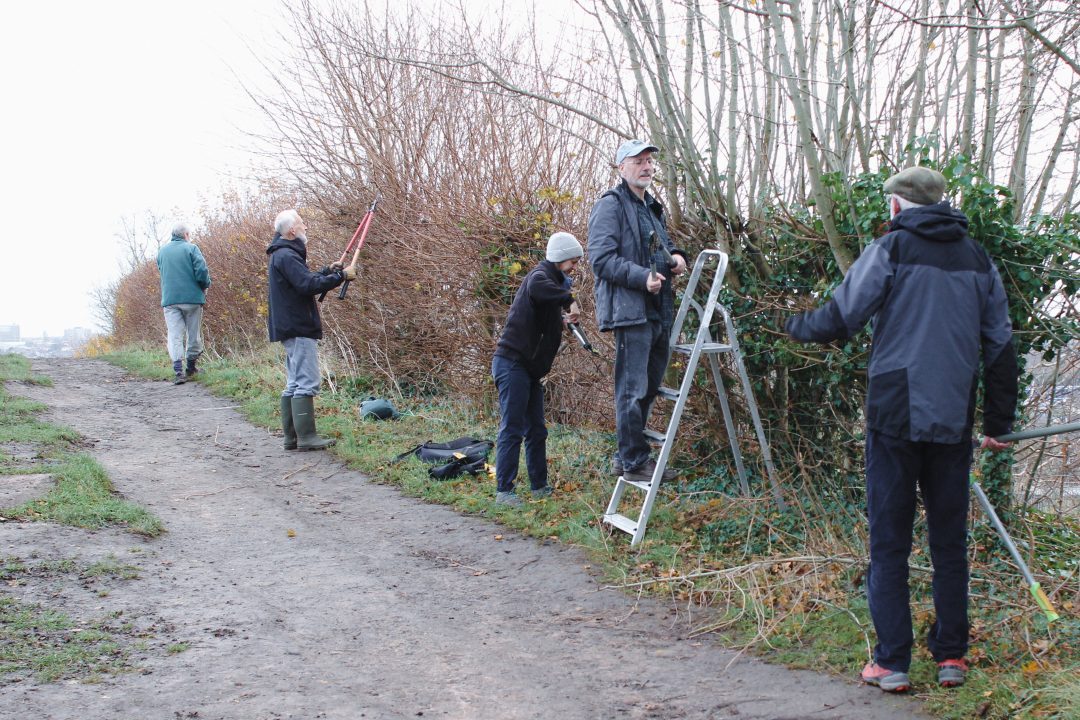 "I was a little bit surprised [to see so many people], but I was mostly disappointed," PC Montague says. "I knew straight away that one PC and some PCSOs wasn't going to do much. It's not practical to issue a summons for 1,800 people for fireworks and bonfires. I knew the volunteers would be dealing with the fallout of this over the next months and years."
That night the police followed 'the four Es' model: engage, explain, encourage and only then enforce. Without enough manpower, and thinking of the knock-on effects of trying to get hundreds of revellers off a steep hillside, ending up in residential St Werburgh's in the middle of the night, PC Montague says: "We decided to withdraw and monitor."
Maria*, whose garden is close to Narroways, was at home that night: "I could hear hordes of people. It sounded chaotic." Several rockets, set off from the top of the hill, landed in her garden. The same happened last New Year's Eve, despite the UK being in a Covid-19 lockdown, and she has called the police during previous parties. She says she is "dreading" this New Year because of the noise, disturbance and mess that will be left to clear up. "I feel a bit jaded with it all," she says. "It puts me off living here. It's the thing that makes me want to leave."
Maria has lived in St Werburgh's since the 90s, and remembers animals grazing Narroways when she first moved in. While people have always gathered at the site, she says such large parties are a recent phenomenon. "It's not as if people are there for the green aspects if they're there in the middle of the night with broken bottles, setting off fireworks. I imagine some of the people who go there would be very much environmentalists, but they're not thinking straight."
Rising pressure
Tej Bhandal is raking through the site of a bonfire with the toe of his boot. He has been a Narroways trustee for eight years. "All sorts of stuff gets burned up here, not just pallets – kitchen cupboards, chipboard. People have broken off branches to chuck on the fire." One time the volunteers brought up a powerful magnet and picked up kilos of nails after numerous pallet fires. "All that's left is ash and nails," Tej says.
Bristol's green spaces are under pressure as the population swells and Covid-19 has changed behaviour. Nature reserves are rare spaces away from prying eyes – by design far wilder than city parks, and often only accessible by foot. Narroways has issues with rough sleeping: one large encampment with several people living in it has been there for months; another camper two years ago cut down multiple trees. At Royate Hill Nature Reserve in Easton, their main antisocial behaviour issues are sex, graffiti and drug litter including needles. Fires, possibly caused by disposable barbecues, destroyed swathes of grassland habitat at Trooper's Hill in 2013 and 2019. This summer the river Avon at Eastwood Farm in Brislington was polluted with human excrement after record numbers of visitors.
PC Montague says antisocial behaviour is "corrosive" – "a constant drip, drip, drip of incidents that lessen the quality of life for residents". Sharp cuts to police budgets in 2010 are still being felt: Avon and Somerset lost 602 full-time officers between 2010 and 2016. "People have to make hard and robust decisions about where to send very limited policing resources. We allocate to more immediate need, but that doesn't help Narroways."
Antisocial behaviour and activities like lighting fires that break bylaws are a police matter, while litter and necessary repairs should be reported to Bristol City Council, the local authority says. But volunteers mop up everything in between. In a statement, the council told the Cable: "With the rising pressure on local authority finances and an increase in the use of the city's parks and greens spaces during the pandemic, [volunteers'] contributions are more vital than ever. We're very grateful for the hard work and time the volunteers dedicate to activities which visitors and wildlife benefit from."
After Bonfire Night there was real anger about the lack of respect shown to the nature reserve. "For some of the trustees who have been involved from the beginning, it's particularly painful for them because they've fought really hard to save the space from development – to then see it trashed," Tej says. "The only way we're going to make progress is education, but unfortunately that's just painfully slow. You can't force people."
During one large party, while people were dragging pallets up the footpath, volunteers tried intervening: "It didn't go well. It was early evening and people had already been drinking. It was too late. We haven't tried that since because it just didn't work. All it did was become confrontational, and you're not getting the message through."
PC Montague also thinks education is the answer: "It's better to educate the public on the benefits of treating a nature reserve as a nature reserve, not a mini festival site. Then you don't have to enforce the rules for the people who are proportionate."
On New Year's Eve the volunteers will lock the gates to Narroways in the hope of deterring parties and letting the space recover from the recent damage. The trustees say they are "pleading with people" not to go to the site, and to respect the nature reserve as a place of biodiversity.
"It is really fragile," Tej says, looking over the blackened firepits. "I can see why some people have described Narroways as wasteland, but it is a habitat. When you see it like this, you're losing the battle because people who come up here for the first time think it's normal."
*name has been changed.