'Marginalised people are worse affected by the housing crisis': the Bristol renters facing discrimination and bias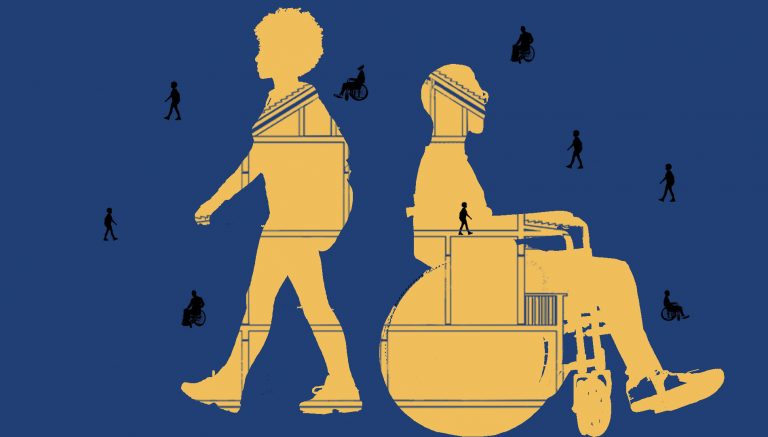 "I've tried really hard at various points and not succeeded, so I've slightly given up. It's frustrating and I don't want to be where I am in the countryside."
26-year-old Tiggy Mackenzie, like many, has been looking to find somewhere to rent in Bristol for an entire year. Like many, she's had to contend with limited supply, crazy demand and spiralling costs. But Tiggy's task is even harder because she has ME/CFS so has to use an electric wheelchair. Many rental properties aren't accessible, while landlords and agencies are unprepared to make reasonable adjustments.
"My additional accessibility needs have made it basically impossible to find anywhere," she tells the Cable. "I've messaged so many places, trying to organise viewings, but it's been even difficult to do that because most places aren't accessible."
Tiggy can get over a single step and get out of her wheelchair once inside the house, so doesn't need her home to be totally accessible, but has still had no luck. "It is a legal requirement for landlords to make reasonable adjustments to properties if they can. But when I've rung up agencies, I mention my accessibility needs and they aren't usually willing to make additional adjustments, they say it's not possible."
She has successfully lived in rental accommodation before where adjustments were installed. "It's always difficult for people with added accessibility needs, but I do think the supply and demand has massively exacerbated these pre-existing issues."
Thousands of people are affected by Bristol's broken renting system. But the crisis doesn't affect people equally. The Cable has spoken to people about discrimination in the private rental sector, from disabilities to claiming benefits and unconscious bias in the popularity contest to be chosen by a house share.
Tackling discrimination is one of the key demands in housing charity Shelter's Fair Renting Campaign. And Bristol City Council has made commitments to act on this next year.
Yet more hurdles if you claim benefits
Tiggy also has to contend with another key barrier to finding somewhere to rent: claiming benefits. The well-known trend of landlords and agencies excluding people on benefits – known as 'No DSS' – has come under intense scrutiny in recent years, and was described as unlawful and discriminatory in a recent court ruling.
"I also work part time and top up my income with universal credit because of my health, so that also precludes me from meeting a lot of the affordability criteria," she says. "Even when I haven't mentioned that upfront, often the amount you have to earn is above what I earn anyway."
Last week, renter Kate Bower wrote about the benefits discrimination she faced, which contributed to her leaving Bristol and joining a campaign for change.
Another Cable reader who contacted us about her experience was Emma (not her real name). She too has been looking for a room for a year. She was living in a caravan when the pandemic hit, and took a room hastily when someone she knew had one going, but she says the houseshare isn't right and is affecting her mental health.
"I've given up, really. I'm hoping that something from a friend comes up. It's tough, I'm trying to make peace with it," she told us.
"I haven't got a hope in hell anyway because I'm claiming benefits."
She is already finding it hard because of house shares being dominated by younger people, while she is in her 40s. What makes it even harder is the fact she is self-employed and her income fluctuates over the year and is topped up by universal credit.
She recently found a job, for four days a week. "But the pay is so low that I will struggle to find somewhere better." This is compounded by her being overpaid on her UC due to an error which means her monthly payments are now getting cut. "I'm on £11 this month. I had a month of not getting any because of lump pay from self-employment."
She has lived in Bristol for prolonged periods over the last 10 years, and hasn't had problems like this before. "I've never seen anything like it. I can't believe how much it's changed in the last year, it feels really sudden. I think a lot of people are sitting still. There's a lack of new properties."
Bristol City Council's cabinet member for housing Tom Renhard told the Cable: "We want to actively work on it with the powers we've got to enforce against it, because discrimination is never acceptable.
"It's an issue we're trying to get more understanding of, the scale of it. We're working closely with Shelter at the moment, who are the ones who've brought it forward."
He said discrimination would be one of the main topics on the agenda at the council's Renters' Summit, which is being organised for early next year.
"Our powers are limited, but if we're able to take action, we will. I'd encourage people to get in touch to make sure we understand the scale of the issue."
Oxford became the first council to pass a motion earlier this year to stamp out 'No DSS' policies and other forms of discrimination using a selective licensing scheme.
This comes after a judge ruled that 'No DSS' policies were unlawful and discriminatory in 2020. The ruling found that a single mother-of-two, who ended up homeless and was supported by Shelter, experienced indirect discrimination when a letting agent refused to rent to her.
Renhard said he had committed internally to bring a similar motion for Bristol early next year.
"It's something we're looking into at the moment. We know that Oxford took a motion through their full council on No DSS. We've been looking at that and what we could do for Bristol."
He added that council officers were currently speaking to Oxford about how they plan to implement the policy.
Unconscious bias
But part of the problem is that discrimination is rarely easily defined or clear cut. Lots of people find places to rent on SpareRoom or social media, where it's current tenants rather than landlords or agencies in the position of power advertising the room.
Sharifa has rented in Bristol for over a decade. Recently, she posted on the popular Bristol Alternative Community Abodes (BACA) Facebook group, where thousands of people are looking for rooms in house shares across the city. She wanted to discuss the experiences of people of colour on the group, after a number of her friends were finding it particularly hard to get picked for rooms.
"There's a lot of unconscious bias if you're choosing to live somewhere, and on that page in particular – BACA – it's probably the worst. A lot of alternative people get picked over someone with darker skin or a bigger body. A lot of us on there aren't getting picked for housing, based on appearance.
"We need to have these conversations," she said. "Nobody is exempt from having unconscious bias. The more we talk about it, the more comfortable it becomes to talk about it."
She says it's important to consider prioritising marginalised people when choosing housemates, or at least be aware that they are likely finding it even harder.
"Marginalised people are going to be worst affected by the housing crisis."
It may be unlawful for landlords to discriminate against tenants based on protected characteristics, but that doesn't stop the renting crisis from hitting people unequally.