'Sarah Everard had been let down by a police officer, and the thought of the police having more power scared me' says riot accused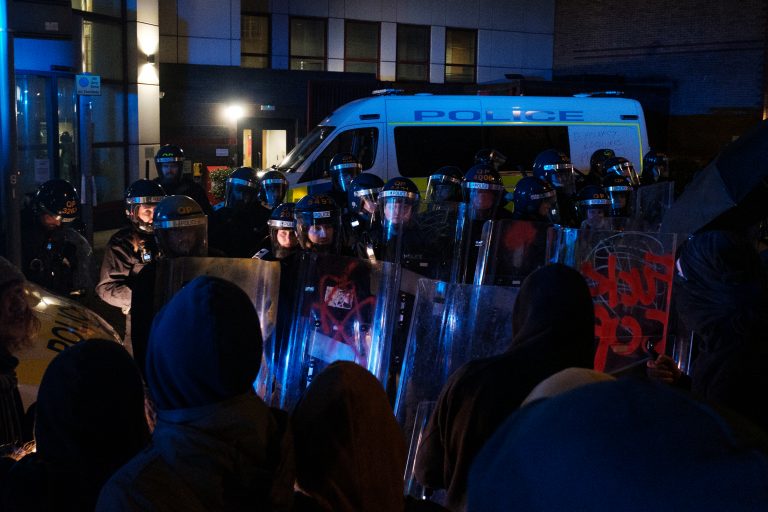 Please note that due to court reporting rules, coverage of the trial is strictly limited to what has been said or shown in court.
On day four of Jasmine York's trial in connection with Bristol's first Kill the Bill protest, the defence laid out its case and the court heard how police used violence "indiscriminately", hitting and pepper spraying protesters.
The 26-year-old, who stands accused of playing a leading role in the violent scenes that followed the demonstration on 21 March last year, denies one charge of rioting and one charge of arson being reckless as to whether life is endangered.
Her alleged offences are said to have taken place after thousands of demonstrators took to the streets for a peaceful protest against the controversial Police and Crime Bill. The scenes turned violent outside Bridewell Police Station, with bottles and fireworks thrown and police vehicles torched. Avon and Somerset Police sent in riot police, horses and dogs.
Russell Fraser, defending, told the jury at Bristol Crown Court that the prosecution is accusing York of being an instigator and leader of the rioting partly because of her anti-police chanting, but said this isn't evidence of a common purpose to do anything. For a riot charge to be upheld, it needs to be proven that 12 or more people acted together for a common purpose.
The defence argues that there was no evidence she was a leader, or that she'd been unlawfully violent, and that instead she'd repeatedly put herself between others and danger. He reminded the jury that they'd heard an officer misremember while giving evidence, like when Police Sergeant Smart had estimated the number of protests at a thousand when there'd initially been around 100 and when he'd testified that protesters had been chanting "kill the police," which they hadn't.
He pointed out that while York had been hit repeatedly by police, she never raised a fist in anger herself. But the prosecution said that the fact York had stayed when things got violent showed her intent.
'The thought of police having more power scared me'
York is accused of being an "instigator and leader" of the violence, but the defence said she had only planned to go to pay her respects at Sarah Everard's vigil on College Green. Everard, whose body had been found the week before, had been raped and killed by a police officer who falsely arrested her on 3 March under the pretence of her having broken Covid regulations.
"I felt for her," York said. "She'd been let down, she'd been subjected to male violence, I was not a fan of that." She added that she didn't want Everard to become just another statistic.
She told the court that she'd initially stayed and moved with the protest when she found out what the PCC bill entailed. "I thought [Everard] had been let down by a police officer, and the thought of the police having more power scared me. I thought it was the right thing to do."
York added that she stayed when things got violent in order to film what was unfolding. She said this is important when there's violence and that she'd wanted to help de-escalate and keep people safe. The court saw footage of her putting herself between a woman and an officer who was attacking her.
The prosecution's argument is that York incited violence against the police, saying that the fact York was chanting, backing into police, banging on a bin, filming, shouting at police and had graffitied the van proves this.
York said she had been at the front of the crowd so she could talk to police. She said that chants are a good way to help de-escalate, refocus and remember why they're there. She said "ACAB (All Cops Are Bastards) is a solidarity chant and quite common. "It's not singling anyone out".
When asked about her chanting "shame on you" she said: "Well, I'd got hit by the police, I'd got hit a lot of times, the police had responded in a shameful way."
'I knew I'd been hit by a police officer and couldn't work out why'
After she'd been hit by police several times, she left the scene for one to two hours and went to her boyfriend's house. "I'd been beaten really badly that day," she told the court. The court heard her on video footage saying "I can't take this any more, I'm going home".
"I was devastated, to be honest," she told the court. "I was in a lot of pain and I knew that I'd been hit by a police officer and I couldn't quite work out why and I didn't think it was fair and I didn't like it.
"It's never happened to me before and I didn't know how to process that."
But she followed what was happening on Twitter after leaving and said she felt awful about leaving while people were still getting hit. Regan, cross examining, asked why she wanted to return to the violence. "I just didn't think it was fair that I'd left," she said, adding that she wanted to help.
She told the court that the footage of her shown to the jury the day before shouting "No" and "Stop" wasn't just at police but at protesters too.
Regan, prosecuting, had said the fact she'd started a group message on secure messaging server Signal showed that her intentions hadn't been to be part of a peaceful protest. But York said she'd made the group at least a week afterwards, and its purpose was for people to reflect and decompress.
"It had completely thrown me, what had happened that day," she said. Fraser asked if she had made the group it to organise. "I'm not very good at organising," York replied. She pointed out that as police had seized her phone, they surely would have had access to more incriminating messages if they'd existed.
The court had seen footage of York dancing near a burning vehicle. "I've got a lot of energy, I move around a lot," she said. She'd previously been swaying and moving while giving evidence.
When asked about the bin she'd pushed into the burning vehicle, York said her intention had been simply to set it upright and put it as an obstacle between the crowd and the police. She said she hadn't been trying to add fuel to the fire.
'Police were using violence indiscriminately'
"So why did you charge at the police?" asked Regan, cross examining, after York had said she'd generally respected police before. "Because at that moment I was quite angry that they had responded in violence, their attire I thought was quite intimidating. There was lots of pushing and shoving. I couldn't understand why they had batons. It was anger at the moment".
Legal observer Kathryn Hobbs then told the court how the police approach had rapidly escalated once the protest reached Bridewell Police Station. There was still a police presence at College Green carrying out "a lot of surveillance" while people were sitting, eating and listening to music, Hobbs said, and the legal observers had stayed because police actions in London at the Sarah Everard vigil only the week previously made them nervous about what the police response would be.
At Bridewell, riot officers appeared within 10 minutes of protesters arriving, Hobbs told the court. She said there was quite a lot of police violence happening at the front and she was afraid for her own safety. "The police were using violence indiscriminately." She described people at the front standing with their hands up to show they weren't a threat but still being pushed and shoved.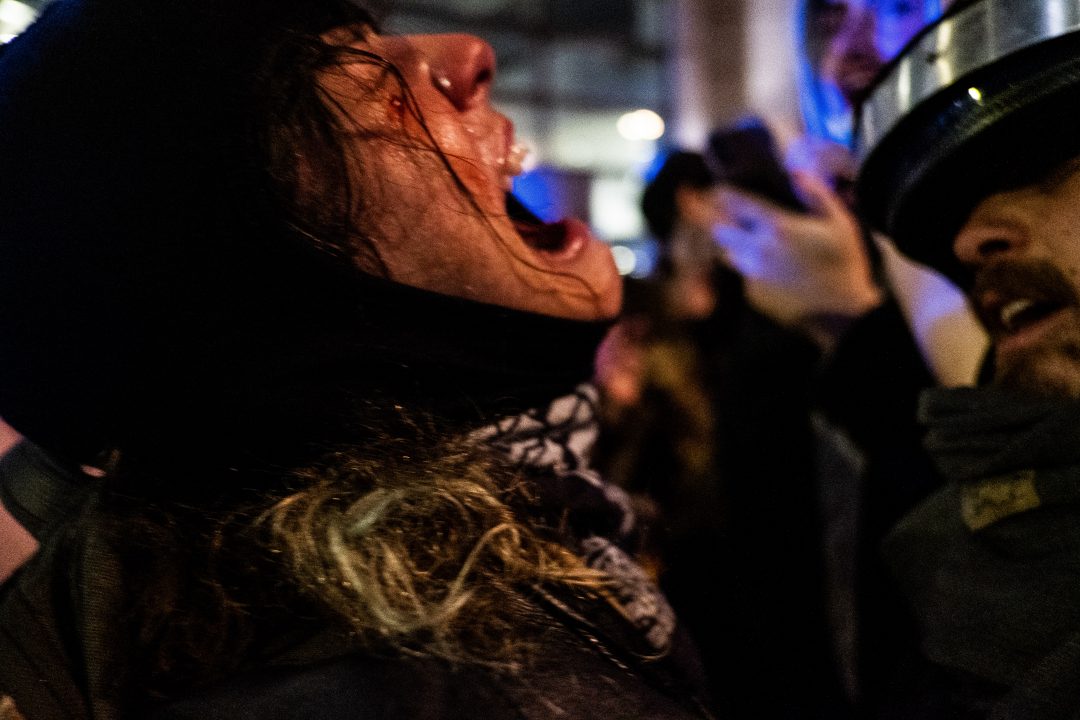 "There were quite a few people at that stage already hit by batons", she told the court. She described anxiety and tension in the crowd, saying they hadn't expected that kind of police response or that it would escalate so quickly.
She said it was about 6.30pm that police first started pepper spraying people and described officers using their shields as weapons and 'blading' protesters, raising their shields and then bringing them down hard onto people. "It's been a very controversial thing that police can do, and can cause very serious injury. It happened on this day."
Hobbs spent quite a lot of the next hour administering first aid. She described how one person who'd been hit by police had a severe panic attack. After 8pm it became apparent that a van was on fire and she noted that it seemed strange that there was no attempt to put out or control the fire and that it was definitely causing some unease in the crowd.
"I think the crowd was quite shaken and tired at that stage too".
Under cross-examination, Regan suggested that legal observers aren't objective as they're there to support activists and that they don't record bad behaviour from protesters. Hobbs answered that they consider themselves independent but not impartial and the role of recording protester behaviour is already covered by police evidence gatherers.
Throughout her testimony, York said her actions on 21 March were to protect people and de-escalate the situation.
York told the court her biological father, with whom she no longer has contact, was abusive and aggressive. Fighting off tears, she said he was "hand happy" and that he punched and slapped a lot. She said her family had relied on police in the past when he'd been violent and that she'd generally trusted the police before the events of 21 March. The court heard how looking out for women and vulnerable people important to her.
The court heard several character statements from various people in York's life. One called her "a passionate lady who wears her heart on her sleeve and a gentle person," and also that "when the rights of the vulnerable are threatened, Jasmine can often be seen coming into the lines of defence."
Another called her "deeply moral", saying that she cares deeply for others and that she was quick to defend those who are vulnerable and that she acts quickly to ensure others are safe, but it's never done with aggression and never results in violence".
'Never did she raise a fist in anger'
In her closing statement, Regan juxtaposed the character statements with things York had shouted at police: "She's a gentle person …We will burn your fucking cars" and "She was always rational and calm and could always de-escalate …Fuck the police, all cops are bastards". She said it proved that York has different sides to her and on 21 March, she had shown her "protester side" – and demonstrated that she hates police. She said she wasn't acting alone or in self-defence but to attack police.
"So yes, she is a gentle person, and she suffered violence in her life, but on 21 March she left that side of her behind and she showed her protester side, a side that pushed into police shields, that hates police. Not because of what they were doing, but because of what they stand for.
For a charge of riot to be upheld, the prosecution needs to prove that a defendant acted with at least 12 others for a common purpose. Defence lawyer Fraser told the jury that the potential is for emotions to run very high at times of great social upheaval. But he said that anger, even when it included foul language and chanting, never came close to unlawful violence or common purpose.
He argued that the confrontations on that day were individual and separate from one another and that chanting is not enough to prove York was part of or leading a riot. "Chanting is one of the reasons that Miss York finds herself here, part of the reason why the Crown says she's a leader and instigator. What have you seen in this case that sustains that claim?"
He added: "Anti-police chanting, however offensive and however much we may dislike it, is not evidence of a common purpose to do anything."
He pointed out that riot is one of the most serious offences of the Public Order Act 1986 and that York's behaviour comes nowhere near to involvement in a riot. "There was no unlawful violence by her, I suggest, at all, let alone [for] a common purpose."
He reminded the jury of the violence that they'd seen from police on the same night, and of the fact that York was hit with a baton "when, I suggest, she was not causing a threat to anyone." He told the jury that York was telling people to stop when things were getting out of hand, and putting herself between danger and others. "Time and again she did it. Time and again […] At no point did she raise a fist in anger".
He told the jury that police have a difficult job but, in spite of that, they must act proportionately at all times. The fact that Smart exaggerated the number of protesters and misremembered hearing "Kill the police" means he could have got other things wrong, said Fraser, and that Williams admitted that the day had been "a blur".
He said that chanting had been presented as evidence that people had been there under a common purpose, but he encouraged the jury to consider the range of chants throughout the protest.
He told the court that if someone is a leader, people know who you are and you're recognised as a figurehead. Protesters didn't pay much attention to York, he said, and she wasn't previously known by police.
"How is it that from there she became the orchestrator of a riot?"
This is the second of the trials of defendants pleading not guilty. Mariella Gedge-Roberts is currently facing trial for a charge of riot, which she denies.
The jury is out.