Save our view, say Totterdown residents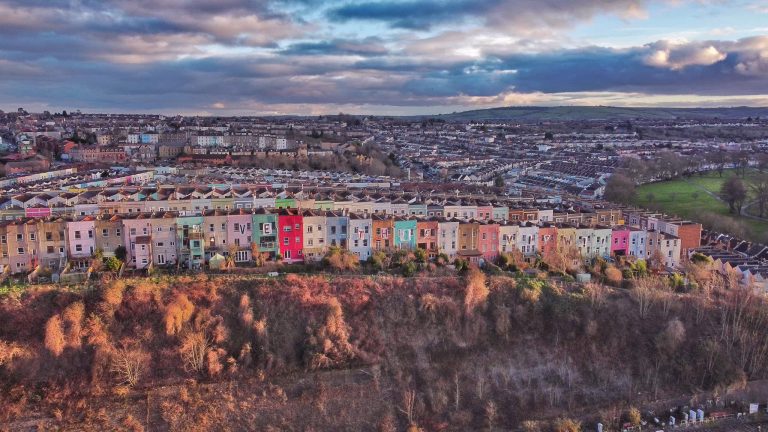 Photo: James Reed
Residents have launched a petition to save their iconic Bristol view from luxury developers, which has gathered over 4,000 signatures.
Totterdown Residents and Social Action (TRESA), made up of residents who live in the colourful houses of the Totterdown Escarpment, launched the petition in response to two proposed developments on the sites of the former Barts Ingredients HQ and industrial units on Mead Street.
If successful, the developments would see between 850 and 900 homes built on the spit of land between the Avon and Pyle Hill, upon which the houses sit, and will include both 11 and 22 storey tower blocks that would, in theory, bookend the view of the 6-7 storey high hill, but would in reality restrict it from a number of angles.
The houses of the Totterdown Escarpment have been colourfully painted since the 1980s and are visible from key locations across the city such as St Michael's Hill, Cabot Tower and Trooper's Hill.
"Its an iconic view that's uniquely Bristolian and needs protecting," said Simon Hobeck, director of TRESA and a local resident. "You can see it from all over the city and it's what a lot of people associate with both Totterdown and Bristol because it's the first thing you see as you come into Temple Meads and it's often used to set the scene when Bristol is featured on local and national broadcasts."
'We're not against affordable homes'
While residents are keen to stress that they are not against the land being used for housing, they say the current proposals could have a massive impact on not only the famous view, but also on local infrastructure and amenities. They say that developers are taking it upon themselves to circumvent the council, who promised to compile a set of development principles before any plans were considered.
"When we object, people say that we're just against affordable homes and it's almost used as a hammer to beat communities into submission with," said Hobeck. "We know that there's a housing crisis in Bristol and we're not against development at all, we just want to feel like we're being respected as a community, and developers never seem to care about the added pressure all these new homes will put on things like parking, nurseries and doctors."
"We got invited to an online consultation where they showed us old black and white photos of Totterdown and told us that this is the community that they wanted to rebuild and let us voice some of our concerns," said Miranda Walker, an escarpment resident of 16 years. "But now that site has moved on to the planning stage and none of us were notified."
The Mead Street development is being overseen by DTZ Investors while the work on the Bart's Ingredients site is being conducted by Donard Homes.
Both developments are part of Bristol City Council's wider plans to redevelop large areas of Temple Quarter between Temple Way and St Phillips Causeway, and collectively constitute one of the largest regeneration projects in the UK.
The redevelopment forms a key part of the council's housing and sustainability policy and promises to create 10,000 new homes and 22,000 new jobs by building on former brownfield sites. The proposed developments have drawn criticism from across the city, including from Bristol Civic Council who have issued a formal objection to the Bart's Ingredients site, citing "concerns that blocks of this height and mass will be harmful to views of the colourful houses atop the Totterdown Escarpment and the equally important views of the Grade 1 listed buildings at Temple Meads Station and the spire of St Mary Redcliffe".