Last month Bristol landlord Adam Habane was banned from letting or managing properties for five years. This came after Bristol City Council uncovered horrific and unsafe conditions in flats he was renting on Lower Ashley Road in St Pauls.
Officers found Habane's property had been crudely converted into seven flats, where up to 18 people – including six children – had been living. Smoke alarms were issued on the spot due to fears over fire safety, and the council then obtained an order prohibiting anyone from living there.
The ban for Habane was the latest and most stringent in a series of enforcement actions taken against the city's worst slumlords, which the council has been keen to publicise.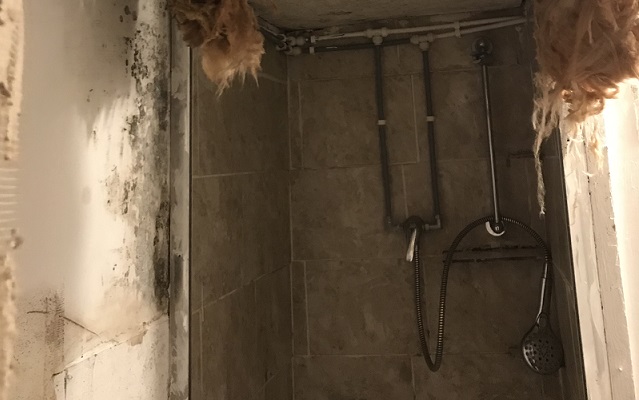 Banning orders were introduced in 2016. But according to a report by the National Audit Office, which was highly critical of 'piecemeal' central government attempts to regulate private renting, only 10 landlords in England have actually received one. Meanwhile, many more renters have to contend with poor living conditions, harassment and the threat of eviction.
A recent investigation by openDemocracy found Bristol City Council had made 10 prosecutions of rogue landlords between 2018 and 2021, along with 16 civil penalty notices and fines totalling £92,000. There were 22 councils with a higher number of prosecutions, although Bristol was in the top 10% of the 323 that provided data.
Such actions form part of a broader set of measures by the council to regulate and drive up standards in the private rented sector (PRS). These have been underway since landlords in Easton were first required to purchase a licence in 2013.
Since then the council's licensing schemes have expanded significantly (see box). Recently, the local authority passed a motion to protect renters claiming benefits from discrimination by landlords. Meanwhile the government has announced it will look at setting up a national register of landlords, enabling renters to check whether their landlord meets basic requirements to let property, as well as introducing standards across the PRS.
But should the council be doing more to warn renters off bad landlords? In London, members of the public can access a citywide database holding the details of landlords and letting agents that have been fined or prosecuted in the past.
Tom Renhard, Bristol City Council's cabinet member for housing, says he is "all for looking at" this kind of idea. So could such a tool actually help in Bristol, and what would be needed to make it worthwhile?
Naming and shaming
London's Rogue Landlord and Agent Checker was set up in 2017 by the capital's Labour mayor, Sadiq Khan, to help renters and name and shame landlords.
All the city's 32 boroughs have signed up to the initiative, which was established using the mayor's wide-ranging devolved powers in relation to promoting economic, social and environmental progress in the capital. It's seen as a step forward from a national rogue landlord database the government holds – which is not for now publicly accessible, meaning it is useless to renters.
London's searchable online portal creates a public record of landlords or agents who have been fined or prosecuted by a council or the London Fire Brigade. People expelled from a consumer redress scheme (a mechanism set up to resolve complaints that letting agents must sign up to), meaning they can no longer operate legally, appear on the database as well. It also allows renters to directly report bad behaviour by landlords.
At the end of 2019, the mayor tweeted about the tool's success. Khan announced that more than 1,500 such complaints, which are automatically forwarded to the relevant borough, had been logged. He added that the public database of rogue landlords had been taken had been visited almost 185,000 times.
Yet doubts have been raised about how effective the database really is. Shortly after Khan made his claims, property news site the Negotiator noted that it contained only 377 records, relating to 200 separate landlords or agents. That's a drop in the ocean in a city the size of London.
In early 2020, the campaign group Generation Rent also voiced concerns, after their research revealed almost half of London boroughs had not issued any fines to landlords in the previous year, according to the database. Additionally, in many cases landlords' records are only published for one year, the length of time it takes for offences to be considered 'spent' (although they are held privately in the database for longer). This inevitably puts a time limit on the tool's value to renters.
"It is useful from a campaign point of view, because you can see which London boroughs are doing a good job of prosecuting landlords and letting agents that are breaking the rules," says Dan Wilson Craw, Generation Rent's deputy director. "[But] I think for renters who are interested in trying to find out about a place they might be moving into, or their current landlord, it's a bit less useful."
'A useful addition to the council's armoury'
Despite the database's limitations, Wilson Craw says he believes it could be worthwhile for Bristol to set up something similar – particularly if it extended to cover the city region. With only three or four local authorities to link up, "it ought to be easier to set something like this up than in London", he says.
Wilson Craw adds that the scope of the checker could potentially be expanded to include lower-level enforcement notices. "As far as reasonably possible, we should be making it clear when a landlord has done something serious enough to warrant formal enforcement action, especially if it's a repeat occurrence," he says.
It's a theme picked up on by Tom Hathway, Green councillor for Bristol's Clifton Down ward. Hathway, a renter who grew up in Bristol, has been a vocal advocate for tenants' rights since getting elected in May 2021 and says he believes a rogue database would be a "really useful addition to the [council's] private housing team's armoury".
Hathway says he would like to see any such tool be based on a list of 13 formal actions set out in the council's private housing enforcement policy, which span from cautions all the way up to banning orders of the kind issued to Habane.
"[There's] a range of different sanctions I would like to see included on there," says Hathway, who adds that he would also like to see a database cover South Gloucestershire and Bath and North East Somerset.
'Applying commercial pressure' to landlords
Centralised databases of actions taken against landlords are not the only option for councils.
Five years ago the Cable reported on the imminent launch of Bristol startup Marks Out Of Tenancy (MOOT), which aimed to provide a reviews-based TripAdvisor-style service for renters. While the site has yet to gain such ubiquity, MOOT founder Ben Yarrow tells the Cable he's looking to expand via partnerships with two London boroughs promoting the service to households. Yarrow adds that rather than simply reviews, the project will draw together information including whether properties require a license, and whether they meet minimum energy-efficency standards.
Nottingham was the first major local authority to explore MOOT's potential as a tool to help manage its private rented sector. The city has an urban area similar in size to Bristol's, and has comprehensive landlord licensing. In 2019, it began a trial partnership that saw anonymised MOOT review data fed through to council officers. This enabled them to check whether properties were licensed and to pick up concerns around individuals that otherwise would likely have been missed.
A government-funded expansion of the experiment, involving a large-scale survey of Nottingham's private rented sector, was put on hold because of Covid lockdowns. But strategic housing manager Paul Greevy still sees partnering with the free MOOT model as potentially a more feasible option for skint council departments than setting up and maintaining bespoke landlord checkers.
"[Enforcement] databases are limited to people who are caught, who might not necessarily be the worst anyway, having a prosecution of a particular type against them, and they're also limited because landlords have a right of review [against many penalty notices]," he says.
"Local authorities can't cure [the PRS] through regulation, but MOOT is about applying commercial pressure to improve landlords, who are commercial entities," he adds. "In any other marketplace, if you've behaved routinely badly, your customer base know about it – and if you've also got licensing [teams] looking at bad reviews, then maybe you've got a bit more leverage."
'Renters need as much information as possible'
Back in Bristol, the council's cabinet member for housing Tom Renhard says he's receptive to the idea of online checkers. He adds that he would also be open to a new conversation with MOOT to see whether it and the council could figure out a mutually beneficial arrangement. "The principle for me is that renters should be able to have as much information as possible to understand who they're renting off," Renhard tells the Cable.
At present though, he says the council's focus is on expanding its licensing scheme. Plans to extend its coverage citywide, so most shared houses need one, are due to be looked at this year.
Renhard adds that before the council could consider bringing forth proposals for any database similar to the Mayor of London's, he and officers would need to be convinced of its feasibility and its likely effectiveness.
"You've got to think about the practicalities," he says. "So what information is on there, how long is it on there for – how you balance it [given that convictions and cautions become 'spent' after fixed periods] is an important question to be considered."
"The challenge [associated with any checking database] will be the length of time it will take to set up, and whether we have the powers to do so [particularly at a city region level]," he concludes. "National government should get on and introduce a national landlord register."
Read more from our series on Bristol's renting crisis, from investigations to data and solutions