Concerns remain about Bristol's Clean Air Zone, six months before launch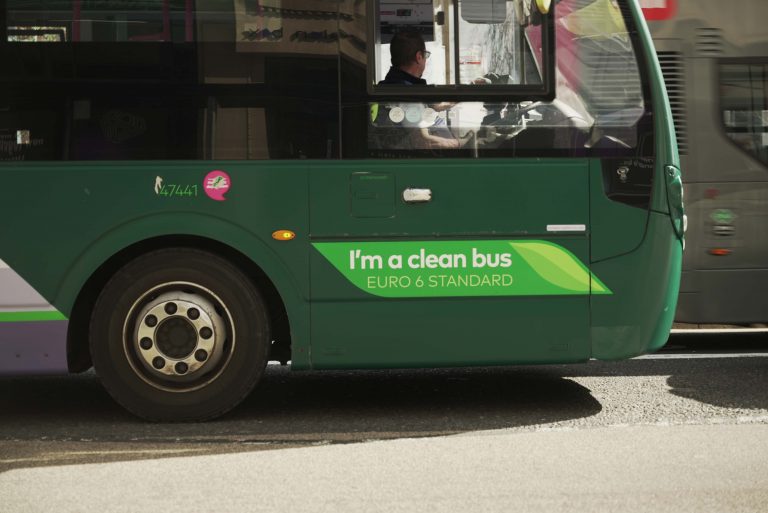 Bristol's clean air zone (CAZ) is now six months away, but the council's announcements of exemptions and financial support haven't prevented concerns being raised by businesses, residents and scientists on the eve of the scheme.
A year later than initially planned, Bristol's CAZ will launch in September 2022. Its aim is to reduce the city's nitrogen dioxide – a harmful air pollutant mainly from road traffic – to legal levels by 2023. Even though the pandemic temporarily cut air pollution, Bristol's levels have been worryingly high in recent years.
The zone can't come soon enough as the Cable reported last year that in 2020 Bristol was one of five areas in the UK that breached the annual mean limit value for nitrogen dioxide, set at 40μg/m3. Data from 2021 from Colston Avenue in the city centre shows an improvement on 2019 but a yearly average of nearly 50μg/m3, which is well above the legal limit.
There is lots of evidence about the detrimental impact of air pollution on our health, and the council estimates 300 deaths a year are linked to air pollution – both from road traffic and other sources of particulate pollution such as wood burning stoves.
The CAZ will see older, more polluting vehicles charged to enter a small zone in the city centre – £9 for smaller vehicles and £100 a day for larger vehicles. Nearly three-quarters of Bristol's vehicles are already compliant so won't be charged (motorists can check if they will be charged here).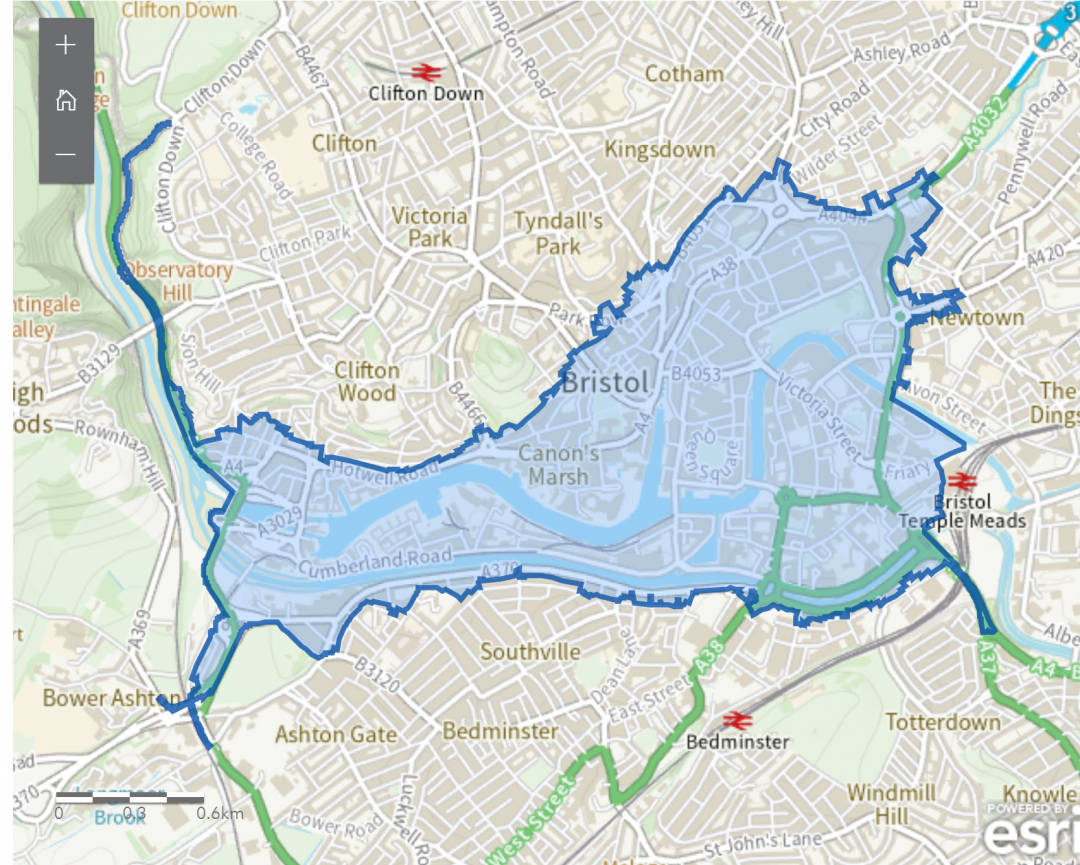 There are expemptions until the end of 2022 for people living in the zone, working in the zone on lower incomes, as well as Blue Badge holders and hospital visitors. There is also £42m of government money making loans and grants available to help people buy greener vehicles.
But some businesses fear that financial support may not be enough to upgrade their vehicles. Meanwhile, some activists and residents think the CAZ is not as wide as it should be to have a real impact on reducing air pollution and that it may exacerbate social inequalities. And some scientists say the design of the CAZ is not restrictive enough because of government constraints.
The CAZ is just one of multiple recent measures to reduce traffic in Bristol since the pandemic began. These include a ban on cars from Bristol Bridge and several pedestrianised streets around the city. The council is also consulting on the city's first Livable Neighbourhood pilot scheme in Barton Hill, Redfield and St George to restrict cars and encourage cycling and walking, and expanding its school streets scheme, which restricts cars around primary schools at drop off and pick up times.
After years of back and forth on the details of the scheme, questions still remain six months ahead of it coming into force. So does Bristol's CAZ have a good chance of reducing air pollution as intended? And are there enough exemptions and financial support in place to mitigate negative impacts?
Enough support to help businesses go green?
"The design [of the CAZ] itself has an overall citywide benefit by driving vehicles to be upgraded to cleaner vehicles," said Adam Crowther, head of strategic city transport at Bristol City Council. "They will be clean when they go through the zone, but also further away."
He added that overall there won't be an increase in traffic on roads at the borders of the CAZ. While some vehicles will use those roads to avoid the CAZ, compliant vehicles will rather get into the CAZ, as there will be less congestion there.
"Also, because the whole vehicle fleet cleans up, even though there may be a few more vehicles on those roads, they are cleaner vehicles so air pollution is reduced," Crowther said.
He said the scheme would drive "significant change", and would hopefully bring air pollution down to legal levels by the end of 2023.
Despite the prospects of improved air quality across the city, the CAZ has drawn criticism from some businesses and residents.
Some businesses, like those who rely on heavy goods vehicles for their day-to-day activities, have opposed the CAZ throughout the years. Heavy goods vehicles like lorries, coaches and buses will face a £100 charge per day to get into the CAZ.
"We are not in the CAZ, but there are going to be times when my non-compliant vehicles need to drive into [it], because a lot of our customer base is in the CAZ," said Stuart Higson, owner of Bristol Gas Ltd in St Philip's Marsh.
Higson said other business owners in St Philip's Marsh share his view, and strong opposition from local businesses contributed to St Philip's Marsh not being included in the final CAZ.
Included in the £42m package of government funding is £32m for businesses to upgrade HGVs, LGVs, taxis and private hire vehicles. Recently, the council has also launched a free electric van loan scheme, where businesses can rent and try an electric vehicle for up to two months.
Applications for grants and loans are currently open for small and medium sized businesses and self-employed people operating within the CAZ. The council may extend support packages to other businesses in the spring, depending on how many loans and grants have already been granted. For HGVs, grants can be up to £16,000 for each vehicle, while loans could go up to £26,000.
Higson described the £16,000 grant as a reasonable amount for a new vehicle worth £50,000. But he added that larger vehicles cost much more to buy new – up to £150,000.
"I agree with the CAZ, [but] with all these things there need to be practicalities, we have to be able to work with it," said Higson. "You need to have a dialogue with businesses, listen to [them] and understand why sometimes they cannot work within those confines."
Luke, a freelance gardener living in St Werburgh's, is also worried the financial support provided may not be enough to upgrade non-compliant vehicles. He owns a camper van and currently travels to Bristol city centre twice a week.
"I'm totally on board with the idea of having a CAZ and I understand the importance from an ecological point of view," said Luke. "I would like to have a more ecologically sound vehicle, but I'm not going to afford an electric van or a hybrid van any time soon. If the grant [or loan] would cover most of the van's price, that would be reasonable. But also the second-hand vehicle market at the moment has gone through the roof." For LGVs like vans, grants are up to £4,000 and loans to £16,000.
Some businesses within the CAZ have different sorts of worries. Rose, who owns a shop at St Nicholas Market, fears that she would lose customers, once the zone is launched.
"[The CAZ] does impact my business because people come here and buy 10kg bags of flour and 2l of drinks, for example. They are not going to come to the Park & Ride for that."
'Not far enough'
On the other side of the spectrum, there are environmental activists, who have been calling for the introduction of the CAZ for years and have been disappointed by the numerous delays in launching it. Some of them also question whether the current CAZ proposal is ambitious enough.
"This is just about getting to compliance," said Martin Fodor, Green councillor for Redland. "The government says you have to achieve compliance, but it doesn't say 'you carry on and go further and improve the [quality] of the air, because it is making life shorter and people ill.'"
In an Overview and Scrutiny Management Board meeting last November, senior officials in Bristol City Council said the government wouldn't fund initiatives that go beyond the target of complying with the legal limits for nitrogen dioxide.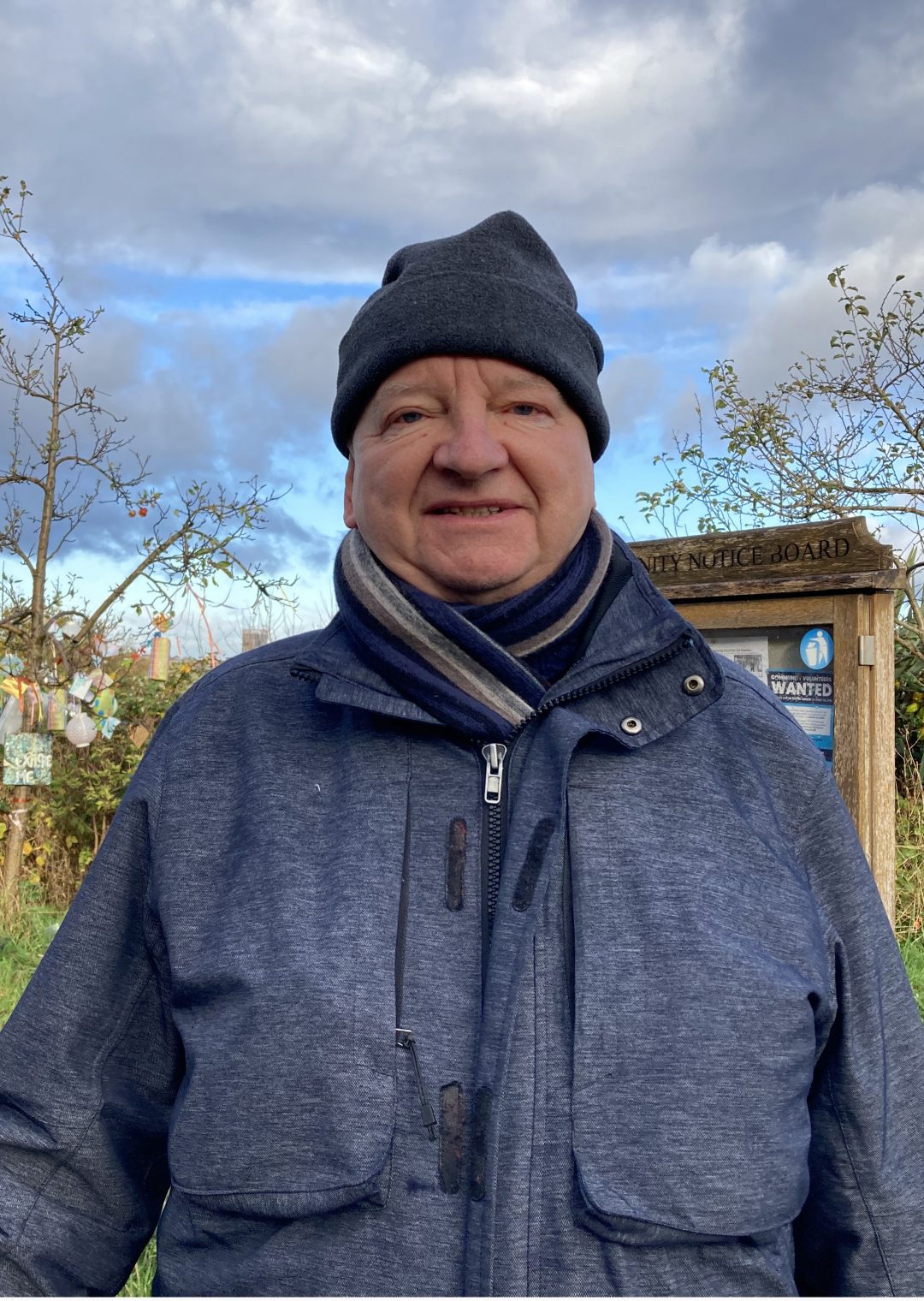 "This is the smallest possible zone that they could have created," added Geoff Allan, chair of the Totterdown Residents Environmental and Social Action (TRESA). "Lots of people wanted a much larger CAZ that would include areas of the city where a lot more people are living and benefit from it."
Totterdown lies just outside the borders of the CAZ and Allan fears that this will translate into increased levels of traffic there, caused by drivers that will try to circumvent the zone.
The fear that traffic and congestion would just be pushed to the borders of the CAZ is shared by Prof Graham Parkhurst, director of the Centre for Transport & Society at the University of the West of England (UWE).
"I think we will see a lot of rerouting,"he said. "And because [the CAZ] includes the inner ring road, that's going to push traffic out further, I suspect. So, we will see some emissions move around."
One of the justifications for the delays in finalising the CAZ was in order to make sure there was support available to minimise the economic impact of lower income households.
But some residents like Ana, who lives in Lawrence Hill, raised concerns about social inequalities that the CAZ may intensify.
"The CAZ extends to areas of Bristol which are affluent, so it automatically excludes disadvantaged areas," said Ana. "I think that the restrictions and the charges that come with the scheme will further disadvantage people who are already disadvantaged."
Currently, individuals can apply for a £2,000 grant for upgrading their cars, with loans that can go up to £5,000. Priority is given to those who work within the CAZ and earn less than £26,000 a year, with the cap to be raised to £27,000 in spring.
"We have to have measures that would motivate everyone to save the environment," said Ana, "And not just everyone who can afford it."
The science behind the scenes
Some scientists are also questioning the effectiveness of the CAZ approach, both on a national and local level.
Under the current government guidelines, Euro 6 diesel vehicles are allowed to enter the CAZ without being charged. This category encompasses those vehicles that were bought new roughly from 2015 onwards.
However, there is evidence suggesting that the first generation of Euro 6 diesel vehicles have been emitting more than what the European standards allow. This is because the first generation of Euro 6 diesel cars were tested in highly controlled conditions, which failed to give an idea of how much a car would emit when driven in the real world. Cars bought new from 2019 onwards underwent much more accurate tests.
What's more, Euro 6 diesel cars can actually exceed the emissions standards set by European legislation. "Now it is made more difficult for motor manufacturers to pass the test by having more stringent standards, but they allow what they called a conformity factor," said Dr Jo Barns, senior research fellow at the Air Quality Management Resource Centre at the University of the West of England (UWE).
"So actually they allow motor manufacturers to exceed the emissions standards threshold within the test by 1.5 times.
"Hence, even what we call a 'Euro 6 diesel car' is still not necessarily meeting the emissions standards for a Euro 6 car. This is the problem."
Bristol City Council wanted to avoid these issues altogether by banning all diesel cars, but the idea announced in 2019 was later scrapped because a new act of the Parliament would have been needed to give Bristol the power to impose it.
Another source of concern is that the UK annual limit value for nitrogen dioxide does not reflect the one recommended by the World Health Organisation (WHO) anymore.
In September 2021, the WHO cut the annual mean limit for nitrogen dioxide from 40μg/m3 to 10μg/m3, based on the evidence that this substance is much more dangerous than previously thought. This means Bristol's CAZ is predicted to reduce air pollution by 2023 to a level still four times higher than the WHO's recommendation.
"A thing to bear in mind is that no safe level has been identified," said Dr Ian Mudway, senior lecturer in the School of Public Health at Imperial College London.
"It is not that once you go below 40 everything is fine and 39.99 is as harmful as 40.01. So, the danger of having an absolute line in the sand of regulated levels is that, as far as politicians are concerned, they only have to meet legal obligations. 39.99 meets the legal obligation, but that should not be mistaken as protecting public health."
Locally, Prof Parkhurst questioned whether Bristol's public transport will make a real difference in reducing air pollution.
According to data provided by Prof Parkhurst, there are 100 gas-fuelled buses in Bristol and this makes up for 20% of the bus fleet owned by First Group.
"Traditionally, [public transport] hasn't had a particularly good performance on air quality. Buses have been running on diesel and produced a lot of nitrogen oxides," said Prof Parkhurst.
"So the only way for the buses to make a real contribution to air quality is not only that they are used well but also they are run on a low emission technology. We must get public transport onto clean technology as fast as possible."
Despite the concerns surrounding the design and the scope of CAZs, Dr Barns is positive about the underlying idea of a charging zone. "There are issues around whether or not the Clean Air Zone is going to be effective," she said, "But in essence, restricting vehicles is probably the best way to reduce pollution."