Far-right postpone anti-Black Lives Matter rally in Bristol celebrating Colston's legacy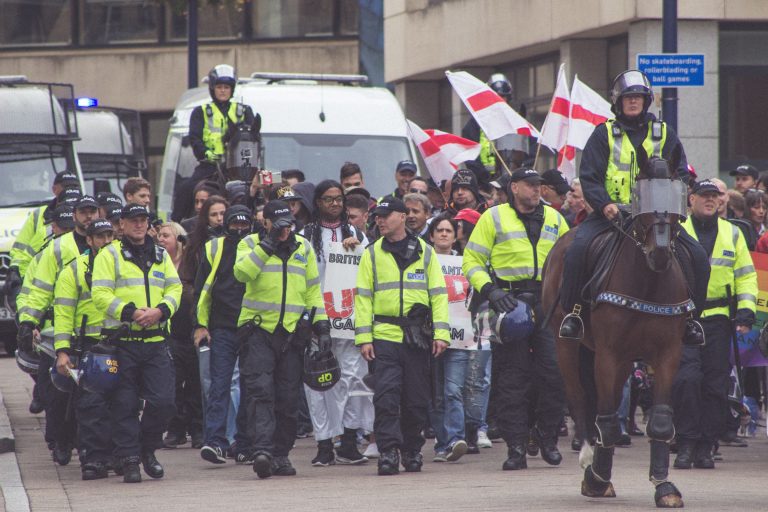 Racists who planned to hold an anti-Black Lives Matter (BLM) protest at the plinth where slave trader Edward Colston's statue used to stand in Bristol have called off the event.
On Saturday 9 April, Anne Marie Waters, anti-Muslim activist and leader of far-right party For Britain, had intended to give a speech celebrating Colston's legacy and condemning BLM from the vacant plinth. For Britain asked their supporters to arrive at 1pm.
A 'Bristol Against Hate' counter-protest, advertised by flyers circulating on social media, which described the anti-BLM protest as a "disgusting event", planned to meet at the empty plinth on Colston Avenue from 11am on the day.
Waters has since said that "the very vilest of Antifa" were planning to disrupt the For Britain protest, and post on the group's Facebook page on Friday (1 April) later confirmed that the demonstration had been cancelled. Waters, however, said that the group "wanted to, and still will" stage a protest against Black Lives Matter in the city. She added: "We are going to Bristol, but we're going to be going at a time when Antifa don't know we're going."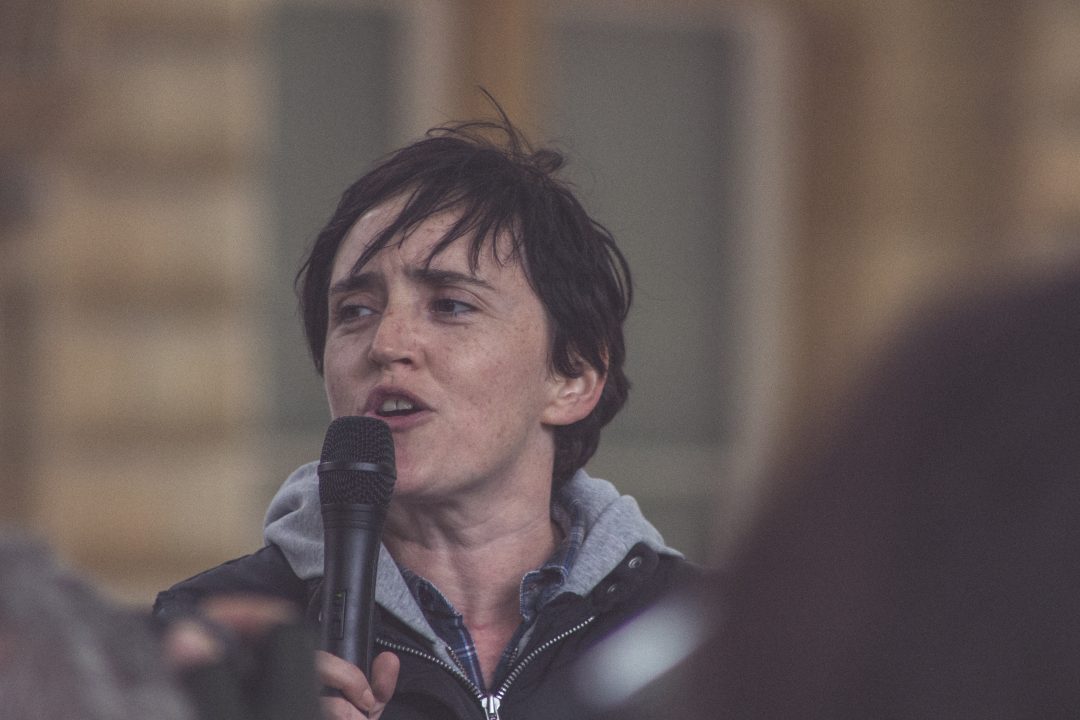 Who is For Britain?
For Britain's now-cancelled protest was promoted by anti-Muslim hate preacher Stephen Yaxley-Lennon, known as Tommy Robinson. Yaxley-Lennon used his channel on the encrypted messaging app Telegram, which has over 156,000 subscribers, to publicise the protest.
In January, a protest organised by Yaxley-Lennon in Telford against 'Muslim grooming gangs' attracted around 800 supporters. Since then Yaxley-Lennon has publicly joined For Britain and emailed his supporters encouraging them to also join the party. It is unclear if Yaxley-Lennon, who recently missed a High Court appearance, would have joined the protest in Bristol.
Waters, a long-time associate of Yaxley-Lennon, once stood to become UKIP leader. After narrowly missing out on UKIP leadership, she split from the party to found For Britain. Since then, For Britain has attracted former British National Party (BNP) organisers, including Eddy Butler, an ex-activist from neo-Nazi terrorist organisation Combat 18, and ex-BNP councillor Julian Leppert, who were seen as 'modernisers' in the BNP.
While For Britain are one of the more noteworthy far-right parties in the UK, they have struggled to make a name for themselves. Last May, For Britain stood 59 candidates in local elections and did poorly; only eight received votes greater than 5%, with nearly half of their candidates receiving less than 2%. Of the two council seats For Britain held prior to the elections, they lost their seat in Hartlepool and retained Leppert's seat in Epping Forest.
When asked by the Cable to explain why For Britain planned on making such a provocative visit to the city, Waters said: "BLM claimed they tore down Colston's statue because of historic links to slavery, yet they are silent on the slavery that takes place in the world today. The reason is simple; today's slave traders aren't white, and BLM are anti-white."
For Britain said they also planned to protest over the disappearance of money raised to support a Bristol-based BLM group. The Cable asked Waters if they were concerned about the allegations that, prior to joining For Britain, Yaxley-Lennon misspent donations he received on cocaine and sex workers. Waters said: "I expect no better than your approach. Journalism is of a shockingly low standard and you are the perfect example."
In September 2017, Waters organised a poorly-attended march and rally against Islam in the centre of Bristol. Since then, For Britain has set up a branch in the city which holds regular meetings, which are advertised on social media. They are not the only far-right group to be active in Bristol. Fascist party Patriotic Alternative (PA) were leafleting in the city in October, and in August 2021 Bristol residents supported a 'White Lives Matter' social media campaign.
Bristol's anti-fascists strike back
Hitting back against the accusation that BLM is anti-white, a spokesperson for Black Lives Matter UK told the Cable they were "fighting for liberation for everyone".
"We believe that racism and oppression are not contained in skin colour but structures of power and wealth," they said. "White people aren't the problem, it's the politicians and bosses who use race and culture wars to push poverty wages and cut benefits. They are the problem."
Buster Twotone, a spokesperson for Bristol Anti-Fascists, told the Cable: "For Britain and Tommy Robinson are deliberately promoting the idea that Colston should be 'celebrated' and historical statues are beyond criticism even though Colston made his money from the slave trade and his statue was paid for and erected by a business man and not the 'people of Bristol'."
It is thought by some that by organising these demonstrations For Britain is hoping to rally a waning supporter base. Alex Roberts, presenter for anti-fascist podcast 12 Rules for What, said: "Over the past couple of years For Britain has remained a marginal force on the British far right, despite attracting some experienced ex-BNP activists, a party that won a million votes at its peak."
Roberts added: "Coming to Bristol to celebrate Colston after his statue was ripped down by the people of Bristol and the four citizens accused of pulling it down were acquitted by a randomly selected jury, appears to be a cynical attempt to rejuvenate For Britain's declining prospects. I'm sure Bristol will give these idiots a warm welcome."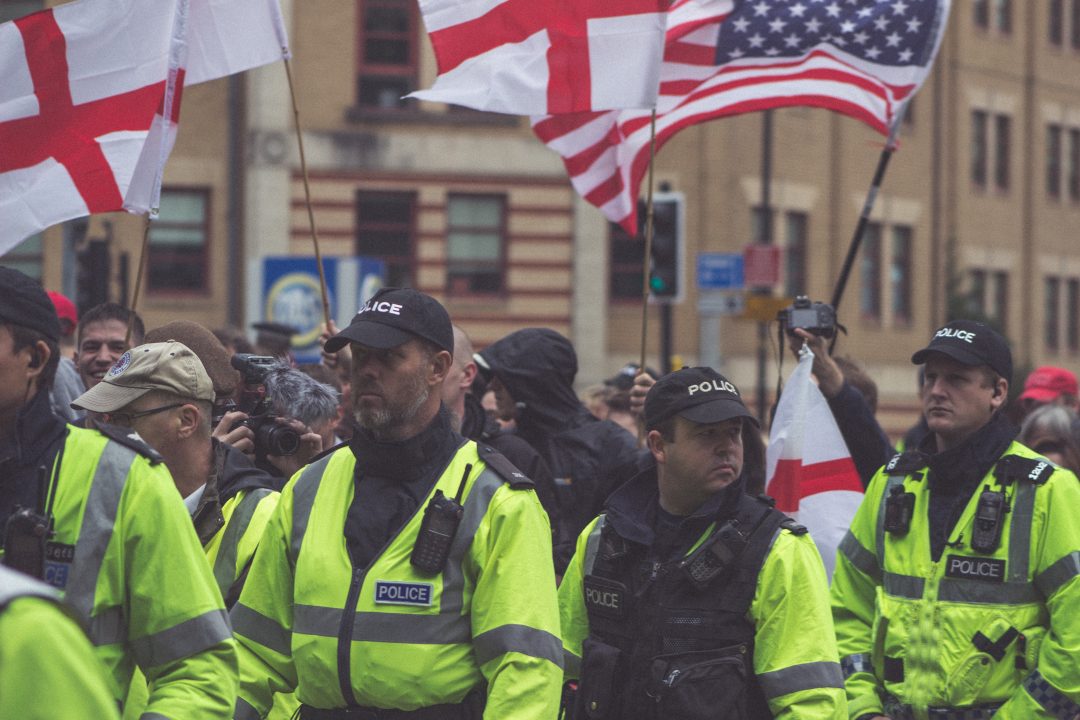 Far-right return to the streets
The planned protest was seen as a return to streets by the far-right. Julia Ebner, senior research fellow for the Institute for Strategic Dialogue, a think-tank specialising in extremism, said: "Over the last few months we've seen a revival of far-right street activism, especially since the end of the lockdowns. Groups like [Patriotic Alternative], Britain First and For Britain have stepped up their real-life recruitment and communication efforts by leafleting and staging protests."
Patriotic Alternative and Britain First have both targeted hotels housing migrants with unannounced protests. PA have been holding weekly events across the country, with their South West regional group holding a hike in the Mendips two weeks ago. Britain First have also been leafleting ahead of local election campaigns in south east London and Manchester.
Ebner added: "White identity and anti-vaccine campaigns have been at the heart of the far-right's recent activism. There has been a significant backlash against Black Lives Matter, which means that we have witnessed a return to explicitly racist ideas in British far-right networks. We saw the effects of this in the shocking extent of racist hate and harassment that targeted Black football players during the Euros."
The size of an anti-BLM protest in Bristol would depend largely on how heavily figurehead Yaxley-Lennon promotes the event. Without him, For Britain would struggle to mobilise dozens of supporters. If Yaxley-Lennon starts to mobilised hard, there could be hundreds or thousands of racists coming to Bristol and clashing with anti-fascists.
A spokesperson for Avon and Somerset Police told the Cable before the event was called off: "We're in contact with the organisers and our aim is to facilitate the event while also balancing the needs of people who live, work and who are visiting the city. Proportionate plans will be in place to monitor the protest and to ensure it takes place safely and with minimal disruption to the wider community."
This article was originally published before the planned demonstration was cancelled. It was updated on Monday, 4 April.