The controversial Voi e-scooter trial will be extended. Here's what Cable readers think.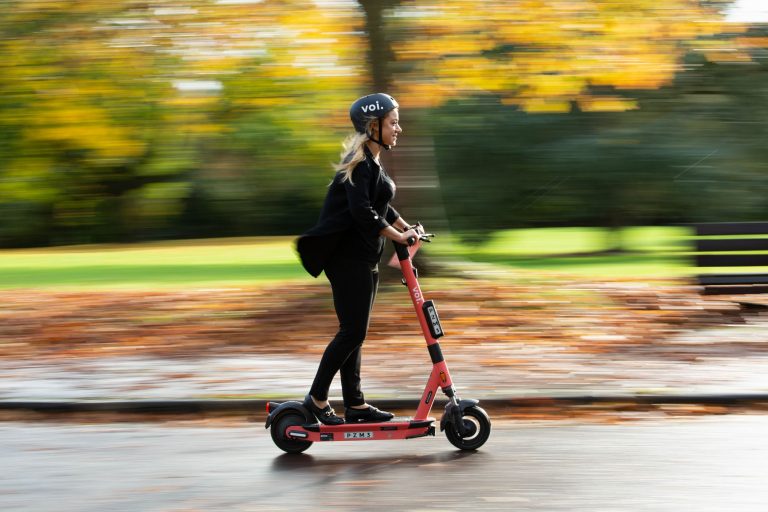 For some, the coral-coloured Voi e-scooters that appeared in Bristol in October 2020 are a menace. For others, they're a lifeline. Ambrose, who suffers from chronic fatigue, credited them with keeping him mobile: "I'd have been housebound without them."
Love them or loathe them, the e-scooters will continue to be a fixture on Bristol's streets for at least a bit longer.
They were introduced as a trial in the hope of cutting congestion, improving air quality and reducing carbon emissions. The trial was due to end this March, but has been extended until November 2022 to 'fill data gaps', ensure trials are safe and establish best practice for the service. Following this, the scooters could be rolled out in Bristol on a permanent basis.
We asked Cable readers about their experiences of Voi scooters, how the scheme could be improved and whether they should stay or go. Of the nearly 350 Cable readers who answered our callout, two thirds thought Bristol should keep the scooters, compared with nearly one in five who thought they should go.
Concerns over safety
Many readers' concerns are centred around how the scooters are used, with riders not adhering to the Highway Code, carrying other people on scooters or not using helmets or hi-vis clothing.
Multiple nurses told us about the accidents involving e-scooters that they had seen or heard about. As Eva, who works in a post-anaesthesia care unit at the BRI, put it: "I see lots of people who come to my unit due to fractures provoked by accidents involving Voi scooters." Among other injuries, she has seen serious fractures and head injuries caused by drunk riders or riders losing balance or control of the vehicle.
The BBC reported that 90 e-scooter riders were admitted to A&E between May and June last year, at an estimated cost of £1,000 per patient on average.
Several readers noted that partially deaf people struggle to hear Vois, while when parked they often block pavements for wheelchair users and buggies. One reader had seen a partially-sighted person trip over stacks of parked scooters on the pavement.
The National Federation of the Blind UK is analysing the scheme and said recently that they can be "terrifying" for visually-impaired people.
There are clearly issues around safe usage and storage which need to be addressed. But other forms of transport are far from accident-free. As reader Rhiannon said: "There are plenty of bad drivers and cyclists out there, but we don't ban cars and bikes based on the behaviour of a minority of users."
A distraction from Bristol's bus services?
The main argument in favour of Vois is that they reduce traffic and air pollution caused by car emissions. But initial data throws this into question. A West of England Combined Authority (WECA) study in July 2021 showed that 44% of Voi journeys would otherwise have been walked, 6% cycled and 31% driven. This shows that Vois may be reducing active travel as well as car journeys. There are currently no statistics around the e-scooters replacing public transport journeys.
But there are other reasons why people are opting for e-scooters over other forms of transport. One reader was so worried about bike theft that they would rather ride the scooters than leave their bike somewhere. Another reason given was the unreliability of Bristol buses.
Reader Lucy noted that Vois are "generally used by young, able-bodied people", whereas improving accessible public transport would be beneficial to all. "I would rather see our city invest more in improving bus, walking and cycling infrastructure instead of adding in another mode of transport to compete for limited space," she said.
But bus passenger numbers in Bristol are still down 30% compared to pre-pandemic levels, leaving bus services in a particularly fragile state. This is compounded by driver shortages due to Covid, leaving some services not running last weekend (March 12–13). Reader Belinda argued that the more we move over to Vois, the less chance we have of it ever recovering.
Conversely, there were many readers with mobility issues who love Vois. Several readers with chronic fatigue or Long Covid said the scooters help them move around despite their extremely limited energy. One reader was so severely affected by Long Covid that the walk to and from bus stops prevented him from using buses – but Vois were available right on his road.
Towards a multi-modal future
However, we don't necessarily have to choose between Vois and buses. 'Micromobility' is the term for forms of transport like Vois, because they are driven by users for journeys to places that public transport doesn't reach.
Reader Connor called the e-scooters a positive step towards a multi-modal transport future, "which could give us back our cities, our public spaces, our shared space, the places where children could play now filled with parked or moving cars".
That's not to say if we keep them that there aren't improvements to be made. Separate infrastructure on roads for bikes and scooters would improve safety, while more designated docking stations would keep pavements free for pedestrians, wheelchair users and buggies.
Almost universally, readers called for rules to be enforced more strictly and for stricter penalties for reckless usage. Others wanted helmets to become compulsory. As reader Martin pointed out, Wind e-scooters available in Nottingham sometimes come with an integrated helmet. Educating or testing riders on the Highway Code would also help: some people suggested that this could be done through an e-scooter road test or by requiring a full rather than provisional licence to unlock them.
Others take issue with the scooters' design, arguing that better lights, indicators, controls on the handlebars and better age checks would reduce safety concerns. Better geo-fencing – the technology that allows the Voi scooters to understand where they are – would stop power suddenly cutting off on the road. Wider availability in certain areas of the city, such as St Philips Marsh, Southmead and into South Gloucestershire, would make the scheme more useful outside the centre, readers said.
Perhaps, some readers suggested, the for-profit business model isn't the right choice for Bristol, a city which desperately needs a more dynamic and reliable public transport system. In the words of reader Helen: "The free market profit-making nature of the scheme must mean that Voi profit comes before safety."
What's next for the scheme?
When the trial extension was signed off by West of England Mayor Dan Norris, he said the e-scooters are clearly meeting a need in the area, which has the highest usage of anywhere in the UK. It is now up to Bristol, Bath & North East Somerset and South Gloucestershire – the three constituent councils of the West of England Combined Authority (WECA) – to decide whether to continue the scheme, although this is likely.
Norris added that an effective trial will help the government to make informed decisions about whether to legalise the form of transport and what rules should come with them. Councils may then have the chance to set their own additional rules within the local area.
However, shortly after this approval, the Local Democracy Reporting Service reported that Norris had slammed Voi for its Russian shareholder Alexei Morshadov, who is the business's 12th largest owner. He stated that the company's actions regarding Morshadov will "strongly affect my thinking regarding the future use".
The company's Russian links aside, with the right safety measures in place the Voi scheme could be a positive step towards reducing congestion on Bristol's traffic-choked streets. As Cable reader Joe put it: "People should resent massive cars being driven for short journeys, not people riding electric scooters."