Two women jailed after Kill the Bill violence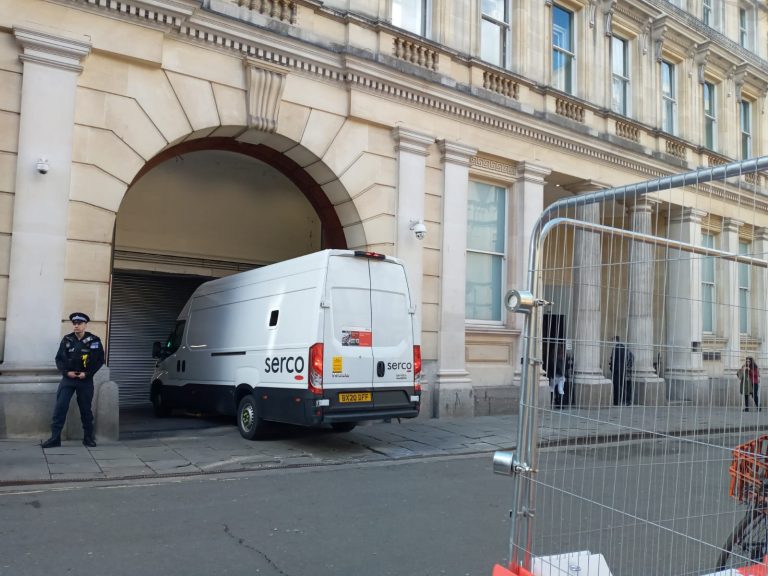 Two women have been sentenced in connection with the clashes after the first Kill the Bill protest in Bristol last year.
Jasmine York, of Paintworks, Bristol was sentenced today (Monday 14 March) to nine months in prison after being found guilty of arson in February. The 26-year-old pushed a metal wheelie bin towards a burning police car during violent scenes that followed a demonstration against the Police, Crime and Sentencing Bill on 21 March 2021.
York was cleared of riot, and of the more serious charge of arson being reckless as to whether life is endangered.
Mariella Gedge-Rogers, 27, of Clifton, Bristol, was sentenced on Friday to five and a half years in prison after being found guilty of riot at Bristol Crown Court in February. The jury saw how on 21 March 2021 she threw missiles at officers, attempted to smash the windows of Bridewell Police Station and used her skateboard as a weapon.
York and Gedge-Rogers are only the latest people to be prosecuted following the first Kill the Bill protest turned violent in March 2021. To date, 85 people have been arrested and at least 42 charged in connection with the clashes on 21 March as part of police Operation Harley, one of the largest police operations that Avon and Somerset Police have ever carried out. The prison time for those sentenced totals 57 years and 11 months.
Last year, thousands of demonstrators took to the streets for a peaceful protest against the Police and Crime Bill. The proposed law would curb people's right to protest, give police more stop-and-search powers and make trespass illegal.
The scenes turned violent after the first demonstration on 21 March, with clashes between some protesters and police outside Bridewell Police Station. Bottles, rocks and fireworks were thrown, police vehicles torched and the windows of Bristol's main police station were smashed. Avon and Somerset Police sent in riot police, horses and dogs.
'You played your part in the unlawfulness'
Judge James Patrick, sentencing York, told her: "You were very aware of the damage caused to police equipment and property paid for out of national taxation for the benefit of the community.
"You played your part in the unlawfulness."
The prosecution had called her a "leader and instigator" in the violence that took place outside Bridewell Police Station during Bristol's first Kill the Bill protest, but a jury found her not guilty of riot. The court heard how she had been hit multiple times by police with batons and bitten by a police dog after initially attending the protest to pay her respects to Sarah Everard, whose body had been found the week before.
During her trial, the court heard how police used violence "indiscriminately", hitting and pepper spraying protesters. She told the jury about being "devastated" after being hit by police several times. Her defence lawyer argued that that there was no evidence she was a leader, or that she'd been unlawfully violent, and that instead she'd repeatedly put herself between others and danger.
She had been charged with arson being reckless as to whether life is endangered, but was found guilty of the less serious charge of arson.
Detective Superintendent James Riccio, the senior investigating officer, said: "Jasmine York unquestionably contributed to the unrest felt by many that shameful night.
"She may not have physically attacked officers but she added fuel to the fire of a burning police car, creating an intimidating atmosphere for officers trying to maintain order."
Of Gedge-Rogers, Riccio said that he hopes her sentence "sends a strong message to those who think such behaviour is ok and serves as a reminder to those who refuse to take responsibility for their actions that they will be punished severely."
Riccio said: "Gedge-Rogers has today learned her actions on the night of 21 March last year have very serious consequences.
"Her liberty has been taken away for a very considerable amount of time because she thought it was acceptable to attack police officers and damage a neighbourhood police station.
'The legal system is designed to maintain inequality, protect the police and prevent political dissent'
Bristol Anti Repression Campaign (BARC) released a statement saying that they had been hoping for a non-custodial sentence for York, but that this outcome wasn't unexpected. The group said: "The repression following Kill the Bill protests has been harsh. The police and Judge Patrick [who presided over both trials] are trying to send a message to anyone who takes a stand. Just last week, Mariella was sentenced to 5.5 years in prison.
"We're proud of Jasmine, who tried hard to protect other women from the police and was severely beaten by them herself. We're glad that she was found unanimously not guilty of riot, and also not guilty of a more serious form of arson in her trial last month.
The group said that they "did not recognise the legitimacy of this sentence", adding that the sentencing of York represented a smaller part of a "broader political repression" following the demonstrations.
"We know that the justice of the courts is a tool the state uses to preserve and defend itself. (…) We stand in solidarity with them all, and with all people facing repression."
The charge of riot is the most serious of the public disorder charges someone can get and carries a maximum sentence of 10 years. The similar but less serious offences involving fewer people are violent disorder and affray, which have maximum sentences of five and three years respectively.
Before these trials, the charge of riot was very rarely used – with only 52 people charged with the offence in the UK since 2010 before this, according to government statistics. The last high profile use of riot charges in Bristol was 40 years ago after the St Pauls riots, after police raided a cafe and were driven out by a large crowd throwing missiles. Even then, the 16 people who stood trial were acquitted.
These last sentences bring the total number of people being convicted for offences following incidents linked to Bristol's Kill the Bill demonstrations to 16.