What next for Bristol's renting crisis?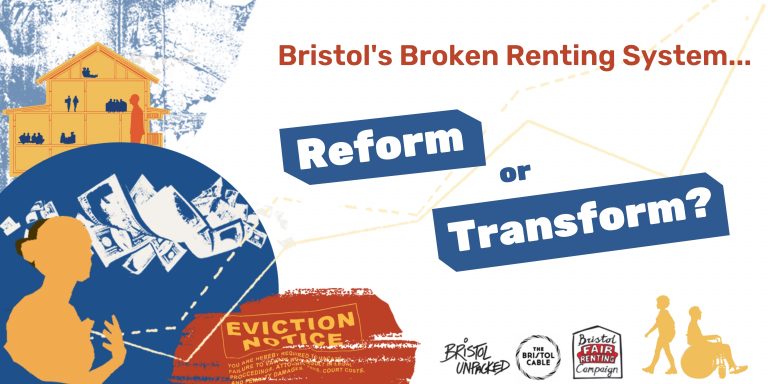 Pressure has been building since the Cable launched a series on the renting crisis, following the government's decision to lift the ban on evictions put in place during the pandemic. Our investigations revealed a huge number of problems – from rising costs to poor conditions, discrimination and insecurity.
Since then, Bristol City Council brought campaigners from Acorn and Shelter together with local politicians for a Renters' Summit to discuss rent controls, enforcement and discrimination, and Bristol Live launched their own Rent Crisis Campaign. Nationally, a coalition of 22 civil society groups and campaigns have taken a blueprint for rental reform to the doors of parliament, calling for measures such as a national landlord register and caps on rent, as well as safeguards such as lifetime deposits and indefinite tenancies.
Over two (long!) years since the government pledged a 'new deal for renters' during the 2019 election, the demand for change is growing louder. We aren't out of the woods yet: with living costs set to soar, the case for transforming renting in Bristol is clear.
Last week, we hosted a Bristol Unpacked Live event, in which Neil Maggs grilled the council cabinet member for housing, Tom Renhard, and former shadow secretary for housing, Thangam Debbonaire MP, on whether and how the council can make good on its commitment to renters given the lack of political will in central government.
During the event, Renhard announced that the council is about to launch a commission to look at different forms of rent controls and how they could work for Bristol. He added that Bristol is working with other cities to build the evidence base required to ask the government for the powers to introduce a pilot scheme.
Both Renhard and Debbonaire spoke in favour of a national landlord register as a way of driving up standards, with so many renters living in poor conditions or waiting on much-needed repairs. Along with scrapping no-fault evictions, this is one of the reforms that could come in the long-anticipated Renters Reform Bill, but both Renhard and Debbonaire were sceptical that it would be introduced by the government.
One of the issues raised by Debbonaire was the rise of Air BnB and other short term lets. The Cable has reported recently on luxury short term lets advertised with extortionate rents – such as £2,200 a month for 1-bed flat in Greenbank. She said that large parts of the city centre are full of homes that are empty most of the time, and that councils needed to be given greater powers to regulate this issue.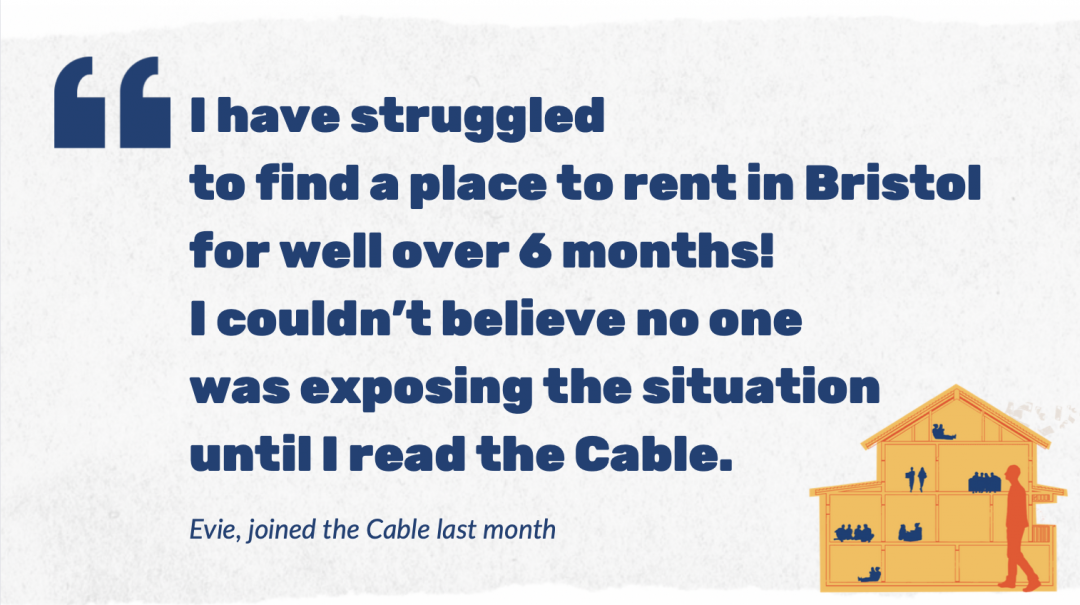 Transforming renting in Bristol means looking beyond the city: to cities such as Sheffield and Leeds, who the City council is speaking to about building an evidence base for rent controls; to Amsterdam, the number of days per year a home can be let out on Air BnB are limited; and to countries in Europe – France, Denmark, Sweden – that have introduced rent controls.
Affordable housing was also mentioned as a priority. Renhard said developers still had too many loopholes, allowing them to get out of building the affordable homes that the city needs. He spoke of plans to build 2,000 council homes by 2030, and cited current developments that include high proportions of affordable housing, such as Romney House in Lockleaze. On the debate about house building and green spaces, Renhard said not enough people realise how serious the housing crisis is.
Debbonaire reiterated Labour's policy of making sure that nobody pays more than 30% of their income on rent, in an attempt to fix the broken link between affordability and household income.
The two politicians also discussed banning rogue landlords, Right to Buy, community-led housing and much more.
The conversation ended on a note of scepticism about national government's willingness to hand local authorities the power they need to protect renters. The task now is to amplify, campaign, and keep the pressure up nationally, while grasping existing powers to make change – and enforce it – locally.
Investigations such as the Cable's In Disrepair: Bristol's Broken Renting System are helping to build a critical mass behind calls for reform. But we can only keep following the story with support from Cable members. Join us now to support investigative local journalism in Bristol for just £3 a month.
We hosted last week's event in partnership with the Bristol Fair Renting Campaign. You can support the campaign by signing their manifesto, and joining their upcoming Renters' Rights workshops.
Later this week, Green councillors will be responding to what Tom Renhard said and setting out their vision for tackling Bristol's renting crisis.