WTF is the mayoral referendum? Your questions answered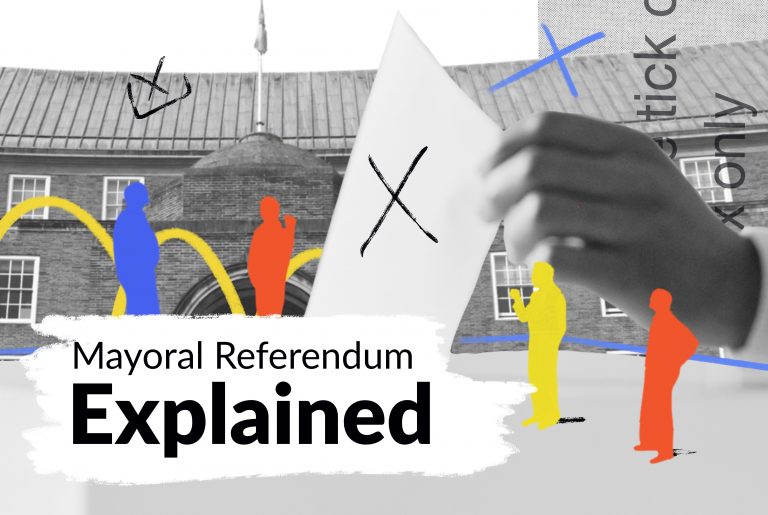 "What the fuck is it about and why have we not been made aware it's even happening?"
This was a question submitted by a Bristol Cable reader as we set out to understand how well informed people are about the mayoral referendum in May and what they need to know before casting their vote.
So what's this all about? Those in favour of keeping the mayor say it's the best way to get things done, while having a visible leader directly chosen by Bristolians. But those campaigning for a committee system argue the mayor has too much power, and so giving councillors more of a say would be more democratic and improve scrutiny and accountability. 
Below is everything you need to know as the city goes to the polls on 5 May to decide if we want to scrap the mayor. From the very basics, to how each system works and the arguments for and against, we've answered your questions. Take a deep breath.
The basics
What's on the ballot paper?
On 5 May, Bristol will vote on the question: "How would you like Bristol City Council to be run? Either by a Mayor who is elected by voters. (This is how the Council is run now), or by one or more Committees made up of elected Councillors. (This would be a change from how the Council is run now)."
When would any changes come into effect?
If we vote in favour of the committee system, this will come into force in 2024, which is when the next elections are held. Bristol Mayor Marvin Rees has said he won't be running again, so if we choose to keep the mayoral system, the city will elect a new mayor in 2024.
Whichever system we vote for, it will last from May 2024 for 10 years unless there is a change in the law by the government.
How much has it cost to put on this referendum?
Mayor Marvin Rees said it would cost the council £650,000 of taxpayers' money to hold the referendum. Liverpool, another city considering ditching its mayor, is currently holding a public consultation rather than an all-out referendum in order to save money. The three-month consultation began with a letter to residents, asking them how they would like the local authority to be run.
How did we get here?
Why is this happening now?
In December 2021, Bristol councillors passed a motion by 41 votes to 24 to hold a referendum on whether to abolish the mayoral system, and replace it with a committee model of decision-making.
The motion was put forward by the Lib Dems and supported by the Greens and Tories, while Labour councillors voted against – as you'd expect since they're the ruling party. This was the result of the deteriorating relationship between the mayor and opposition councillors, and Labour losing council seats at the local elections in May that year, which threw up questions about representation when the Greens became the joint largest party but weren't given any positions of power.
Whose idea was it to have a mayor in the first place?
We had a referendum on our political system not that long ago! In 2012, Bristol was the only major city out of 11 to vote to introduce a mayoral system. Those campaigning for it focussed on how unstable political leadership had delayed progress and made it hard for the council to get things done and for the city to thrive.
The Tories and some Labour politicians were in favour of bringing in a mayor, while the Greens and Lib Dems, who had control of the council at the time, campaigned against it. But there was a lack of good information about the referendum back then, and only 24% of registered voters turned out on polling day. Turnout was as low as 10% in some wards. The Yes (mayor) campaign won by 53% to 47%.
George Ferguson, who was a former Lib Dem but ran as an independent, was elected as Bristol's first mayor later that year.
Who is campaigning for each outcome this time?
The Labour mayor and councillors are obviously campaigning to keep the mayoral system, while the Lib Dems, Tories and Greens are campaigning against. There are some outliers too: former mayor George Ferguson has come out in favour of the committee system because we now have a regional mayor and so, he says, no longer need a city mayor too.
How were the voting options chosen?
Researchers at the Bristol Civic Leadership Project, who have studied Bristol's mayoral system and alternatives, said even they were unaware of any detailed discussion of or rationale for why the committee model is on the ballot rather than the leader and cabinet model, which existed before 2012.
How does the current system work?
What does the council do?
Bristol City Council is responsible for lots of local services, including social care, some local schools, council housing, parks, sports and leisure centres, cycle lanes, pavements and roads, public transport, and bins and recycling.
What power does the mayor have?
Bristol currently has a mayor and 70 local councillors. The mayor, who is paid nearly £80,000 a year, is the leader of Bristol City Council. They have most decision-making powers, set the direction for the council, and represent the city nationally and internationally. They set the council's annual budget, which is one of the only things that needs approval from local councillors.
The mayor hires and fires their cabinet of councillors, who may have powers delegated to them over areas such as transport and housing. This is when the Greens were rather miffed at not being given any cabinet positions in 2021 after gaining lots of council seats.
What is the role of a councillor?
Local councillors are elected across 34 wards in Bristol. They oversee the work of the mayor and council, approve the mayor's budget and plan for the city. They can raise questions on your behalf and try to help solve local problems. 
Some councillors make decisions on planning and licensing committees, which have councillors from all parties elected.
Councillors receive a 'basic allowance' of around £14,500 per year, which may increase if they are given a specific city-wide responsibility by the mayor, such as for housing or transport.
How accountable is the mayor?
Bristol has an overview and scrutiny committee, as well as other committees that scrutinise other specific areas of council policy, but these committees have no decision-making power, and some argue scrutiny has been neglected under the mayoral model.
How does the WECA mayor affect things?
Since 2017, Bristol has been part of the West of England Combined Authority (WECA), which also includes South Gloucestershire and Bath and North East Somerset. The metro mayor of the West of England, who is currently Labour's Dan Norris, is responsible for things that concern all three local authority areas, such as linking up public transport, economic development or housing plans.
Regional mayors often lobby for extra government funding for their region, which Dan Norris has been doing, but the best known example in England is Andy Burnham who is mayor of Greater Manchester. The metro mayor has power that Bristol's mayor doesn't, such as the ability to change how the region's transport system is run.
What's the alternative option?
How does the committee system work?
Under the committee system, councillors are elected in the same way as they are now, by ward every four years. Councillors then elect a leader of the council, who is usually the leader of the largest party.
Decisions are made in committees, whose makeup is based on the number of councillors elected from each party. There is usually an over-arching committee designed to oversee the work of the council, which normally sets the council budget – which, as with the mayoral model, needs to be approved by full council.
Councils with a committee system are required to have the same planning and licensing committees, and can have one or more overview and scrutiny commission but don't have to.
When did we have it before?
Bristol used to have a committee system before 2000, but in 2001 we had to move to a leader and cabinet model because of reforms introduced by the New Labour government. This second system lasted until 2012, when we voted in favour of introducing a mayoral system.
Arguments for and against
What are the pros and cons of having a mayor?
The main arguments for the mayoral system are that they can get things done because they don't have to rely on support from councillors and that they provide stable leadership over a four year period. Some argue that a mayor also has legitimacy to tackle difficult problems and represent Bristol externally. People are more likely to know who they are, which is important when engagement with local politics is often shoddy at best.
The incumbent mayor's campaign has focused on the fact that he is chosen directly by the people of Bristol at the ballot box, unlike the council leader under the committee system, who is picked by councillors. 
But critics of the mayoral system argue that one person shouldn't have so much power and can't represent the whole city properly. They say that councillors have been sidelined by the mayor, who as a result isn't scrunitised properly.
What about the committee system?
Supporters of the committee system argue it would be more democratic and representative of the city, because councillors are given more of a say in decision making. Accountability is also improved, they argue, because the council leader can be hired and fired by elected councillors, so is forced to govern more by consensus. 
A common theme is stability, because in the past who ran Bristol City Council chopped and changed. But campaigners say that the committee system would be more stable than in the past anyway because we now have local elections less often. 
In response to the idea that only mayors can get stuff done, people often point out that this system was used by local authorities in England for over a century and is just as able to do so.
However, criticisms from when it was last in place in Bristol include a lack of clear and accountable leadership and scrutiny, because it's not always clear who has made decisions.
What have been the successes and failures under the mayoral system?
These things are disputed. Mayors have taken credit for what the council has achieved over the last decade, such as building more homes, shepherding the city through the pandemic and bringing investment to the city.
But there are also big issues where they have received lots of criticism. The Bristol Energy saga that cost £50m of taxpayers money is often cited by campaigners as an example where a lack of scrutiny and transparency led to poor and costly decisions. 
In the case of Marvin Rees, under whose reign the mayoral system has come under the most fire, he has been slated for overruling councillors on the decision to build the Bristol Arena in Filton not in the city centre.
Delays to introducing the city's clean air zone and Rees' vision for an underground system are other examples of where councillors have been at odds with the direction set by the mayor. 
What about after the vote?
Are there different versions of the committee system?
If Bristol votes for a committee system, it will come into force in 2024. There is an array of potential options and innovations for a committee system, according to the Bristol Civic Leadership Project. The researchers also said Bristol can learn from other councils who have recently adopted versions of the committee system.
Is there potential to reform the mayoral system if we vote to keep it?
The Bristol Civic Leadership Project has identified key areas for improving the mayoral system: dispersing power away from the mayoral office, strengthening the roles of councillors, revitalising decisions at neighbourhood level and inventing new ways of including more voices in how the city is run.
It is also possible that future mayors will govern in a different way, such as appointing councillors from different parties to their cabinet – which Marvin tried at the start, but it didn't last long.

Lots of this information was sourced from The Bristol Referendum 2022 report by David Sweeting, Robin Hambleton and Thom Oliver from The Bristol Civic Leadership Project.