'Nobody was talking to people in the Mosque about climate change'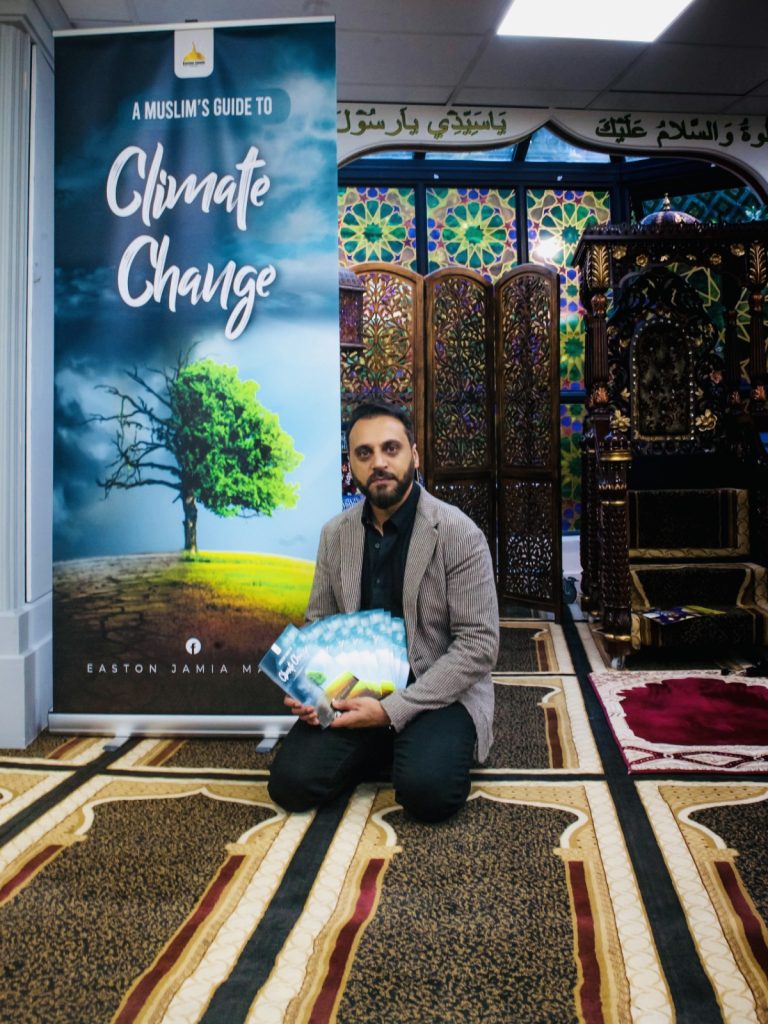 Note: This article was amended to reflect that fact the 'Muslim Guide to Climate Change' is a reproduction of an original publication by Kamran Shahzad of the Bahu Trust UK.
"It's fashionable to say things about climate at the moment. But it's not about being trendy. Many of us still support families 'back home' where the climate impacts are much worse. This is the next big emergency for us. We've got a lot of catching up to do."
Abdul Malik is the Chair of Easton Jamia Mosque on St Mark's Road and a prominent local businessman. Malik has become a passionate advocate for climate change and sustainability among the Muslim community in Easton and beyond, winning an award for his pamphlet 'A Muslim's Guide to Climate Change'. But his own story of becoming a climate advocate is one borne out of the raw and sometimes divisive politics of community engagement. 
Malik was part of the group of traders who opposed the pedestrianisation plans proposed for St Mark's Road in Easton. The plans were part of a city-wide series of measures proposed to lower carbon emissions and improve air quality, given an extra impetus by the pandemic. Controversial locally from the start, the debate seemed to fall all too easily into existing tensions around the priorities of newer, wealthier and typically whiter BS5 residents, and the perspectives of (predominantly Asian) long standing local businesses.
"There have been a lot of debates about gentrification in Easton recently," explains Malik. "The initial campaign didn't seem to understand locally, or as a city, what we go through."
But as a result of his immersion in the issues driving the pedestrianisation push, Malik realised there was an urgent need to change the perception of who climate action is for.
"I was having conversations in the community, and I realised the problem was no representation, no Black and Asian 'angles', no one talking to people in the Mosque, no one talking to Asian businesses about climate change."
Malik spotted an opportunity. "I put something together about climate change and what we as a religion could do, including some passages from the Quran." The pamphlet was based on an original publication by muslim organisation the Bahu Trust UK.
Community climate action
Malik's efforts haven't gone unnoticed, and he features in the recently launched Eastside Community Trust Climate Action Plan (representing communities in Lawrence Hill and Easton). Eastside Community Trust was one of six community organisations across Bristol to secure support from the National Lottery's new Climate Action Fund.
The plans cover everything from the barriers marginalised communities face in shaping decisions about climate policies at the neighbourhood level – such as the lack of accessibility for disabled people on public transport identified by Bristol Disability Equality Forum – to the unique opportunities Bristol's citizens can bring to bear on the climate crisis – the Ambition Lawrence Weston group rallying around the creation of a new community-owned wind turbine.
The community plans have been created through hundreds – and in some cases thousands – conversations with local residents. Together they represent a powerful statement of intent, and make a strong case for the importance of community buy-in, if climate policies in the city are to stand any chance of success.
"The plans give community organisations, who have been so completely essential during Covid-19, some weight and leverage," explains Amy Harrison, the Community Project Manager at Bristol Green Capital Partnership, which jointly coordinated the project with the community groups. "It's the opposite of a nice little fluffy consultation. We need to hear directly from, and then harness the power and networks of groups like this – Bristol's net zero 2030 target really won't happen without them."
In Easton, a change in local councillors from Labour to Green seemed to signal a renewed impetus for reaching a compromise around St Mark's Road, but despite this, funding for the plans was recently pulled altogether. As an example of local climate engagement, the pedestrianisation plans were ultimately a failure. But they offer an important lesson as the city starts to undergo many more transformations driven by the climate crisis.
"Soon the city centre will be charging vehicles to drive through it," notes Malik. "But people don't understand it, and are asking: 'Why is he trying to stop traffic?' How do you educate so many people in a quick way? How can we measure the gains for communities?"
The personal and the political have never been straightforward to separate when it comes to the climate crisis. But building deep community support and ownership, and listening carefully to the questions and perspectives of people like Abdul Malik is crucial.