Bristol campaigners and politicians welcome 'long overdue' reforms for private renters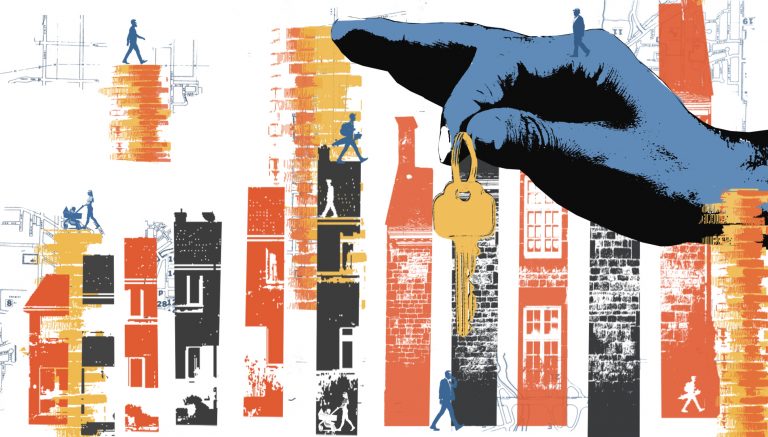 Bristol housing campaigners and local politicians have welcomed the government's recommitment to the biggest reform of the private rented sector "in a generation", but said more needs to be done.
Greater protections for renters were first announced in 2019, but the government finally outlined more detail of the long-awaited Renters Reform Bill in the Queen's speech on 10 May, dubbing it a "new deal" for renters in England.
The most high-profile change is abolishing section 21 'no fault' evictions, which currently allow landlords to evict tenants without a reason at just two months notice. After years of campaigning, the scrapping of section 21 was first announced in 2019, but they are still happening.
Other proposals include enforcing the legally binding Decent Homes Standard in the private rented sector, which would bring standards in line with social housing, introducing an ombudsman for private landlords so that disputes can be resolved without going to court, and setting up a property portal to help give tenants performance information to hold their landlord to account.
Housing campaigners also said the new property portal in reality is likely to be some kind of landlord registration scheme like the ones that exist in Wales, Scotland and Northern Ireland.
Dan Wilson Craw, the deputy director of campaign group Generation Rent, said: "This is the third Queen's Speech to promise a better deal for renters. So we are painfully aware that words only count for so much. What we need is the White Paper, which will flesh out the above policies, and then the Bill itself."
Alison Rush, strategic lead at housing campaign group Shelter Bristol, said: "Private renters in Bristol have had a rotten deal for years. By promising to scrap Section 21 no-fault evictions and introduce a Renters Reform Bill in last week's Queen's Speech, the government showed it is finally listening to renters who've spent years fighting for a better system that gives them more security."
She said the threat of no-fault evictions causes constant uncertainty for tenants, and some landlords use it to simply get rid of those who've asked for repairs or complained.
"As we see through our community work in Bristol all the time, Section 21 evictions are causing needless hardship and homelessness," she said.
"Shelter Bristol has been supporting local renters who, through the Bristol Fair Renting Campaign, are calling on the local mayor and council to take greater action to protect renters. But we need to turn words into action at a national level too – the government must get on with the job and urgently scrap Section 21, because every minute wasted puts more renters at risk."
The view from City Hall
Bristol City Council's housing chief Tom Renhard told the Cable: "I welcome the inclusion of the Renters' Reform Bill in the Queen's Speech, however it is long overdue, leaving many renters in precarious circumstances in the meantime.
He cited the scrapping of section 21 evictions as something has was proud to have campaigned for in the past.
"What will now be key is seeing the detail of the proposals, as well as securing the reforms renters need that I outlined in my letter to the Secretary of State. A new deal for private renters must take a holistic approach, including better security of tenure and the ability to bring in the regulation of rents, among other measures."
Renhard has written to Michael Gove, the secretary of state for Levelling Up, Housing and Communities, to urge him that "that the key measures required are not weakened or left out of the draft legislation".
But Renhard also stressed that more needed to be done in Bristol. He told the Cable a new clause will be included in landlord licenses from this summer to crack down on discrimination against people claiming benefits, after the council passed a motion committing to this earlier this year. How this will be enforced is still being discussed.
On the issue of rent controls, Bristol City Council is about to launch a city commission of experts, tenants, landlords and academics to collect evidence and lived experience, before making recommendations on the different options that could work in Bristol and sharing them with the government.
Green councillor Tom Hathway, who recently wrote about what was needed to tackle Bristol's housing crisis, said: "The long-term solution to the broader rent and housing crises is delivering more social housing, which was noticeable in its absence from the Queen's Speech.
"That said, what was in there to address the symptoms from this manifesting in the Private Rented Sector is good. Particularly as we weren't sure it would make it in at all after years of delays!" he said.
"The devil will of course be in the detail, but there is a commitment to some of the demands made by the Renters' Reform Coalition."
He welcomed the abolition of section 21 evictions and the landlord portal, which he said could be a "real game changer if it does include elements on landlord performance and allows access by local authorities".
"Unfortunately there was no mention of the lifetime deposits that had previously been talked up," he added. "This means anyone moving is still at risk of having to pay a deposit on the next place before their first deposit is repaid."
As well as continuing the conversation about rent controls, he called for Bristol to look at the issue of short-term and holiday lets and the introduction of landlord licensing schemes across the city, which would help fund the council's enforcement of these new standards.
The Renters Reform Bill white paper, which will set out more detail about these proposals, is expected soon before the new law eventually goes through parliament and comes into force.