Samuel Smith moved into his flat in Lansdowne Court, a tower block in Easton, nine years ago. He was alone at the time, but has since taken in his two young children, aged four and eight. The three of them share the same bed in a cramped room that doubles up as storage space for the kids' scooters.
The 56-year-old's sons have scribbled in crayon on the living room walls. Above the boys' doodles, their dad has done a drawing of his own, of a detached house with four windows, a smoking chimney and an adjoining garage. "That's the dream," he says, laughing as he points to his sketch.
He's on the council's waiting list for more suitable accommodation and, besides the need for more space, he fears his boys aren't safe in Lansdowne. Drug users and dealers use the building to "conduct their business", which the police are aware of but do little to stop, he says. The hallways and stairwells often smell of smoke, and paraphernalia such as used, bloody needles and crack pipes can often be found discarded in and around the block.
"My youngest, I remember, almost almost picked up a dirty needle but I spotted it just in time and managed to pull him away," the single father tells the Cable. "The place isn't safe, especially not for kids." He says Lansdowne Court's tenants are mainly families, many with young children, who are scared of what they might be confronted with when they leave their flats.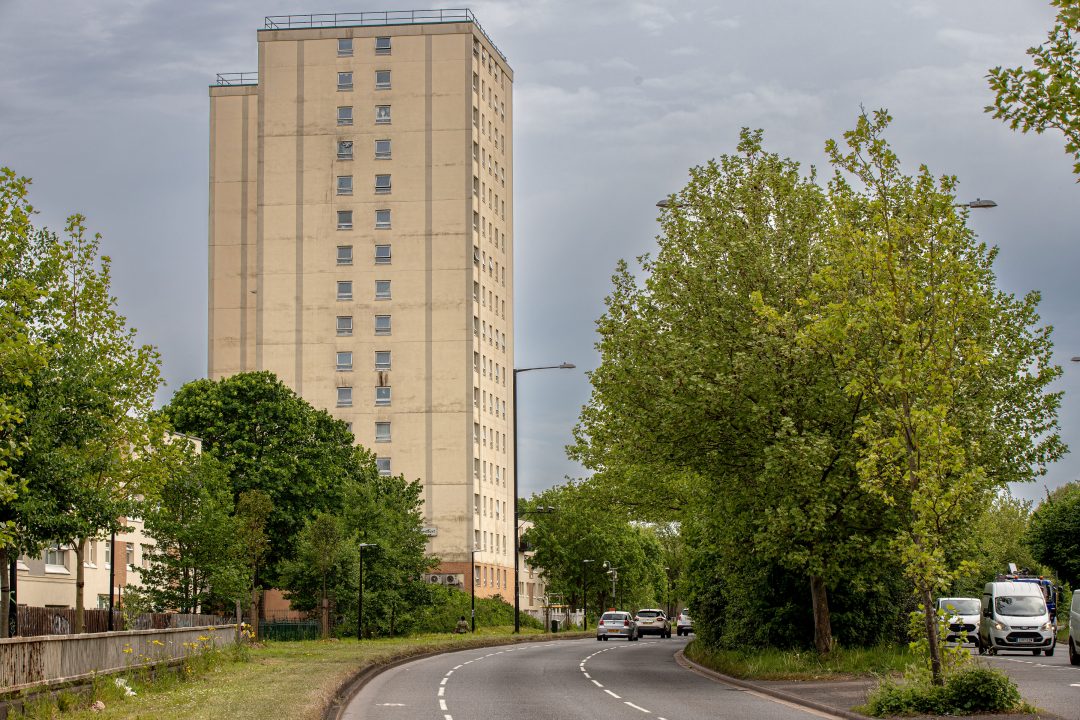 'It's the same old story'
Lansdowne's problem with antisocial behaviour isn't news to Avon and Somerset Police and Bristol City Council, which owns the building. The high rise was effectively shut down in 2019 under a rarely-used police order that effectively stopped people who didn't live there from entering. The partial closure order, which was at the same time enforced on the neighbouring tower block Croydon House, functioned to combat antisocial behaviour, particularly in relation to drug misuse.
"[The order] might have worked a bit – for a week or so – but then the police presence disappeared and everything went back to how it was," Samuel says. The order, which was introduced by Avon and Somerset Police after it was granted permission by the courts, lasted for six months. The Cable understands that the order was not extended after it expired, and police did not respond to a request for comment on its effectiveness.
Samuel says tailgating has been a problem in the building and that he has had confrontations with drug users in the communal areas. "You just don't know what you're going to find when you come out [of the flat]. People are on edge, you don't know who's going to be about, or what they're going to be doing."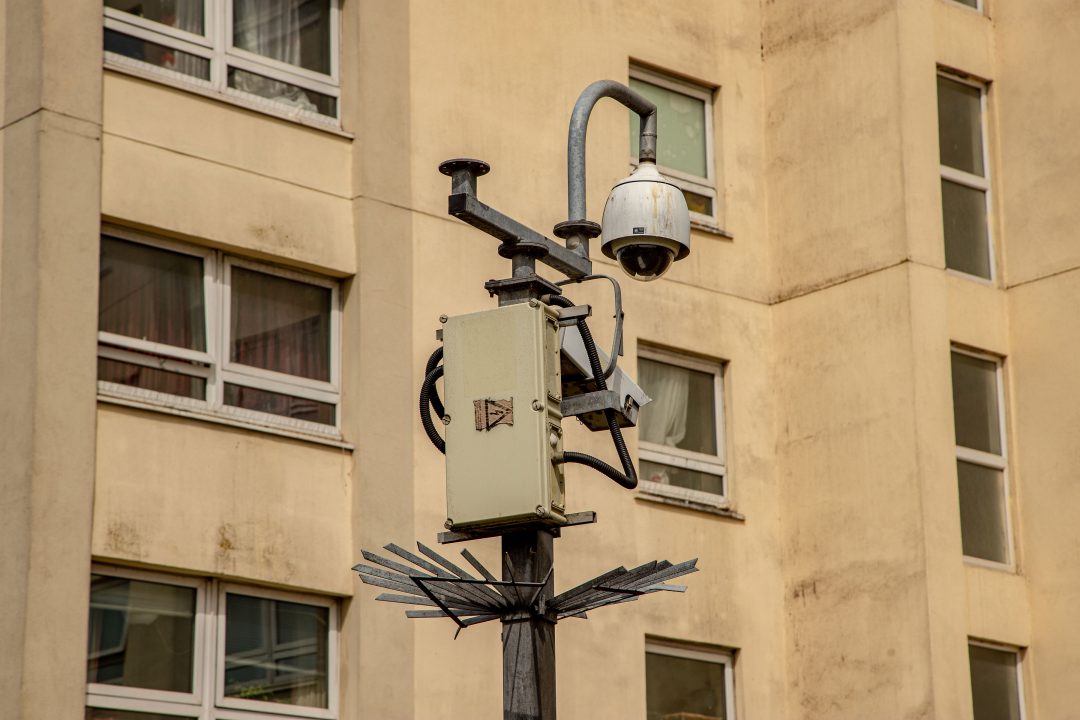 His and other residents' vehicles have been targeted in Lansdowne's car park by vandals who place nails under tyres and deflate them and he has been repeatedly verbally abused by another tenant who threatened to "smash up his car", Samuel says. He reported these incidents to both the police and the building's housing officer, but claims nothing was done.
CCTV around the building and in the lift doesn't work properly, Samuel says, so when an incident is reported police struggle to find evidence – or don't bother trying. The lighting in the car park is also broken, which Bristol City Council says it is in the process of fixing. It has not responded to a request for comment on the issues with CCTV.
'If you're going to put people here, you have to look out for them'
"One problem is communication. When we make complaints about antisocial behaviour, or anything, we're not listened to," Samuel says. "It's been the same old story since I first moved up here. You log it and nothing gets done about it."
Samuel says that English isn't the first language of the majority of the building's residents, and that communication between tenants and council staff or police, especially written, can be difficult for them. "People are just shut down so easily," he tells the Cable.
He regularly sends pictures of drug paraphernalia or urine or bloodstains in communal areas to the tower block's housing officer and caretaker, but says sometimes the mess remains uncleaned for weeks.
In April, Samuel was blocked from emailing Lansdowne's housing officer for three months, for persistently making complaints. A letter sent to him from the council, seen by the Cable, states that the volume of his emails is unreasonable, and his language can be 'inflammatory and accusatory'.
"It's hard to know who to contact when something happens," Samuel says. He disputes that the number of complaints he sends to the council is unreasonable, and says the emotion he can sometimes show when sending them is a symptom of his frustration at feeling ignored by the local authority.
The council says it holds events and meets with tenants, listens to their concerns and takes actions where necessary. Samuel laughs when asked about these events. "The last one, we were informed just before the meeting was going to take place and it was only me who showed up. It was just me and four of them. Others had complaints to bring but weren't made aware in time."
A more coordinated approach, such as a residents' forum, is needed, Samuel says, if authorities are going to understand the root causes of the various issues tenants are facing. "Most people here don't have a choice but to live here. If you're going to put people here then you need to look out for them. You need to listen to them. We just feel ignored – like no one cares," he says, adding that many residents are on the waiting list for more suitable homes, including him.
The impact of a tragedy
Samuel says residents' fears over safety have been heightened since a tragic incident last month, when a young woman, who has been named as 25-year-old Shannon Beirne, plunged to her death from the building on April 19.
A man, known to Shannon, was arrested on suspicion of murdering her and later released under investigation. The police watchdog has also launched a review after it was revealed that officers had contact with the woman before her death.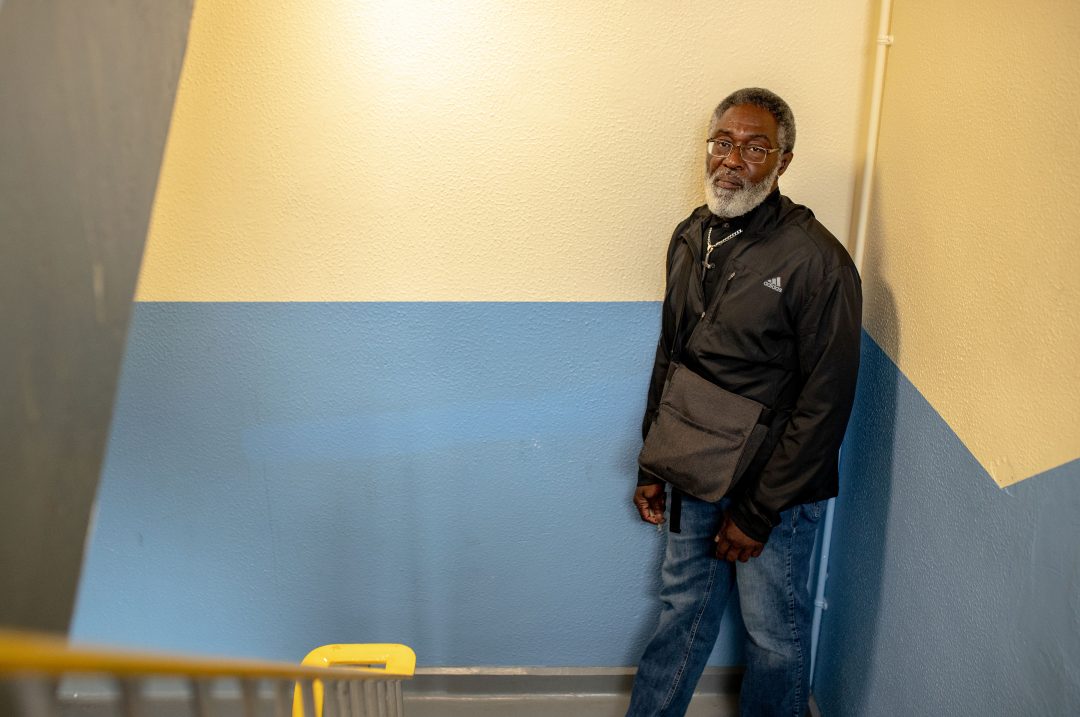 Shannon was a familiar, friendly face to many of the block's tenants. "When I found out it was her I just told myself: it can't be," says Samuel. "She was always kind, always friendly to the boys when we saw her… How could something like this happen? It was a shock to all of us."
He says the woman's death has had a profound impact on him and his two boys, and that a few days after the incident his eldest, standing at the kitchen window, asked him: "Daddy, what's it like to fall?" Samuel says that he told his school about the incident, and that his teacher says he's "not been himself".
'I won't move somewhere Black people aren't welcome'
Samuel says his living situation was reassessed by the council when he took custody of his boys, and he's now a higher priority for rehousing. He showed the Cable a list of properties that are currently available for bidding on the authority's HomeChoice website. They're mostly flats in Hartcliffe and Knowle that are familiar to him as family and friends have taken apartments there in the past.
He says his niece took one of the properties in the advertised Hartcliffe flats and suffered racial abuse while she was there. She lived there for ten years, the building – also a tower block – had a similar problem with antisocial behaviour, and the area was a hotspot for hate crime against minority groups, Samuel claims.
"I'm hardly going to move somewhere where Black people aren't welcome," he tells Cable. "I want out of Lansdowne – it's not safe for my boys, it's not where I want to be bringing them up – but I need to know that the next place is going to be better. I won't just be uprooted and moved to another flat, somewhere even more horrible, with the same issues going on."
Samuel recognises that, given the pressure on the social housing system and demand for homes in Bristol, he is unlikely to find somewhere else that's more suitable any time soon. About 16,000 people are on the council's housing register waiting list.
"To find a property is hard, we all know that," Samuel says. "It just makes it even more important that [the police and council] start thinking of the people, looking after us and providing the services that we need while we're here."
Samuel tells the Cable he does not want to bid on a flat in another tower block as he feels they are more prone to antisocial behaviour than other kinds of properties.
'A problem-solving plan'
Bristol City Council admits that there remains work to be done in establishing the root causes of antisocial behaviour in Lansdowne, but says staff meet with tenants in the building's community room, where it gathers feedback and takes actions wherever possible. Avon and Somerset Police says officers carry out regular, highly-visible patrols around the high rise, and that a number of initiatives are being carried out by the force and the council, which owns the building, to help reduce crime and antisocial behaviour there.
"Antisocial behaviour has a hugely detrimental impact on local communities and people's welfare, therefore we always look to work with partners to find solutions to reduce the problem," an Avon and Somerset Police spokesperson tells the Cable. "Closure orders, requested by police and granted by courts, are one way in which we look to tackle this across Bristol where specific addresses are known to be used for criminal activity and causing misery to innocent neighbours."
Asked specifically about problems in Lansdowne, they added: "Working alongside Bristol City Council, a number of initiatives are being carried out to help reduce issues in and around Lansdowne Court, including securing antisocial behaviour injunctions. A problem-solving plan is also being set up by our antisocial behaviour team.
A council spokesperson tells the Cable: "Although there are no active resident groups focusing on antisocial behaviour we continue to meet with tenants to gather their feedback… These meetings provide opportunities to raise concerns, help inform our understanding of the issues being faced and what tenants would like to see happen next."
This is the first story in a series on life at Lansdowne Court and the wider issues of high-rise living and social housing. Share your own experiences of the issue, and stay tuned for future articles on child safety in the building, poor living conditions, and the impact of a tragic death.