Carers strike to protest pay cuts at St Monica's Trust care homes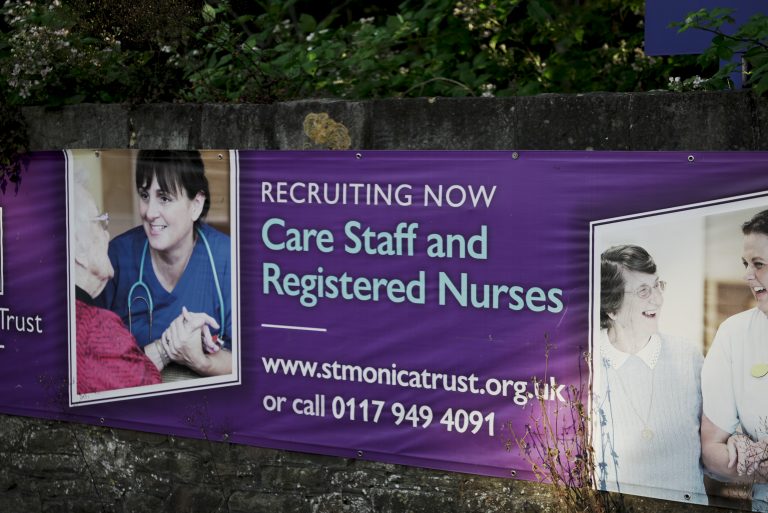 "Over the last three or four months she's been getting increasingly distressed by the exodus of carers leaving the organisation. Every week she'd be in tears because another one was going. There has been a visible diminution in care in the last few months."
Anna* is one of many concerned relatives who are joining the picket line with carers at St Monica's Trust to protest pay cuts for care home staff. This is despite recent reports from the charity, which operates care homes and retirement villages in Bristol and North Somerset, showing it is in a strong financial position with net assets of over £300 million.
"Some of the girls are single parents, some of them have mortgages to pay, and it's a big chunk out of their money," said Magda*, a care home worker. "I don't want to sign a proposal that's making me hundreds of pounds poorer, I don't want to sign it with the cost of living going up."
In a raft of proposals for its care homes, the charity is planning to increase base rates of pay in line with the Real Living Wage, but cut additional pay for night and weekend work.
This will leave more than one in four of 500 care home staff facing up to 13% cuts on their salaries. Staff are in line to lose up to £5,200 per year, according to documents from trade union Unison seen by the Cable.
Since consulting on the proposals with staff, the Trust has offered two years' pay protection to keep those workers' salaries temporarily at the same level as they are now. But with the cost of living crisis, concerns remain.

The cuts do not seem to be in line with the Trust's financial outlook, as the charity's most recent finance report stated that its position was 'strong', with net assets of £306 million and 13 employees on salaries of between £60,000 and £200,000.

"Will the management and leadership team also be taking a cut?" asked Anna. "Surely it should start at the top of the organisation, not those at the coal face."
Hundreds of staff worse off
The Trust said that 73% of care home staff will be better off than before due to increases in their basic pay, but Magda told the Cable that the changes are being felt in her unit.
"The morale on the floor is not good," said Magda. "I've been here for years now. I loved this job and I thought this would be my last job, but it's not going to be."
Alongside pay changes, other proposals include halving sick pay from six to three months, reducing hours, merging catering and housekeeping roles, and cutting handover time – even though staff say this is the only opportunity they have to attend to the additional needs of residents.
The Trust's spokesperson said 'revising' roles was about providing a better service for residents, while handover time was being cut because it wasn't used effectively, and three rather than six months' occupational sick pay was still generous in the context of the sector.
They added that all staff were given a 4% pay rise in April, but Unison rep Josh Connor said this still resulted in an overall loss for night and weekend workers. He gave the example of senior care workers who would go from £11.90 to 11.50 per hour as a result.
Following a deadlock on negotiations, during which the Trust said it had been "subjected to a campaign of misinformation" by the union, staff voted for industrial action and will strike from 29 June to 12 July.
"There is a general atmosphere of disquiet and unhappiness," said Anna. "One of my relative's carers looks worried the whole time and I think, is it because she's got to make ends meet and put petrol in her car to get to work? How are they going to get to work in these days of 100 quid tanks?"
Staff shortages ahead of strikes
Many health and care providers have faced chronic shortages in staff since Covid. The Trust said the pandemic had led to an increased use of agency staff as a result. The aim of the proposals, the charity said, was to improve recruitment and attract new workers by increasing basic rates of pay, which would also make them less reliant on agency staff in the future.
But both staff and relatives told the Cable that good working conditions meant there wasn't a particularly high turnover of staff at St Monica's Trust during the pandemic.
"Prior to coming to St Monica's, I used to work in the community and St Monica's used to be the place to go," said Magda. "I really loved it here."
Another relative of a resident said: "Staff have worked there for long periods of time, and the fact that previously they were not that reliant on agency staff speaks to the fact that they have been a good employer in the past."
"If you start undermining working conditions, that's going to change, and if in the future my relative ends up in the care home, I want her to receive the care that she's paying for."
Relatives told the Cable that the new proposals have made staff leave in recent months. They said this has led to a decrease in the quality of care, as agency staff and newly recruited staff do not know the residents' needs.
Magda said one resident who is at risk of falls put herself to bed because she doesn't like agency workers, while another rings his bell repeatedly hoping to be attended by familiar staff.
Anna felt there had been "a clear diminution in care and cleanliness."
"Her hands are never clean, nobody washes her hands," Anna said of her relative. "I walked into the bathroom and there were no towels – that had never happened before. They've cut down the time for handover. There used to be a period of the day when more staff were on than usual and a woman would come and do her nails in this extra time. There is no extra time now."
Jenny*, another relative, added: "I feel very strongly that in taking strike action, these carers and other staff are not just standing up for themselves, they're standing up for the standard of care at St Monica's. As a relative, I applaud that."
Pressure from management
Magda described how staff are under pressure to accept the new terms, with some employees having already signed new contracts due to pressure from management and fear for their job.
"One of the girls that I worked with today, this is her fourth informal meeting she's had," she said. "One girl, they're ringing her at home on her day off. It's not good management."
She also described how colleagues were being invited to one-to-one meetings, only to be faced with multiple managers encouraging them to sign new contracts.
Connor called the charity's tactics a particularly shocking case of "fire and rehire", describing how for months staff have been pulled repeatedly into what management are calling 'informal' meetings about the proposals.
"A number of employers will choose to just do it, get it over with and then maybe suffer the consequences afterwards," he said.
"The Trust has been really awful to the staff but legally quite cautious. They've pushed back the implementation date a number of times already, because they don't feel confident that if they pull the trigger and issue dismissal notices that they won't get in a bunch of legal trouble."
The Trust's spokesperson said the aim of these meetings was to listen to and respond to feedback from care home staff, to work towards mutually beneficial agreements. They noted that 75% of care home staff have now accepted the revised proposals.
Links with the Society of Merchant Venturers
In the Trust's most recent financial report from 2020, its financial position was described as 'strong' despite financial setbacks due to Covid, with net assets of £305.6 million.
Its investment fund, worth £293 million, brought an income of £6.02 million in 2020, similarly to previous years. The fund is managed by the controversial Society of Merchant Venturers, who are paid annually for the service to the tune of £251,000 in 2020. Two of the charity's trustees, including the president, and the charity's patron are also members of the Merchant Venturers, which nominates six of the charity's trustees.
Despite concerns in the report about financial recovery from Covid, a key objective for 2021 was to divert 50% of profits from the Trust's investment fund "away from internal operations and towards greater external charitable giving" over the next five years. Relatives told the Cable they thought this was an attempt to "rescue their image" after the toppling of the Edward Colston statue in 2020, which shed new light on the Society's links with wealth generated from the trafficking of enslaved Africans.

"These people literally saved the lives of who knows how many people with their dedication and care and strict use of PPE over the pandemic," said Jenny. The charity's report said the death rate among its residents in 2020 was less than the previous 5-year average – "a testimony to hard work and dedication of the Trust's workforce".
"A colleague said he's going to lose £3,000 a year," Magda said wearily. "Where's the loyalty? Through the pandemic, we worked the whole way through. Where's the loyalty?"
*Names have been changed to protect identities.