Imperial Apartments landlord misled council over tiny flats used to house homeless families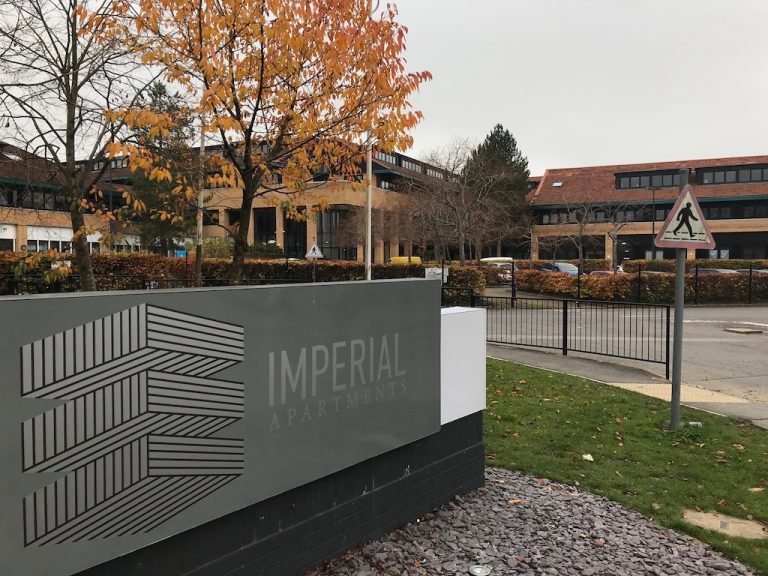 The landlord of the controversial Imperial Apartments flats complex in Hengrove misled Bristol City Council about the size of tiny, cramped homes in the building, where hundreds of households who have faced homelessness live.
The shocking finding emerged as the local authority published a review finding that the converted office block represents suitable housing "for many" families, dozens of whom have been offered flats there. The report conclusion paves the way for that process, which had been paused, to continue.
After concerns around overstated flat sizes were uncovered, the council will now have to reassess the number of people eligible to live in all flats at the block. It will also prevent any children aged over five being housed there. Despite the latter point being part of the original lettings plan, the review found 24 families with children aged between five and 17 had been housed at Imperial Apartments.
The council's report also recommended that criteria around referring people with mental health issues to live at the flats be tightened. It said measures such as better support, security and cleaning at the site offered "opportunities to improve the experience of families" living there.
The inquiry came after reporting by the Cable and Bristol Live uncovered serious problems at Imperial Apartments around crime and antisocial behaviour, lax security, poor living standards and high energy bills.
In January, South Bristol MP Karin Smyth asked the council to stop housing families at the complex through its HomeChoice letting system and to offer families housed there the chance to bid on alternative homes.
She later mentioned Imperial Apartments in Parliament as an example of "deeply worrying substandard accommodation".
'Everyone knows they are unsuitable'
The review, which was triggered by Smyth's intervention, said the council will permanently stop advertising flats at Imperial Apartments on HomeChoice, where council and housing association homes are advertised each week.
Only 26 families have in fact been housed at the block via HomeChoice. Families may be offered flats there via other routes, such as when they approach the council after a private landlord starts eviction proceedings.
Cabinet member for housing Tom Renhard confirmed this practice will now take place again, having been put on hold during the review process.
The report added that the housing crisis in Bristol is too severe for it to be "realistic" for many of the 101 families at Imperial Apartments to expect to be rehoused to an alternative home. There are currently more than 16,000 households on the waiting list for social housing, and more than 1,100 in temporary accommodation after becoming homeless.
My constituents living in these flats must have a chance of finding somewhere more permanent

Karin Smyth, Labour MP for Bristol South
Renhard said Bristol City Council's legal team was looking into whether individual families could have their rights to bid on other properties reinstated, which Smyth said she still considered a "vital measure".
"At the very least I believe that all the cases of families with children I have referred should be reviewed on an individual basis," she said. "My constituents living in these flats, that everyone knows are unsuitable, must have a chance of finding somewhere more permanent through the HomeChoice system."
Contentious decision
Bristol City Council's decision in September 2020 to house homeless people at Imperial Apartments was contentious.
The company that owns the block, Caridon, has been accused of "human warehousing" in relation to similar office conversions it operates near London, after a BBC investigation into living conditions there.
Former councillor Paul Smith, then cabinet member for housing, argued in 2020 that by entering into an agreement with Caridon the council could exercise control over who lived there and "hold Caridon to account" while providing much-needed homelessness accommodation.
Caridon, which the council estimates takes at least £4.2m in annual rent from the site's 466 flats, is believed to have negotiated with a number of London boroughs over the possibility of leasing the site. This means that if Bristol had not stepped in then homeless people from the capital could have been sent there instead.
The size of flats at Imperial Apartments, a third of which are rented on the open market, has long been a concern. The complex, which at one time was the Somerfield supermarket headquarters, was converted under permitted development rights, meaning planners had no powers to prevent it going ahead or to enforce space standards.
An analysis of planning documents by the Guardian in 2021 suggested almost all studio flats in the block were "smaller than a shipping container".
But, the council's review reveals, no detailed information as to the sizes of rooms was ever provided by Caridon before people began being placed at Imperial Apartments.
"Caridon provided overall property sizes for each of the 316 units, but said that they did not have a breakdown of individual room sizes within properties," the report said.
'All but seven' flats smaller than claimed
This meant the council was unable to properly assess homes at Imperial Apartments against the standards it uses when licensing houses of multiple occupation (HMOs). While not legally enforceable, the council wanted to use these as a rough guide to deciding which flats were suitable for different household sizes.
"Bristol City Council therefore instructed its Private Housing Team to visit a number of properties at Imperial Apartments and suggest a maximum occupancy level for each," the review said. "This advice was then generalised to the rest of the flats based on the total flat sizes that had Caridon provided."
But those sizes were not correct.
When asked again to provide individual room sizes as part of the review process, Caridon this time was able to find and supply this information for all flats.
"Concerningly, the dimensions given in the new document indicated that the total flat sizes for all but seven of the properties were smaller than the dimensions given by Caridon originally," the review said.
"On average, the sizes in the spreadsheet are 1.7m2 smaller per flat than in the original information supplied," it added. "The largest difference was a two-bedroom flat which was 6.7m2 smaller in the spreadsheet than in the original information supplied."
When comparing the new information with its HMO space standards, the council found three studio flats did not meet the dimensions acceptable for a single adult to live in – although they did not meet the legal definition of overcrowding.
Meanwhile 19 households were found to be living in flats too small for them, according to the HMO standards.
The council said Caridon had "not been able to explain the inconsistency in the dimensions provided" and had blamed a subcontractor for the original inaccurate information.
'Arguably, these properties were not suitable'
Solicitor Giles Peaker, a housing law expert, said it was "obviously a concern that Bristol City Council have been using these flats in discharge of their housing duty to homeless applicants, as the requirement is that such a property be suitable, where now at least 19 households have been found to be 'over occupying' against the HMO licensing standards".
"While the HMO licensing room size standard is not per se a criteria for fitness for habitation, it is a fair measure of overcrowding," Peaker said. "Arguably, these properties were not suitable when offered."
He added that the council should have taken steps to make sure all flats, rather than just a sample, were checked before offering them to homeless applicants. The Cable has asked the council to confirm exactly how many flats it checked with Caridon.
"Obviously it's a concern that Bristol City Council have been using these flats in discharge of their housing duty to homeless applicants"

Giles Peaker, housing lawyer
Speaking to the Cable, Renhard did not directly comment on whether the council should have done more to assess the flats sooner.
He added that he was "very concerned" about the finding and that Caridon were "focused on maximising profit" rather than delivering acceptable living standards.
"When I went to visit in February, one thing I raised with them was around the need for good-sized spaces because people's mental health can be impacted by the space you have available to you," he said. "They didn't get it – when it was raised they were like, 'Well, the law allowed us to do that', but that doesn't make it right."
The flats identified as smaller than is acceptable for a single person will no longer be let, the review said. The 19 households found to be over-occupying their flats are likely to be offered a larger home at Imperial Apartments as and when one becomes available.
Limited leverage
As part of the review's recommendations, officers said Caridon should "carry out a thorough review into the discrepancies in the data provided on flat sizes".
The report also called on the building owner to step up cleaning services and take on more responsibility for security, to enable the council to divert funds towards support services. It said Caridon should improve communal areas and take steps to mitigate tenants' energy bills in the face of the cost of living crisis.
Tenants have shown the Cable annual bills running into several thousand pounds for electricity use within small flats. Caridon claims it has encouraged residents to challenge suppliers, adding that some people did not know "how to programme" heaters.
Sarah Classick, one of two Liberal Democrat councillors for Hengrove and Whitchurch ward, said she was worried that it had taken "until many residents reached breaking point" for concerns over Imperial Apartments to be looked into.
"It has taken a lot of negative press attention for the council to finally act on the issues being raised, and even then we do not feel that these recommendations go far enough in improving the lives of those living at Imperial Apartments," she said.
Renhard said the council was examining its legal agreement with Caridon "to see what leverage" it has to hold the landlord to account in terms of acting on the recommendations. He acknowledged this may be limited.
"It's going to be quite tough, but we will apply whatever pressure we can," he said. Asked whether he would consider activating a break clause, via which the council can end its agreement with Caridon early, he said he would "keep it under review".
Renhard acknowledged there is room for improvement in how the council, Caridon and the police work to deal with crime and antisocial behaviour (ASB) at Imperial Apartments, which the review said should be addressed via new quarterly meetings.
Tenants have told the Cable and Bristol Live about problems ranging from violence to parcel theft, with the review recording that Caridon had reported 50 incidents to the council since October 2020.
These include 11 assaults, eight instances of drug dealing and seven relating to mental health issues. But the report said that the council still did not have full data from the police around crime and ASB at the flats.
But information given to Bristol Live showed police had been called to Imperial Apartments 113 times between February and May.
"One thing we need to look at is how we're working with the police to ensure [our] relationship is functioning as it needs to and that there's a joint approach to dealing with issues such as social behaviour," Renhard said.
An Avon and Somerset Police spokesperson said: "Bristol City Council is part of our information-sharing protocol and we regularly share data with them in relation to crime and anti-social behaviour.
"In relation to Imperial Apartments our officers maintain contact with both council staff and those representing Caridon, including the security team and and staff at the site," the spokesperson said. "Our neighbourhood policing team would support quarterly meetings."
'We are helping steer people away from homelessness'
Responding to the review findings, a Caridon spokesperson said that while the company recognised "challenges" at Imperial Apartments, "We are providing a viable and accessible solution to the council to help steer people away from homelessness – an option which has supported over 300 households away from homelessness so far which is something we are very proud of".
The spokesperson said the flats, where rents on homes let via the council are set at a level met by housing benefits, remained "more affordable than the majority of private rented accommodation in the city".
"We are also going above and beyond the service presented by most landlords, providing high levels of security and concierge, developing indoor soft play areas, multi-function on-site gyms, IT rooms, outdoor zen gardens and playgrounds, running community events and providing funding for them," the spokesperson said. "We will continue to improve our onsite facilities, develop tenant community groups and support the people who reside at Imperial Apartments."
The Cable has asked Caridon to respond specifically to the review findings around flat sizes and whether it will implement the council's recommendations.