The single parents from Bristol who changed women's lives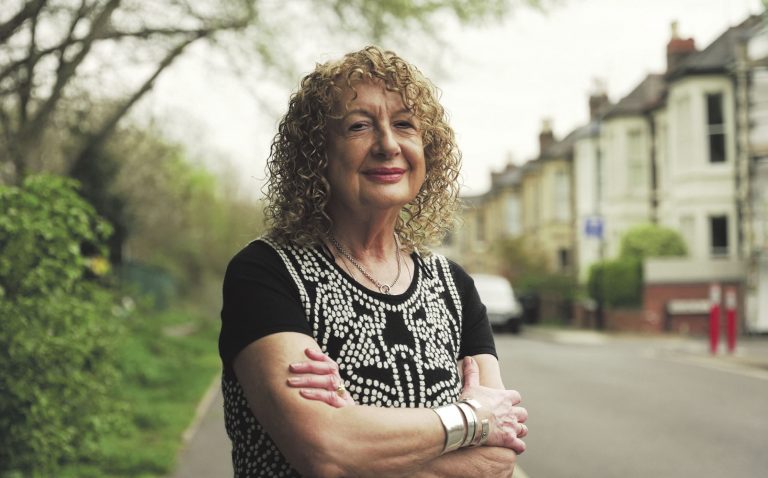 Sue Cohen moved to Bristol from the Midlands in the 80s. She applied to be the first employee of a newly formed network – the Single Parent Action Network (SPAN) – and found herself in front of a panel of 12.
"Who do you look at?" she jokes. "They were all single parents, they were all living in very difficult circumstances and I was blown away by just how powerful the vision was," she remembers. "And that vision has been kept ever since."
The organisation, which ran from the 1990s until 2016, was made up of single parents supporting each other, fighting racism and discrimination, and campaigning for political change.
As its only employee, Sue's job was a bit of everything: she managed day-to-day activities and applied for funding "to keep the group alive". By the time Sue left, there were 50 employees, including childcare workers. Childcare was central to SPAN's work.
SPAN did huge things. Its Study Centre got parents into higher education and launched careers. Nationally, SPAN funded more than 300 groups all over the country with small grants to support start-ups, drop-in centres and courses. They made a website to connect isolated parents, which has since become www.singleparents.org.uk.
SPAN was born of the Bristol One Parent Partnership (BOPP), which was formed in the 80s when a filmmaker interviewed single parents about their experiences of poor housing. The women, some homeless, some who had come from other cities to escape violence, decided to keep meeting. "They bonded," explains Sue. "They'd come from Lawrence Weston, Hartcliffe, inner city, and they decided they wanted to stay together and improve conditions for single parents in the city." The filmmaker applied for funding and BOPP was born. 
What started off as a group of strangers meeting in a living room became a nationwide network of single parents supporting each other and lobbying local and national government for change.
BOPP played a big part in the black liberation and working class movements in the city, Sue says. It lobbied the council on housing, working with Women's Aid and other organisations to make sure that one parent families "had some choice over where they went in the city".
Working with other groups gave BOPP leverage with the council and the housing office.
"We saw there wasn't an organisation like ourselves in other parts of the UK – a multiracial organisation fighting discrimination and stigma. Discrimination against single parents in the 80s and 90s was evil."
In 1990, the group got EU funding to make SPAN, a network of groups and individuals across the UK, and later won three big grants from the National Lottery.
SPAN has been collaborating on a long-term research project with Bristol University since 2019, which will end this June.
'Sometimes things just need tweaking'
The strength in SPAN was its diversity, says Sue, and the fact that it was grassroots. The parents, mostly women, benefiting from the work of the organisation were also the women running it. They learned from each other, supported each other, and campaigned for fairer conditions together. This was the case at the local level and also among the organisations SPAN worked with across the country.
"The commonality was one parent families who were in poverty because of the intersectional impact of class and ethnicity, and gender discrimination," she says. "So they came together for a common cause."
"Sometimes things just need tweaking," she says. SPAN used their combined knowledge about the issues to make changes in welfare and housing policy as well as in individuals' lives.
The group was particularly strong on fighting racism and discrimination against single parents, at an EU-level as well as locally, which Sue says comes from having experience of discrimination, childcare and poverty. "Because people live and breathe the issues, they know how to change that."
"It was vibrant, it was ever changing, it was ever learning."
The groups ran alongside each other for some years, with BOPP continuing to provide local support and SPAN a national organisation that linked up similar groups. BOPP closed in the 90s and SPAN set up a study centre in the inner city in 1998. It ran many courses: ESOL classes, history groups, childcare training, stepping stones into employment and further education. The centre partnered with the Race Equality Foundation to bring parenting courses to more than 3,000 people living in disadvantaged and isolated situations.
"Because of stepping stones people were able to move forward with their lives," reflects Sue.
'It felt like a turning point in history'
SPAN played a big part in local and national lobbying. In 1997, members travelled to London, with banners and their children, to protest New Labour's deeply unpopular proposed cuts to lone parent benefits. They stood outside parliament alongside other campaigners. Sue says they weren't going to be allowed in, but Tony Benn came and ushered them in, with all the children. She says that seeing children was a "shock to the system" for the MPs; she heard that some of them cried as they voted for the cuts. She credits that campaign for starting to dissolve the stigma against single parent families.
The cuts went through, despite a huge rebellion from within the party. But the unpopularity of the cuts showed that people were getting tired of the stigma of single parenthood, says Sue.
"It felt like a turning point in history," she remembers. "The mood of the country had changed." She says the save lone parent benefits campaign played a big part in policies to improve the lives of single parents, including the working and child tax credits that came in in 2002.
Everything SPAN did was made possible through childcare. "Nothing could be done without it," says Sue. For every course, class and activity the organisation ran, they always had childcare. "We knew it was intrinsic to one parent family freedom, liberation from poverty and discrimination."
'We've come full circle'
A couple of years ago, Sue got a call from Annie Oliver, one of the founding members of SPAN. The organisation was closing down and she was one of the last workers in the building. Everything was going to be thrown into a skip. Sue was told she could go and collect what she could, "to save our history". She went down in her camper van and pulled out documents, photos and films: "All the work that we'd done as an organisation. Because I'd been involved for so long, I knew just how important it was."
She got in touch with Josie McClellan, who'd already done some history work with SPAN. Josie decided not just to archive the material, but to bring in peer researchers to interview women who'd been involved. The SPAN project was made in collaboration with the Feminist Archive South and the University of Bristol.
This autumn, artist Lucy Turner will be presenting some of the project findings on billboard artworks across the city, with the campaign supported by Rising Arts Agency. The art will deal with being a single parent in the pandemic, because, as Sue says: "We've come full circle: one parent families in the pandemic are suffering more than any family". The increased limitations on employment and both lack and expense of childcare, is hitting single parents hardest.  "It's why the history project is so important."
Correction: The print version of this article incorrectly named the artist responsible for an artistic project using findings from the SPAN project as Carrie Reichardt. The artist is in fact Lucy Turner.