This Week in Bristol: Controversial flats 'suitable for families'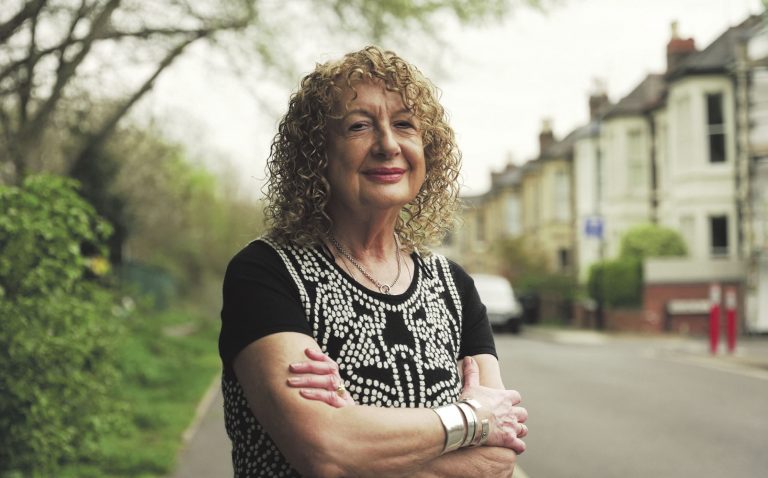 This week we covered an important review into the suitability of a controversial Bristol apartment complex that's home to hundreds of households who have faced homelessness.
Bristol City Council's inquiry into Imperial Apartments in Hengrove, published on Friday, comes after reporting by the Cable uncovered serious problems at the block involving crime and antisocial behaviour.
The local authority, according to the review, will now reassess the number of people eligible to live in all the flats at the block, and will prevent any children aged over five from being housed there.
In other stories this week, Bristol's Clean Air Zone might be delayed again following problems with suppliers, and Sue Cohen (pictured above) looks back on the history of Single Parent Action Network – a working-class, inner-city campaign group that tackled stigma and instigated policy change on a national scale.
Enjoy the sun this weekend,
Aphra and Sean
---

?️ The city's biggest regeneration project has been awarded £95m as part of the government's Levelling Up project. Thousands of new homes and jobs will be created through the redevelopment of Bristol Temple Quarter. The scheme will see the remodelling of Temple Meads station, and funds will also help push the development of sites behind the transport hub including the old gas works site, Temple Island and the wider St Phillip's marsh land.

? Bristol's mayor has said there was "no irony" in his decision to fly 4,600 miles to attend a conference and give a TED talk on the climate crisis. Marvin Rees was criticised by climate campaigners who said his trip to Canada to deliver a 14-minute lecture seemed to be at odds with his message. But he told a briefing on Wednesday he was invited to shape global thinking, and virtual attendance "wasn't on the table", adding: "have you seen any Ted conferences run by Zoom?"

?‍? A state school considered to be the best in Bristol has been rated 'inadequate' by Ofsted. Inspectors said Montpelier High School "does not feel like a safe place […] for a significant proportion" of the pupils, because of a bullying problem. They said the quality of education, sixth-form provision and pupils' personal development also needs improvement. The school, which changed its name from Colston's Girls' School in 2020, has for years been one of the most oversubscribed in the city, with the best academic results.

? Concern is growing over the safety of a Bristol-born journalist missing in Brazil's Amazon Rainforest, as police examine blood found on a boat. Dom Phillips, 57, a regular contributor to The Guardian, has been working extensively in the South American region for the last decade. The 57-year-old and a local indigenous tribes expert were last seen together in the remote region of Javari. Friends and family of Phillips, who lived in the Bristol area for years, are appealing for urgent action.

?️ Housing bosses have pleaded with council tenants to believe they will fulfil a massive programme of repairs and improvements despite a long "litany of lies" and "broken promises". Bristol City Council's budget in March included £1.8bn for council homes over 30 years, including 2,000 new properties in the next seven years, plus an extra £80m on energy efficiency and £8.7m to spruce up communal areas, blocks and estates. But tenant representatives said they have heard similar pledges before, with one saying he would be "insane" to believe it now.

? Flooding from the River Frome in Bristol will become a "significant risk" in the coming years due to the climate crisis. Council chiefs are warning that while the risk from the Frome is "relatively manageable today", it could soon worsen. A new £7.3m project of flood defence works around the river is expected to begin in two years' time, which will see a raft of measures to address the growing risk in Bristol and South Gloucestershire.

?‍⚕️ Staff at one of Bristol's hospitals have said they do not feel comfortable raising concerns about "unsafe clinical practice". A report has revealed that fewer than two-thirds of staff at Southmead Hospital's North Bristol NHS Trust (NBT) feel "safe" to speak up about issues. NBT board members called the findings "very concerning" and pledged to step up the trust's Freedom To Speak Up initiative, which encourages workers to flag issues and bosses to listen and take action.

? Bristol researchers have found a way of using data to help identify domestic abuse victims before they go to hospital. The study by the University of Bristol is the first in the UK to look at the connection between injuries in adults and domestic violence. Victims have told how when attending hospital the cause of their injuries can be overlooked. Injuries are recorded by paramedics in a searchable database, and it is hoped that by analysing the database for key words they can identify potential victims earlier and help them to access the most appropriate support.

❄️ Warm communal places will be set up in Bristol for people who can't afford to heat their homes this winter. As energy bills are set to skyrocket again in October, fears are mounting about the many people who will struggle to pay their heating bills as the weather turns colder. Marvin Rees, the mayor of Bristol, made a plea for help providing these warm places, and money to set them up. The spaces could also provide support for people with food, education and financial advice.

? An unspent £900,000 from Bristol City Council's budget last year will go towards reserves and the mayor's office. Green councillors this week pressed for the money to go towards reopening public toilets, improving safety outside schools, and investing in parks. Despite a majority of councillors agreeing to these spending priorities in February – when this year's budget was set – money will instead go into the council's reserves and towards the mayor's office, to be spent on things like a war memorial and a city poet.
---