This Week in Bristol: Why does UK policy support airport expansion?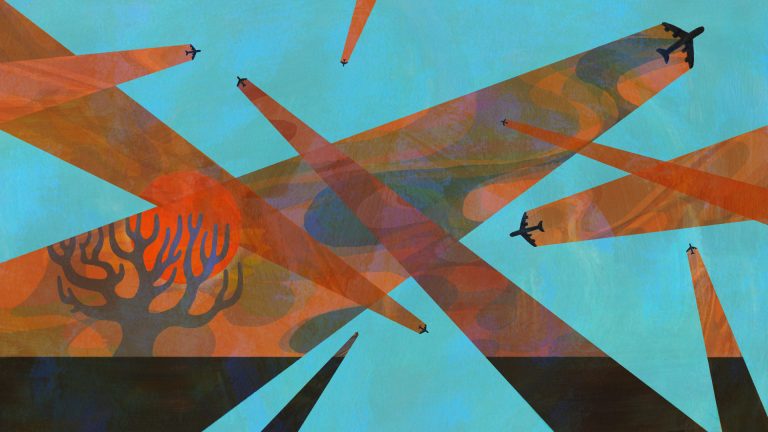 This week we spoke to campaigners who are taking the Bristol Airport expansion fight to the High Court. An appeal hearing will take place in autumn, where a judge will consider whether the planning inspectorate's decision earlier this year to allow the expansion was lawful. It was announced on Thursday that this will happen on 8 and 9 November.
What the campaign's lawyers hope to show is that government policy currently supports airport expansion without taking plane emissions or the cumulative impact of all airport expansions into account.
This is because it hasn't been updated since 2018, before the UK committed to achieving net zero by 2050. But the campaigners hope if they win that it will set a precedent for other climate groups trying to stop expansion across the UK.
In other stories this week, renters' rights organisations are cautiously welcoming the government's plans to ban no-fault evictions, a local aid organisation is concerned that donations for Ukraine are in decline, a date has been set to decide the future of Bristol's strip clubs, and the Gas Girls football team is going from strength to strength.
Have a good weekend,
Aphra and Sean
---
?‍♀️ A group of volunteers has succeeded in securing the future of Knowle's under-threat Jubilee Pool. Residents rallied to save the pool, which has been part of the community for 85 years, and have now negotiated a community asset transfer to take the building into their own hands. The Friends of Jubilee Pool group will take control of running the facility from operator Parkwood in September.

? An advertising company has pulled plans to put up a large digital billboard in the city, following a campaign by Adblock Bristol. Ad firm Global withdrew its application for a billboard by the Arches on Cheltenham Road after more than 400 residents objected to the move, it was confirmed on Tuesday. Adblock Bristol said: "We know these billboards are causing heartache for the people who actually live here and it's time they were gone. Global want to rule the world, but this is our city."

?️ Brazilian police have said a suspect has confessed to burying the bodies of missing Bristol-born journalist Dom Phillips and indigenous expert Bruno Pereira. Detectives said the man, Amarildo da Costa de Oliveira, took investigators to a site where human remains were dug up, and that police would work with Interpol to confirm the bodies' identities. Mr Phillips, 57, and Mr Pereira, 41, disappeared in a remote part of the Amazon rainforest on 5 June. Mr Phillips' family said they were "heartbroken" and thanked those who searched for the men.

? Subsidised buses across the West of England have been given a reprieve after the region's elected leaders finally hammered out a deal. Metro mayor Dan Norris and the leaders of Bristol, South Gloucestershire and Bath & North East Somerset councils this week succeeded in breaking a deadlock over who pays how much. The rescue package means an initial seven-month extension to current contracts for the 80 supported bus services. The routes are important because they serve areas like rural communities and hospitals, but they have to be propped up with public money as they are not commercially viable.

? The chair of St Pauls Carnival has said he understands the community's frustrations that the event is not happening for a third year. The Bristol festival celebrating African-Caribbean culture normally attracts about 100,000 people, but Levi Roots said the organising committee had to "look at safety first", and blamed "the finance of the carnival". "It's about the community, including where the money comes from," he said. "It's not like any other sort of event where you take the money from anywhere, wherever it comes in."

? Test cameras have been put up around Bristol as the city prepares to launch its Clean Air Zone, which has faced a series of delays. Mayor Marvin Rees said the latest delay, announced last week, was down to a "national issue" with changes to bus lane regulations. The scheme was initially due to come into force last October before being pushed back to September, and it's now likely to be pushed back again.

? A shopping street in south Bristol could soon get £13 million to fund its regeneration after a decade of delays. Filwood Broadway, Knowle West's main shopping centre, has been earmarked for a huge regeneration project since at least 2012. Now Bristol City Council is asking the government for money from the Levelling Up fund to help get the project started. But local residents and councillors are concerned about the regeneration masterplan being a decade old, and the council being "extremely dismissive" of local views in recent consultations.

?️ Doctor Who stars David Tennant and Neil Patrick Harris have been seen filming in Bristol for the show's 60th anniversary episode. During filming, Tennant could be seen protecting the occupants of a car while crowds of people were running away. Eager fans crowded into Baldwin Street and Clare Street in the city centre to watch the production on Wednesday. Mystery surrounds Tennant's involvement, who starred as the Doctor between 2005 and 2010, in the show.