This week in Bristol: Spat over council housing commission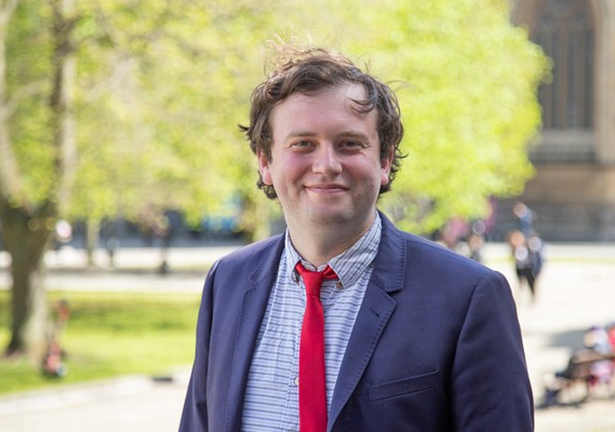 In the news this week, the launch of a council commission tasked with exploring solutions to Bristol's housing crisis has sparked a bitter spat between community union ACORN and council housing chief Tom Renhard.
Over the next few months, Bristol's Living Rent Commission, which is comprised of 13 organisations, will investigate what rent controls could look like for the city Bristol and make recommendations. But their first meeting at City Hall was halted on Tuesday by a protest of around 30 ACORN members.
Other housing campaign groups such as Shelter and Generation Rent are sitting of the commission's board, but ACORN, which campaigns for housing reform and organises direct actions for individual renters against their landlords, wasn't invited. This move prompted the community union to condemn the commission as a "whitewash" and a "stitch up".
Leading the Living Rent Commission is the council's housing chief Tom Renhard, who was previously a prominent figure in ACORN before being elected as a local councillor in 2021. But this week he was booted out of the member organisation and come under fire from senior organisers.
ACORN's national head organiser Nick Ballard told Bristol Live that a discussion on the housing crisis without them was "farcical", and that Renhard's attempts to sideline the group was a "disgrace".
But Renhard has responded by saying that his expulsion without due process was "only further evidence that the organisation's leadership unilaterally refuses to work with people constructively". He added that although ACORN's application to sit on the commission's board had been rejected, they had been invited to give evidence to the commission during one of the sessions, an invitation that still stood.
---
The Bristol round-up
? Storytelling events for children by a local drag queen were disrupted on Thursday by a group of protestors wanting to end the 'sexual exploitation' of children. The events at Henleaze and Hillfields libraries were attended by protestors, counter-protestors and police. The council said the group "needed lessons in tolerance and difference", adding that it "will not stop striving towards creating a more inclusive society". One woman was arrested after an allegation of assault during the protest.
? A major Bristol club has been cleared in a licensing review, after a local resident claimed it was linked to a nearby illegal rave. Lakota, near Stokes Croft, told councillors it played no part in a rave with hundreds of people on Portland Square on 14 May, on the same day as Stokes Croft Block Party which the venue had organised.
⚽ Bristol City have announced players will stop taking the knee before football matches this season. The move became a symbol of commitment to tackle racism and other forms of discrimination following Black Lives Matter protests in 2020. The City players announced they would no longer do it, but stressed the importance of tackling discrimination and said they would take a zero-tolerance approach to hate and abuse.
? Shops and cafes signed up to the council's Community Toilet Scheme have been found to be not advertising their facilities or staff being unaware of the scheme altogether. These are the findings of research by xffACORN who are campaigning for public toilets to be reopened after the council controversially closed 18 facilities in 2018.
?️ More than 100 Bristol City Council workers could be transferred to Bristol Waste, sparking concerns over pensions and working conditions. Council chiefs are considering moving 122 workers to the council-owned company, after a similar controversial move last year of about 200 security and cleaning staff. The trade union Unison is raising concerns, with more details scheduled to be released in autumn.
? Metro mayor Dan Norris is urging residents to have their say ahead of more bus cuts this autumn. The West of England mayor will hold a series of public meetings next week, called Big Choices on Buses, to understand which routes are essential to users and what would attract people who don't use buses. Operators have indicated they would axe more services from October when the government's pandemic funding ends.
? A secure unit for youth custody in Emersons Green has made improvements, after being criticised in April for the painful and unlawful restraint of children. Ofsted made a monitoring visit to Vinney Green in June and reported that the children said the unit felt 'much calmer'. The report noted that necessary changes had been made, but that it was too soon to tell how effective they would be.
? A community centre in Bedminster has extended its crowdfunder until August, in the hopes of bringing ownership of the venue into the hands of the community. The group behind the community share offer of Zion Community Space has currently raised £206,000, against a minimum target of £229,000. The building will be sold on the private market if the crowdfunder doesn't reach the minimum target.
?? Care staff at St Monica's Trust are ready to take further strike action, says union Unison. After five days of strike action, interventions from MPs and support from residents, their relatives and the public, St Monica's Trust management is still refusing to engage in talks. Industrial action began when carers were asked to sign contracts with worse working conditions, and threatened with 'fire and rehire' tactics.
---
This Week in Bristol: Thousands of Bristol Cable readers get this essential digest of local news sent to them every week. Sign up to join them and receive in-depth reporting and analysis that cuts through the noise of daily news.