This week in Bristol: St Monica's Trust carer strikes end in deadlock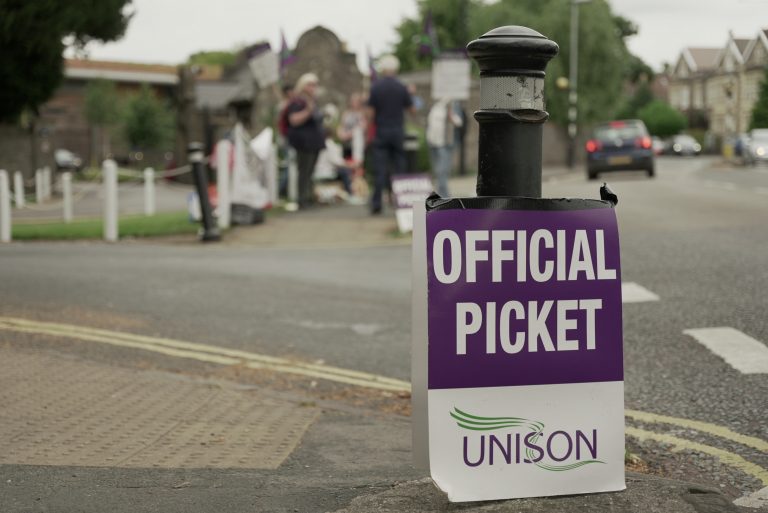 In the news this week, strikes by care home staff at St Monica's Trust have drawn to a close with no concessions from the company's management, in a dispute over pay cuts and working conditions.
"I said I refuse to sign for a pay cut, you're taking nearly £700 off me," carer Tina told us on Friday about her recent meeting with management. "I want what I earn."
On Monday, the Trust's CEO David Williams published a statement thanking all the employees who worked during the industrial action. He noted that only 64 of the company's 500 care home employees voted in favour of strike action, with just 20 not crossing the picket line during strike days.
The same day in the House of Commons, Labour MP for Brent North Barry Gardiner asked for Health & Safety England to investigate how St Monica's Trust are using agency workers and what it means for the safety of residents there.
Williams said that 85% of care home employees had now accepted the proposed changes, which were implemented on 1 July. The changes will leave nearly a third of staff earning up to 13% less after two years of pay protection offered by the Trust runs out.
Tina said that staff departures have left the care homes understaffed on certain shifts, which is making it harder to attend to residents' needs: "People are leaving left, right and centre," she said. "Two left last Sunday – they just walked out." The Cable contacted St Monica's Trust for comment.
---
The Bristol round-up
☀️ In response to the forecast of extreme heat over the next few days, a homelessness charity has warned of the dangers for people sleeping rough. St Mungo's will be providing homeless people with water, sun hats and sunscreen from Sunday 17 July until at least Tuesday 19 July, when temperatures in Bristol are currently forecast to reach well above 30 degrees.
? Funding for Bristol's new mass transit system is 'at very high risk' after long delays, according to new cabinet reports. Mayor Marvin Rees said earlier this year that diggers would begin work by the end of the decade on a new multi-billion pound overground and underground railway system. But the risk report said: "Risk is still very high of failure to progress this project. Consultation has been proposed for some time, but not been agreed or taken forward by the combined authority. This has now delayed the whole project. There is significant risk that agreement will not be reached in a timely fashion."
?️ The government has threatened to withdraw funding for a school unless improvements are made, after Ofsted rated it as "inadequate". The warning was sent to Montpelier High School, which was rated as "outstanding" in a previous inspection, after Ofsted identified issues like bullying and failures in safeguarding. The school is run by Venturers Trust, which is linked to the Society of the Merchant Venturers.
? More than 200 complaints about Bristol City Council were received by the Housing Ombudsman in the space of five years, according to figures obtained by Bristol Live. The data shows 223 complaints were made about the council to the Ombudsman between 2016 and 2021, making Bristol City Council the most complained about local authority in the South West and the 29th most complained about nationwide.
?️ The council is organising a citywide network of 'Welcoming Places' for people who can't afford to heat their homes, in response to an anticipated wave of fuel poverty caused by another energy price rise in October. Mayor Marvin Rees announced a total of 22 sites have been identified, and said the council will be looking at using existing community and faith-based spaces to mitigate the cost of living crisis.
? Local bus operator First has teamed up with the West of England Combined Authority to introduce a new 'Tap On, Tap Off' payment system, so people can pay using their contactless card or device rather than buy tickets on buses. The system will be launched across all of First West of England's services on Sunday 17 July thanks to funding from WECA, and is part of a drive to attract more customers to use buses.
? The council has applied for more than £1 million in funding to reduce offending in Hartcliffe and Bedminster, through measures such as increased CCTV and improved lighting. The police and the council are hoping to tackle issues in crime hotspots, including sexual violence against women and girls, anti-social behaviour and vandalism. If successful, Hartcliffe's high-rises including Millmead House, Hayley House and Middleford House will be specific targets.
? A climate activist group deflated the tyres of 90 SUVs in Clifton in the early hours of Thursday morning. In a statement, Bristol Tyre Extinguishers said that if SUVs were a country, they would be the sixth largest carbon emitter in the world.
✍️ Kat Lyons has been announced as Bristol's new City Poet. The writer, performer and workshop facilitator who will take over the role this autumn, said they would use poetry to tap into public opinion, reflect major events in the city and act as a communicator of local views.
---
This Week in Bristol: Thousands of Bristol Cable readers get this essential digest of local news sent to them every week. Sign up to join them and receive in-depth reporting and analysis that cuts through the noise of daily news.