Why community action is also needed to tackle the energy crisis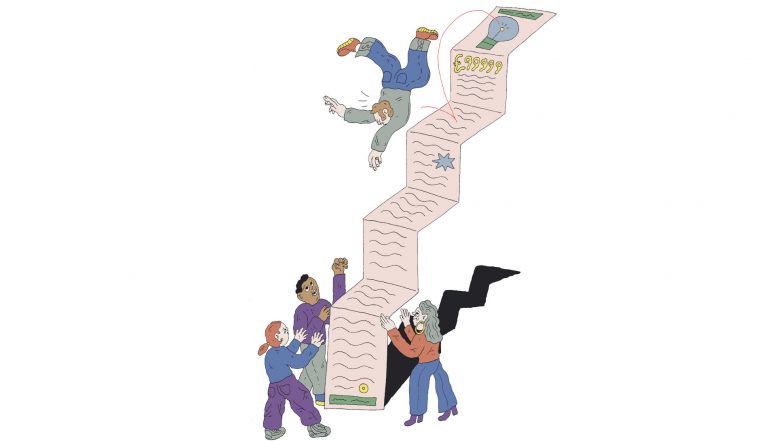 When Ofgem announced the energy price cap rise in April, anxiety levels also rose for many across the UK. After the average energy bill rose to nearly £2,000 a year, everyone was already feeling the squeeze. Now this is set to rise again to £3,550 in October, so we need to prepare for winter by finding ways to understand and reduce our energy use.
Bristol Energy Network (BEN) is an organisation with a varied membership base, working towards the shared vision of a city where clean, green, affordable energy is delivered to the community by the community. We have been working in community energy and fuel poverty in Bristol for 10 years and have witnessed concerns firsthand.
A surge in wholesale gas prices has been driving our bills up. It has been a huge problem for energy suppliers, many of whom could not afford to keep trading. As a result, Ofgem have raised the energy price cap. The wholesale cost is the biggest portion of our energy bill and now it is impacting our cost of living, leaving many people in, or at risk of, fuel poverty.
The council now estimates that that 30,000 households already live in fuel poverty in Bristol. And new research by Friends of the Earth has revealed that even more households are in potential 'energy crisis hotspots' in the city where income is below the national average and energy usage is high.
How we've been taking action
BEN has been working with communities on our 'Energy Help Desk' project. It involves running information sessions for community and support staff on how to reduce energy bills through small behavioural changes, minor DIY adjustments at home, info on financial support, and how to communicate with your energy company.
In partnership with Bristol City Council, Energy Tracers, a Community Interest Company using thermal imaging technology, and Re:Work, a charity working in Filwood and Knowle West, BEN has been piloting the 'Warm Up Skill Up' project. The community-led approach to improving energy efficiency in homes teaches DIY low-cost energy efficiency measures such as insulation and draught-proofing, and helps to find grant money for larger improvements. The project starts and ends with a thermal study ('Energy Trace') to find out where heat is being lost and how well the improvements are working.
We have also applied for funding to run DIY draught-proofing workshops in community centres this autumn so that people can reduce bills in winter.
Structural problems
This crisis was a long time coming. Our system in the UK is not resilient to global price shocks due to our reliance on gas. Expanding our renewable energy systems not only reduces our emissions but brings more security too. But creating a resilient, renewable system will need the help of community energy projects to both meet and reduce demand. This will help us out of the grip of volatile fossil fuel companies.
Community-owned energy generation, such as in projects by Bristol Energy Cooperative (BEC), Low Carbon Gordano and the impressive Ambition Community Energy, offer new opportunities for clean, fairer energy. Community share offers create the opportunity for people to invest money and have a say in the organisation. Co-ops such as BEC offer discounted energy for community buildings and a community benefit fund which gives grants to many Bristol organisations. Harnessing new structures of energy generation and distribution for community benefit is empowering both socially and environmentally.
We need to reduce energy demand and think about it in a new light: doing our best to use what we need to stay healthy and warm, but not wasting it. Understanding which of our appliances use the most energy, making sure our heating systems are efficient, and taking care of draughts in our home will cut bills drastically. If we talk about and understand energy use more, it gives us more power to reduce usage and bills.
The best way to significantly reduce energy use in our homes is to make energy efficiency improvements such as insulation. Many homes are poorly insulated and draughty, which is how we lose the heat that we are paying so much for. Community initiatives such as the C.H.E.E.S.E project help reduce energy consumption through identifying heat loss in your home and suggesting where to make changes to both improve efficiency and save cash.
The winter is going to be difficult with another price hike coming in October so we need to be ready to support our communities. We have opened Our Emergency Winter Fuel Fund, raising money to be distributed through our community partners when people can no longer afford to heat their homes, or food.
If you're struggling with your bills then please seek help from advice and support agencies. If you're not struggling with your bills, then please help out a fellow Bristolian who is!
To get involved in community energy, you can visit our website or get in touch to see if there is a project happening near you.